Glossary
November 18, 2020
Updated 4 November 2022 by James Ocean
The Top 20 Most Inspiring BIM Projects
Table of Contents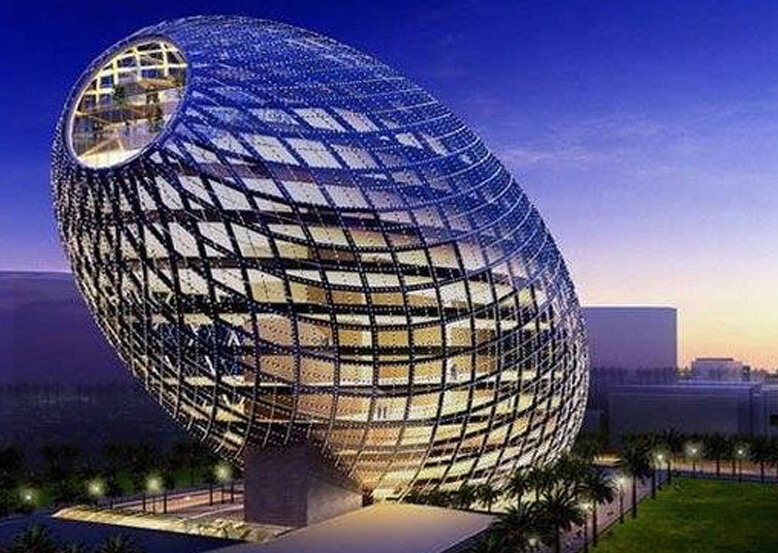 BIM (Building information modeling) is a technology that allows the streamlining of the entire construction project within a single system, all in a structured and disciplined way, from the early design stages to the regular maintenance of a constructed building.
There are a plethora of different platforms that work with BIM projects, including the popular ones, like Revit, ArchiCAD, Revizto, Navisworks, and a lot more of the less popular ones. The technology itself is gaining more and more traction each year, with many companies joining the current trend and investing in changing their entire workflow to adapt to BIM's methods.
In this article, we'll be presenting some of the examples of projects that were created using BIM as the main operating system.
Statoil Regional and International Offices
The complex design of the structure was successfully completed as a BIM project. With the help of seamless dialogue between different phases of the project, and different people across teams, (client, contractor, architects and other working personnel) the construction was done on time with no delays.
Durleigh Water Treatment Works
The water treatment structure in Somerset received a major upgrade that would have been much harder to pull off without BIM at its base. A significant part of the structure was demolished and rebuilt from scratch in the form of a comprehensive 3D model with BIM calculating both the possibilities of a clash between various details and the entire structure's operability. The addition of an Igloo-based shared virtual reality system allowed for easier interaction with the project, including design meetings, and so on. There were also a few different value engineering opportunities that were conceptualized thanks to the overall quality of the 3D model, including the wastewater area rationalization, and more.
Enseada House
The tight schedule of this BIM project is what made BIM, in general, that much more useful in this specific case. By creating the entire structure in less than a year and making sure that every possible clash and interaction between the parts of the structure is calculated and thought of, BIM reduced the potential delays for the initial schedule down to zero.
Campus Örebro: Casa Nova
BIM was utilized to its full capabilities during the design phase, allowing for seamless cooperation between the client, the contractors, the architect, and other concerned parties to create this unique building correctly and adequately.
St. Louis Aquarium Design
Due to the original status of the building as a National Historic Landmark, this BIM project was all about creating an intricate aquarium without disturbing the original historical structure of the St. Louis Union Station. This aquarium was comprehensive, with different water tanks and several various points of view for each tank – including "through the tanks" in some cases. BIM was successfully utilized to not only model the entire project, but also calculate the influence and the positioning of complex piping systems, life support systems, and so on. The proprietary software that was used (Revizto) also allowed all teams involved to have access to the entire 3D project from their smartphones. The construction process began in late 2017 and was completed before the grand opening in December 2018, featuring a plethora of animals.
Nanjing International Youth Cultural Centre
This building was the first one in China to be built upwards and downwards at the same time (top-down and bottom-up), with the entire process taking only 34 months. BIM reduced the on-site work down to 18 months with the usage of various BIM-related technologies like scalable design, seamless collaboration, and so on.
Leids University Medical Center
The company that was commissioned to create this medical facility (Linssen) has managed to successfully take advantage of numerous BIM project features, making all of the project's stages faster, simpler, and more precise than before. Seamless collaboration, scalable project model, clash detection, appliances placement, material type calculation – these are just some of the BIM features that were used in the process of completing this project.
National Library of Sejong City
In this case, BIM was used to model the majority of structural elements, including slabs and columns, and to confirm the viability and stability of the entire structure. BIM was also used to calculate and provide various models for the pre-construction phase about the best way to create interoperability between different elements of the structure, as well as helped with manufacturing the correct panels and curtain walls that were fundamental for the entire structure to work properly in the first place.
Sound Transit Operations and Maintenance Facility
The scale of this BIM project was massive, giving momentum to a region-wide expansion program that includes light rail, commuter rail, bus transit program, and more. The project itself is based in Seattle – a growing metropolis that gets more and more congested with time as one of the fastest-growing cities in the US for the last decade. This project takes advantage of multiple different software appliances, including Revit, Navisworks, Revizto, Civil 3D, and others, all to work with a BIM process that is massive in scale and requires more than just a traditional approach to finish correctly. BIM helped with a comprehensive model of the entire project, both above and below ground, and with the ability to collaborate with different parts of the project team.
Galaxy Tower in Utrecht
This project is another one commissioned to Linssen, but this particular BIM project is set to be constructed in 2021. Thanks to BIM, it's easy to heavily influence the final project and its number of problems as early as the design stage, from how the system calculates all of the model clashes, material parameters, and other things like plumbing, HVAC placement, etc. Even with more unusual looking constructions such as this, a lot of nuances and problems get eliminated before they can affect the final result of the project, thanks to BIM.
The Clichy-Batignolles in Paris
The Clichy-Batignolles is a regenerated neighborhood in Paris that is quickly becoming one of the most notable examples of sustainable construction. The biggest BIM challenge of this project is the core nature of the Clichy-Batignolles – using a myriad of ways to reduce energy consumption since achieving net-zero carbon emissions is one of the original goals of the project. It is supposed to be a zero-carbon emission Passivhaus-design city that uses renewable energy and implements all kinds of modern-day technologies, such as waste disposal, water-sensitive urban design, and more. The overall project cost is massive, and the city itself is supposed to include a cinema, a theater and a judicial center by the end of the construction process, with almost half a million square meters of real estate.
Victoria Gate in the United Kingdom
It is fairly common to see BIM being used in the creation of all kinds of massive construction projects, such as this one example from the United Kingdom – a Victoria Gate shopping center. It is considered one of the biggest John Lewis stores in the UK, and it also covers two streets' worth of area, offering 30 different shops, a parking lot for 800 cars, multiple restaurants and cafes, and a casino. For this particular construction project, BIM was successfully utilized in a variety of areas – such as civil engineering and the MEP, as well as the overall steelwork and the building's facade.
Queen's Wharf in Brisbane
That's not to say that this list only includes projects that have already been completed. For example, the Queen's Wharf in Brisbane is a world-class resort that covers over 26 hectares of area. BIM advantages are necessary for this project since it is supposed to have 2000 apartments, 50 restaurants, cafes or bars, and a thousand top-quality rooms split between four renowned hotel brands. There will also be 12 football pitches worth of public spaces – casinos, shops, and so on. BIM is still used for this project as of 2022, offering better overall project management, clash detection, error handling, waste reduction, etc. The Queen's Wharf as a project was started near the beginning of 2018 and was set to be completed by 2022. Unfortunately, the construction completion date was recently moved to the year 2023.
Randselva Bridge in Honefoss
Quite a large number of modern projects are created using BIM from start to finish – and some projects get worldwide recognition for exactly that. As such, the Randselva bridge in Norway is a cantilever-based concrete bridge over 600 meters long and is constructed with the help of BIM at every stage of its construction. It is considered the longest bridge in the world that was built without the usage of drawings of some sort, and it earned two separate Tekla Global BIM awards for this achievement – Best BIM Project and Best Infrastructure Project. The project model includes 250 post-tensioning cables and over 200,000 rebars, making it an incredibly complex project on its own. Since the design teams were spread out in four different cities, the inclusion of BIM was necessary to make sure that all of the potential issues with the project were solved, such as the additional reinforcement, the clash detection, and so on. Even the contractor for this bridge received over 95% of project information via IFC files, modeling the majority of project information with parametric design for easier revisioning.
Emerson College in Los Angeles
The Emerson College building seems borderline impossible to the naked eye, which is why it is not surprising to hear how BIM was used to bring the project to life. The introduction of BIM was necessary for the entire building to be efficient while not making drastic changes to the overall building design. The original idea of creating a learning environment was complicated enough on its own, and there were also challenges of covering a massive area (more than 11,000 square meters), working with a rather large budget (~$85 million), as well as quite a lot of pressure in terms of sustainability, since the college was supposed to be constructed within the city's limits – without disrupting any of the nearby buildings in any way. These challenges would have created a borderline impossible project to work with if it wasn't for BIM. Some of the most significant advantages of BIM here were the ability to share information about the project's status in a unified data environment, as well as the ability to use resources more effectively, the ability to check for disruptions in terms of other buildings near the construction site, and more.
WHIZDOM 101 in Bangkok
Another multipurpose commercial project was completed with the help of BIM in Bangkok – it is a commercial complex of a massive scale that was also supposed to be sustainable on its own. WHIZDOM 101 transformed 17 acres of land into a smart city of sorts with a variety of sustainability techniques and strategies, from design to construction and post-build maintenance. A large part of BIM's involvement was in devising eco-friendly ways to dispose of waste, as well as the overall energy efficiency techniques of the project. Additionally, BIM was involved in creating methodologies and strategies for bike paths, public train access, solar energy usage, and so on. There was also a rather unique idea implemented for the project that turns the footsteps of regular pedestrians into actual power that lights up the walkways of the complex at night.
One Nine Elms in London
Two massive glass towers is how One Nine Elms is supposed to look when it is completed – a mixed-use facility with an underground parking lot, an energy center, as well as a variety of residential, commercial and hotel features. The project's own basement structure consists of three different floors and was also powered by BIM software in its entirety. An entirely separate company called SOLVE Structural Design was tasked with modeling the entire project's basement in three dimensions, and the final project is supposed to take over 30,000 cubic meters of concrete and several thousand tons of reinforcement materials to make it work. BIM was instrumental here in figuring out potential clashes and other problems with these kinds of tasks. It is just one example of how BIM can be incredibly useful for projects of all sizes, including large-scale projects like One Nine Elms. The first construction stage of the project started back in 2015, and its completion date is estimated to be around autumn of 2023.
Lion and Eagle Transition Tower in Belgorod
There is another award-winning project on this list – the winner of Tekla Global BIM Awards in 2020 (Best Small Project category), an incredibly unusual take on the active transition tower design in Belgorod. The structure's overall weight is 33 tonnes, and its height is 26 meters – both of these parameters make the structure rather difficult to miss. The active transition tower's body matches the shape of the city's coat of arms, complete with a yellow-colored coat over the entire tower. BIM was essential in making this project come to life, managing the entire construction modeling stage and the drill-down status – with over five thousand support parts and bolted joints. The structure's base consists of 91 cubic meters of concrete, and hot dip galvanizing was the primary way to prevent corrosion for the structure in question.
Dongdaemun Design Park & Plaza in Seoul
This particular project combined a land with great historic value and a project with massive expectations – creating what we know as Dongdaemun Design Park & Plaza. This project was an incredibly complex undertaking on its own, designed by the Zaha Hadid Architects team – someone well known for creating immensely complex building designs with a lot of details and intricacies. Another challenge was ensuring clear communication between different teams involved in the project – subcontractors, labor-management groups, MEP specialists, and others scattered in several geographically different locations worldwide. There was also the challenge of implementing 45,000 aluminum panels in the design, with each part being slightly different from the other. The unified information source and the amount of detail available for every part of the project made BIM necessary for successful project completion.
The Len Lye Centre in New Plymouth
The idea of celebrating one's legacy with an unusual construction project is nothing new, generally speaking. However, if the person in question is well-known in the construction area, the number of expectations for the project can be incredibly high compared to regular buildings. This was the situation with the Len Lye Centre in New Zealand – Len Lye was one of the most famous artists in New Zealand, creating multiple movies and documentaries of their own. As such, the weight of expectations was there for the project in question – a museum, an ample auditor space, an education center, and a spacious corridor. BIM is essential here when it comes to communication between different teams, information sharing, collaboration, and more. The project itself could be tested for clashes and other errors on a regular basis, and it would've been borderline impossible to meet all of the expectations and unique design choices if it wasn't for all the advantages that BIM offers.
---