Glossary
July 23, 2021
Updated 29 May 2023 by James Ocean
Objectives and Functions of Construction Management
Table of Contents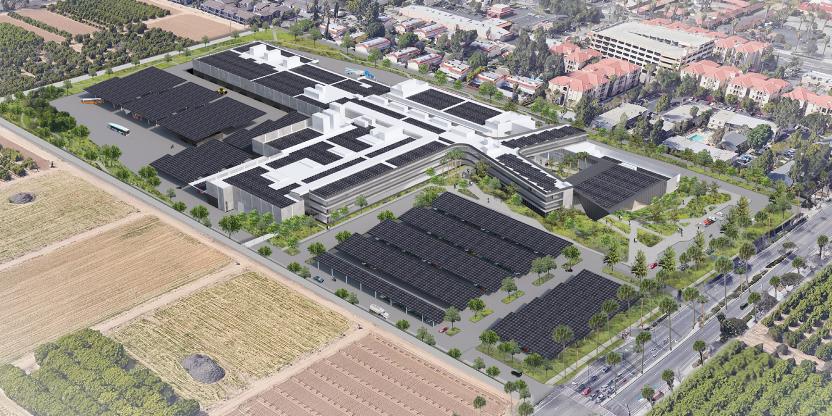 Introduction to construction management
Construction management is a sophisticated process that involves controlling and overseeing various tasks and activities during the construction phase of a project realization plan. Construction management is typically led by employees in the position of a Construction Manager, who cover a wide range of elements within the construction process, including quality, schedule, cost, time, safety, and more.
Construction management is often outsourced as a service rather than performed in-house by the construction company itself. This option is particularly beneficial for large-scale construction projects, as it allows the expertise of professionals in different fields to be utilized without the need for an in-house construction management department. Examples of projects that greatly benefit from construction management include commercial properties, industrial facilities, transportation infrastructure, and more.
The objective of construction management is to achieve the best possible results in every aspect of the construction process, both within and outside the construction phase. The role of a construction manager is to deliver projects that meet the owner's expectations while adhering to budget and time constraints.
Construction management involves collaboration with key stakeholders within a project, including general contractors, architects, owners, engineers, and others. These collaborations aim to achieve a common goal. Some of the more overarching functions of construction management include:
Determining the number of resources necessary to complete a project,
Presenting multiple proposals in terms of the number of resources necessary for the construction project's completion
Aligning the overall cost of the construction project with the existing budget constraints
What are the differences between project management and construction management?
When it comes to controlling construction projects, two key figures are involved alongside the project owner: the project manager and the construction manager. Construction management and project management have distinct functions, but their collaboration is crucial for the successful completion of the construction project, given the overlapping responsibilities and functions they share.
Project management encompasses all phases of the construction project, while construction management is primarily focused on the construction phase itself. Both disciplines share a common goal, with construction management primarily concerned with the construction aspect, while project management oversees the entire project from start to finish.
The main functions of construction management include overseeing specific tasks within the construction phase and managing construction-related work as a whole. The construction manager is responsible for tasks such as cost management, on-site inspections, and change management.
On the other hand, the project manager's expertise lies in overseeing the project's schedule, overall scope, and cost. Key responsibilities of project management include budget management, staff management, and schedule monitoring.
Collaboration between project management and construction management is essential, as they work together to ensure that all aspects of the project are effectively managed and coordinated.
The benefits of construction management
One of the critical functions of construction management is its organizational capabilities. Every construction project is a massive undertaking, comprising a complex network of plans, priorities, and workflows. Without effective management, it would result in complete disaster. The significance of construction management becomes even more evident when considering that disjointed processes are one of the primary causes of poor performance in the construction industry, leading to issues such as budget overruns and missed deadlines.
Construction management's influence extends to improving various performance parameters in construction projects. This includes implementing proper risk management through proactive risk prevention and mitigation efforts. It also contributes to the development of better and safer infrastructure. Additionally, construction management plays a crucial role in optimizing resource management, resulting in efficient project delivery. Even simple resources like time and money can be saved through effective construction management practices.
Functions of construction management
Construction management is a topic of substantial importance for any type of construction project. Construction management is supposed to lead the project to success, from the very first design drafts to post-construction maintenance.
It is reasonable to think that the entire scope of operations that construction management goes through can be split into several different functions. Professionals in the field are often splitting the entire process into six different functions that construction management needs to go through to successfully complete a project.
Planning
While it is technically only one of the six functions of construction management, planning is still essential for any project to succeed in the first place. Even before a project in question is started, it is supposed to be planned out, from start to finish.
This function usually deals with task estimates, duration estimates, and so on. Planning is essential for all of the different parts of a project to work properly. For example, creating a correct budget and developing a schedule is substantially harder without a proper plan in place.
Costs
Budgeting is another essential function of construction management, including estimations of total spendings and returns within a project. Keeping a realistic budget helps avoiding all sorts of issues when the real price for something is different from the estimate.
Additionally, a correctly estimated budget allows for a step-by-step payment, which is incredibly useful for smaller companies and subcontractors. The entirety of a project's costs is usually kept in a "cost plan", which is a general outline of each step's cost, as well as the general cost of everything at once.
The main difference between the cost plan and the budget is that the former shows where the money gets spent, while the latter is all about figuring out the limit of a project's expenses.
Time
One of the main rules that are commonly known in the construction sphere is that more time spent on a project means more expenses, which is an unwanted outcome. This is why time management is also extremely important since efficient time management can also help with lowering the total amount of money spent.
The most important skills of a construction manager in this area are communication, prioritization, and delegation. All of these are important because each and every mistake related to miscommunication leads to higher project expenses, which is an unwanted outcome for all of the parties involved.
Safety
As a highly dangerous industry, construction is one of those industries where literally any kind of mistake in the field can lead to an injury, at best. This is the reason why safety is a big concern for every construction manager since they'll have to figure out all of the potential hazards and implement safeguards to mitigate or outright prevent those potential hazards.
Good examples of such safeguards are zoning, protective equipment, and so on. Additionally, overworking and exhaustion is also a significant problem that is not supposed to be overlooked. To mitigate that, the construction manager can make sure that there are as few overtime shifts as possible for regular workers.
Quality
Quality in general is the process of reaching a client's expectations in different fields, which is why it is one of the most important parts of construction management. Quality concerns are vast and varied, including work practices, material quality, the safety of a finished building, and so on. Quality is an important cornerstone for subcontractors during the process of bidding for projects.
Quality standards are supposed to be defined as early as possible, followed by documented proof in the form of a quality assurance plan – a document that is necessary to inform your client or clients about what you are going to do to enforce your quality standards. Proper quality control is also necessary, which includes training employees and establishing accountability by defining their roles and responsibilities as clearly as possible.
Contract administration
Contract administration is often the last function of a construction management process as a whole when most of the functions have already been completed. It is a process of communication between the construction management team and the client, and it's all about information exchange and figuring out last-minute changes.
Of course, it is possible to segregate a few more functions of construction management that are just as important as all six of the aforementioned main functions, such as:
Proper documentation, keeping a record of everything that happens during the construction phase, including approvals, correspondences, change orders, and everything else.
Regular inspections, to make sure that the project in question is being created in accordance with various rules and regulations – be it safety regulations, quality regulations, or legal compliance matters.
However, these are often deemed a part of one of the previously mentioned six "main" functions, which is why they were not mentioned before.
All of the parties that are involved with the project are supposed to be happy with how that project is being developed, following the contract's terms, and completing different stages of a project in time.
Construction management functions within different stages of a construction process
Since construction management is a process that affects every single aspect of a project as a whole, it's not uncommon for each function of construction management to affect all five of the main stages of a project – pre-design, design, procurement, construction, and post-construction. That way, we can figure out specific sub-functions that are performed within each of these five stages:
Pre-Design

Planning deals with functions such as information systems management, project organization, a pre-design conference about the project, and so on.
At this stage, Costs are at their initial phase, trying to estimate construction budgets, overall project budget, analyze specific costs, and more.
Time mostly deals with scheduling, including both the overall schedule for everything at once (so-called master schedule), as well as smaller, more detailed schedules for specific milestones.
Safety starts off its work as early as possible, estimating staffing for the project, as well as their safety measures, the level of organization for this project, and so on.
Quality assurance at this step mostly works on clarifying all of the details of the project in question, such as general objectives, the scope of work, plans on quality management, etc.
Contract administration only concerns miscellaneous communication-related matters, since the project has yet to begin in the first place.

Design

Planning in this section takes a more proactive stance, working with design documents and contract agreements, looking up project funding estimates, performing various meetings with different parties, consulting these parties, and so on.
Costs also become much more prevalent at the design phase, performing estimates based on initial schematics and preliminary versions of the design, as well as cost monitoring, value analysis, design document estimates, and more.
Time is more about maintaining both the general schedule and the more specific schedules, such as design schedule, construction schedule, and others.
Safety coordinates meetings with the entire design team to have a better understanding of the scope of the project and provide a more accurate input about safety precautions.
Quality is something that takes a much more active stance here, too, with various means of quality control, construction testing, design reviews, project funding with review meetings, among several other matters.
Contract administration deals with review meetings (specifically with clients), reporting project costs, design phases, scheduled maintenance, etc.

Procurement

Planning at this point is mostly focused on the whole bidding process, with the subsequent contracting (as well as some other relevant meetings).
Costs are also mostly following the bidding process, especially when it comes to various analyses and negotiations about bids.
Time's only concern at this point is how the bidding process fits with the contractor's schedule of construction, and barely anything else.
Safety at this stage works with contract requirements, safety submittals, compliance agencies, written safety regulations, and so on.
Quality is an important part of the procurement stage, helping with a lot of bid-related matters, such as providing the list of bidders, working on bid advertisement, figuring out procurement planning as a whole, and many other nuances.
Contract administration is also big when it comes to bidding since a lot of bid-related information is supposed to be confirmed with the client, or at least the client should be notified of – this includes bid-related notices and ads, pre-bid meetings, bid evaluation, scheduled maintenance reports, and cash flow reports, among others.

Construction

At this point Planning is becoming increasingly more important and varied – coordinating different parts of the project, managing time, monitoring budgets, requesting payments, keeping records, generating reports to the management, and so on.
Costs in the middle of the construction are concerned about change order control, as well as cost-related claims, value schedules, and more.
Time functions of the construction management in the middle of the construction process are all about following both the general schedule of project's realization and the construction-specific schedule, as well as monitoring how well the schedule is being followed, estimating what can delay the next step on the schedule, figuring out schedules to recover from various potential troubles, and so on.
Safety in the middle of the construction is all about safety meetings, safety audits, regular safety-related reports, and safety enforcement in general.
Quality assurance at this point is at its full force, keeping records, controlling documents, reviewing possible changes to the schedule, operating punch lists, and confirming the result of construction in its final form.
Contract administration performs quality reviews, delivers cash flow reports, keeps and shares records of the process, works on on-site communication, creates project summary and phase-by-phase project reports, as well as many similar functions.

Post-construction

Planning is also important when the entire construction process is complete since you still need to have all of the information about the project's entire budget, as well as the construction budget and the analytical part of it all – figuring out how effective the cost distribution was.
The only significant function that Costs provide at this point is the general report about the cost of the entire project, a summary of sorts.
Occupancy plan is the only Time-related function that is performed at this stage of a project's realization.
Since Safety deals primarily with the project in the process of its creation and is not the concern of the contractor when the construction is done, the post-construction phase does not include any specific functions of construction management in this category.
Quality also takes part in forming the final report after the construction process is complete, and it also performs a quality assessment of the final product with the owner/client.
Contract administration delivers most of the "final" reports about the project in question, such as final permits, final payment reports, close-out reports, as well as other operations – maintenance manuals, warranties, spare parts, etc.
Objectives of construction management
Construction management as a whole is supposed to represent the interests of an owner by overlooking and reviewing different stages of the project's creation. The biggest goal of a construction manager is to work together with the various parties involved in the project to provide the results within a specific budget so that it could meet the standards of an owner.
Construction management is all about determining the best possible sequence of actions and operations to achieve the best result possible in current circumstances, with a developed budget plan, a detailed schedule, while working on risk management and safety concerns at the same time.
While the main goal of a construction manager is obvious enough, it's also possible to figure out a list of objectives of construction management, which are spread throughout six of the previously mentioned fields of work – planning, cost, time, safety, quality, contact administration.
Creation of progress reports between different parts of a project
Subcontractor selection and hiring process
Estimates and negotiations for timetables and budgets
Monitoring of compliance with various legal requirements and other regulations
Construction personnel and on-site activity supervision
Be ready to respond to various problems or emergencies that might result in work delays
Choosing the right construction strategy or method for the situation
Explaining technical nuances and contract terms to employees or professionals in different fields
Team up with various specialists in the field, such as engineers, architects, and so on
This list of responsibilities also aligns with the duties of a construction manager, which include subcontractor selection, collaboration with other construction specialists, supervision of the construction process, and the other objectives mentioned in construction management. A construction manager needs to possess knowledge, decisiveness, and strategic thinking. They must be capable of planning and scheduling tasks in advance while also being prepared to handle emergencies that may arise during the construction phase of the project realization process.
Conclusion
Construction management as a whole is a relatively complicated topic, and there are many nuances involved in it. Luckily enough, splitting it all into several categories allows us to explain the functions and objectives of construction management in a much more clear and concise way.
---