Glossary
May 25, 2021
Updated 17 May 2023 by James Ocean
20 Best Construction Project Management Apps in 2023
Table of Contents
Saying that the market for mobile applications in the field of construction management have recently expanded would be an understatement. In recent years there has been a massive rise when it comes to the amount and the variety of construction management apps developed for portable devices. This all happened due to one particular advantage that mobile devices can offer – mobility. And mobility might just be one of the biggest advantages that any construction management app can offer right now.
The construction market is massive, and it keeps growing at an incredible pace – bringing in more revenue and offering more jobs. For example, Businesswire.com predicts that we will see a total construction market value of $22,873.96 billion in the year 2026, which is almost twice as much as the $13,570.90 billion value that this market had in 2021. At the same time, the employment rates in relation to the total workforce are massive – about 8.8% of the total US workforce is just the construction industry, which is an incredibly high result for an industry this complicated.
Construction project management in its entirety is both theoretical and practical, meaning that a lot of work would need to be done on site. In most cases, you can't just bring your working PC to the site and always work there – this is where construction apps come in.
That's not to say that both the flashlight app and the regular calculator are now useless – they still have their use cases, but the field of construction project management deals with a lot more than that – they try to bring at least some of the standalone software functionality in the form of an application that can be installed on a mobile device.
This process is not as easy as it might seem from the first glance. One of the prime problems in this case is the difference in the way you interact with mobile devices – that's why not all of the construction app vendors are just putting their regular desktop interface in the form of an app and barely adjust it afterwards. This is where the definition of a construction management app begins to change slightly for everyone.
In this article we'll look at various examples of construction project management apps. It's fair to say that they tend to differ greatly depending on a lot of factors, from the position of the person that is going to be using the app, to the problem that the app in question aims to solve. Our list includes applications like:
Autodesk BIM 360 Field/Plan/Glue
Revizto
Clockshark
iNeo Pro Field Daily Reports
Co-construct
Punch List & Site Audit Report
Fieldwire
GoCanvas
FingerCad
Aconex (Oracle)
BuilderStorm
BuilderTREND
Autodesk Construction Cloud
Procore
Solocator
Clockify
Zoho Project
TeamGantt
ClickUp
SmartUse
Now we'll go over each of the applications above in slightly more detail.
1. Autodesk BIM 360 Field/Plan/Glue
Key features:
Issue marking and report generation with BIM 360 Field
Detailed planning and estimation with BIM 360 Plan
Access to BIM models on the go without the need for an internet connection with BIM 360 Glue
Pricing:
Applications themselves are free, but working with them requires an active subscription to Autodesk Construction Cloud – a multi-faceted service with most of its pricing only available by quote.
Autodesk BIM 360 is a combination of construction applications, with each of these applications working with a limited set of features.
BIM 360 Field is all about report generation and issue marking, promoting accurate and quick problem reports and transferring them between on-site workers and their remote counterparts.
BIM 360 Plan is more focused on resource planning and production, it can be used in many different ways with the same goal – saving both time and money by properly calculating expenses and through other means.
BIM 360 Glue, as the name suggests, is a general-purpose mobile application for viewing BIM models, both online and offline. Additionally, BIM 360 Glue is capable of interacting with intelligent objects in several ways.
All three of these construction project management apps are free on their own. Still, they are attached to a comprehensive BIM platform called Autodesk BIM 360 – a comprehensive BIM platform that offers an abundance of BIM-related features, including easier collaboration, detailed analytics, quality management, document management, and more. At the same time, BIM 360 is not a free solution, and there is no public pricing available for this specific solution, meaning that every customer would have to contact Autodesk to receive some sort of price tag for this platform.
User ratings:
iOS:

BIM 360 Field – 2.6/5 stars based on 27 user reviews, with its most recent update being published on May 4th, 2023.
BIM 360 Plan – 1.8/5 stars based on 10 user reviews, with its most recent update being published on October 27th, 2018.
BIM 360 Glue – 2.7/5 stars based on 17 user reviews, with its most recent update being published on October 19th, 2022.

Android:

BIM 360 – 2.0/5 stars based on 1.12k user reviews
User reviews:
zero0068 – iOS – "This app is great for a couple things, but still lacking tons of useful features, and "undo" option is need it the most! Options to select an specific materials, with multiple options example… Duct—options—hide—floor# or all, it can be so useful when working with multiple floors and certain materials are only needed for field coordination."
Marius Basson – Android – "I've been a project admin on large scale projects (450+ active users, 10000+ issues, 10000+ checklists, thousands of documents, etc.) and for us this platform has totalled transformed and streamlined our way of working. There are hiccups now and again but Autodesk's customer service, in my experience, have been stellar. I'm giving 4 stars since a recent update does not let photographs load in checklists. They load as blank blocks."
2. Revizto V5
Key features:
BIM intelligence unification, offering access to the entire BIM model for every project participant
Streamlined collaboration with a BIM model as the one and only source of information for all stakeholders
Extensive clash detection between different model elements in both 2D (sheets) and 3D (models)
Offline access to the entire BIM model if it was downloaded beforehand
Reality capture with the device itself, allowing for the constant stream of up-to-date information from the construction site or other sources
Pricing:
Both Revizto V5 and Revizto Site are free, but there is a requirement for the Revizto account to be created and for the paid subscription to be activated for the end user to be able to work with these apps.
There is no public pricing available for the service in question, it is only accessible via a quote request.
Revizto for iPad manages to fit almost all of the features that the regular desktop Revizto software can provide into one single application, thus making various BIM operations far easier than before.
Revizto's mobile app can work with both 2D and 3D plans and models, enables custom properties for objects, supports point clouds, utilizes project status interactions in the form of photos, and all of that – using the same interface that you've been using with your desktop Revizto software.
Revizto follows the same pattern as BIM 360 here – the iOS app is free, but the platform it works with is not. Additionally, Revizto does not have any public pricing available on its website, meaning customers would have to contact the company independently to get a price tag. At the same time, this approach leaves more room for personalization in terms of payments so that smaller companies do not have to pay for features or elements that are not needed for their scale of work.
It is also worth noting that Revizto launched its own smartphone app in April 2023, making it even easier to access BIM data and collaborate for users without an iPad or an Android tablet on hand. The application in question is called Revizto Site, and it shares all of the capabilities of Revizto V5 while also providing a user-friendly smartphone experience.
User ratings:
iOS:

Revizto V5 – 4.2/5 stars based on 5 user reviews, with its most recent update being published on March 31st, 2022
Revizto Site – 4.8/5 stars based on 6 user reviews, with the first and only build of this app being published on April 11th, 2023.
User reviews:
herotype0 – iOS – "The phone mobility feature is a great addition. Knowing that most field users spend a lot of time coordinating, communicating and solving issues through our phones, adding the model viewing is a game changer. The speed is ridiculously fast. … Battery life of the phone now needs to be tested. For a quick field verification however, this is the way."
3. Clockshark
Key features:
Extensive time tracking in a single centralized location, with the ability to switch between tasks, review and approve other people's schedules, track specific tasks, and more
More accurate timesheets with GPS coordinates, notifications about clocking in and out, a detailed log of overtime, early check-ins and check-outs, missed shifts, etc.
Easy integration with plenty of different applications, including QuickBooks, Paychex, ADP, Sage, MYOB, and so on
Easier handling for sophisticated time policies – including time off requests, overtime rules, and overtime alerts
Pricing:
The application itself is free, but it requires an active ClockShark subscription to work properly
ClockShark has two subscription levels – Standard and Pro:

"Standard" subscription is $16 per month with an extra $7 for every additional user covered
"Pro" subscription is $30 per month with an extra $9 for a single extra user
Clockshark is one of those applications that are technically construction project management-related, although it does focus on only one single feature – time tracking. With Clockshark, it's easy to track various time-centered parameters of your construction crew, and there are also other features that make this process more user-friendly. These features are time tracking automation, cloud-based time tracking, easy integration with many different construction apps, and so on.
ClockShark's app is free, but using it requires an active subscription for the service itself – this also includes a 14-day free trial. Other than that, ClockShark has two different pricing plans. A Standard pricing plan is a great choice for smaller businesses, with $16 per month for a base license and $7 more for that same period for every additional user that needs to be tracked. This includes basic GPS tracking, attendance/time tracking, third-party integrations, and more. A Pro pricing plan, on the other hand, is almost twice as expensive, with $30 per month as a base license and an additional payment of $9 per every additional user – while offering clock-out questions, multi-office controls, advanced job cost controls, paid time off, etc.
It is also worth noting that ClockShark has both a monthly and a yearly payment model, and paying for a year of service up-front is cheaper because two out of twelve months are being provided for free in this case. Additionally, ClockShark offers a 50% discount for all new users for the first three months of payment (does not include additional per-user fees).
User ratings:
iOS – 2.9/5 stars based on 225 user reviews, with its most recent update published on March 6th, 2023.
User reviews:
Yewnicorn – iOS – "I feel like ClockShark is definitely going through growing pains right now but it's an excellent application with a wealth of functions our company utilizes daily. They're constantly adding to their program & even though I've had a smattering of issues here & there, our team of over 20 has been using the app with ease for nearly two years now. User friendly, great customer service, awesome interface."
4. iNeo Pro Field Daily Reports
Key features:
Easier daily report/audit document creation with an encrypted connection
Integration with emails, the ability to add images to every report
Other details that can be added to every new report include work areas, punch lists, work status, personnel data, and more
Pricing:
iNeo Pro Field Daily Reports as a mobile application is free, but it does require an active subscription to work properly
The subscription in question is split into three pricing plans:

"Basic" plan is free for everyone
"Pro" plan is $9.99 per month per user
"Advanced" is $19.99 per month per user
Once again, the main feature is in the name – iNeo Pro Field Daily Reports is an application about professional reports. It can work with both daily reports and less frequent, but more detailed reports, as well.
All of the reports created in iNeo Pro Field can easily be chared using either e-mail or one of the cloud storages, such as Google Drive, Dropbox, and others. You can easily attach various notes and photos to each of your reports, and the reduction in time for a person to create a report allows for more time when it comes to more important construction-related tasks.
Smaller contractors could use iNeo Pro Field Daily Reports for free since their Basic plan should be capable of accommodating several needs that a small company would have. Aside from the Basic plan, a Pro plan ($9.99 per month per user) gives project-sharing capabilities, extensive site reports, and more. It is also important to mention an Advanced plan ($19.99 per month per user), which expands upon the Pro plan's features, bringing custom forms, report sharing, report storage in the cloud, and custom checklists.
User ratings:
iOS – 4.4/5 stars based on 16 user reviews, with its most recent update being published on January 28th, 2022.
User reviews:
Elvisalys – iOS – "Setup is a little odd, but quite easy and quick. After that, it's smooth sailing. Very impressed so far"
Robert!333 – iOS – "Like the app. Want other crews to use it too… but it is not available yet on all platforms. Google lay is also available. Any plans in the works for android?"
5. Co-construct
Key features:
Robust scheduling and extensive time-tracking
File and photo storage with the ability to draw on photos
Efficient employee time tracking and job site logs
Easy and simple communication between different project participants and even with the client, with effortless order changing and flexible selections for end users
Pricing:
The application itself is free for both Android and iOS, but it is also necessary to have an active subscription for CoConstruct's mobile app to operate in the first place
There are three different subscription tiers that CoConstruct provides:

"Essential" tier is $399 per month
"Advanced" tier is $699 per month
"Complete" tier is $1,299 per month
More geared towards smaller or medium-sized construction companies, CoConstruct is a comprehensive construction project management app with their sights set on various design-build companies, custom builders and remodelers.
The application itself has both standalone and web-based versions, capable of working with both Android and iOS devices, and offers a surprisingly broad list of features.
Some of these features are:
task management;
budget management;
choosing materials and/or designs;
scheduling;
various communication with client (including status reports), and more.
CoConstruct's pricing model is complicated. The app is free, but the service uses a subscription-based model. Three tiers have different advantages and features. They can also be billed on a monthly basis or once a year, making the final pricing confusing.
First of all, there are three main pricing plans that CoConstruct has – Essential, Advanced, and Complete. An Essential plan ($399 per month) is a more basic package that offers project scheduling, email marketing, daily logs, receipts, etc. An Advanced plan ($699 per month) is a bit more versatile in comparison, working with proposals, budgeting, bills, surveys, WIP reports, bid management, and change orders. Lastly, there is a Complete plan ($1,299 per month), which is the ultimate package of everything CoConstruct can offer – RFIs, warranties, selections, and every other feature mentioned in previous subscription tiers.
The first point of confusion here is the fact that CoConstruct offers a discount for all of its new users for the first two months, dropping an Essential plan's price down to $99/month while also cutting a large part of both Advanced (down to $399/month) and Complete (down to $899/month) plans. Additionally, CoConstruct has an annual billing option, which offers another discount for all three plans' base prices. With that in mind, the Essential plan costs $339/month, Advanced is now $599/month, and Complete is $1,099/month.
User ratings:
iOS – 3.3/5 stars based on 177 user reviews, with its most recent update being published on September 12th, 2022.
User reviews:
camsides – iOS – "I won't talk about the benefits of coconstruct here, as builders that use it know it's immense value. The reviewer that have one star apparently didn't read anything about the software before purchasing! The app itself is constantly being improved, just like the web version. These folks listen to input, and I have seen changes made after I have suggested things. Overall, good functionality that keeps getting better, from an honest company."
Snideron – iOS – "The new time clock upgrade is good. The original time clock feature felt like an afterthought. This version is more in line with what I expect from a functional and well thought out time tracking tool. My team who previously thought the time clock was a burden is now using it regularly for real time time tracking."
6. Punch List & Site Audit Report
Key features:
Simple and clean punch list creation with only a few steps
The ability to attach a variety of additional data sources such as photos to documents
Suitable for site walks, inspections, snag lists, audits, construction management, and more.
Pricing:
Punch List & Site Audit Report is a free app with some features only available to users with an active paid subscription to this same service.
This subscription costs:

$5.99 for a month
$35.99 for a year
$189.99 for a lifetime license
Another example of technical placement on the list, Punch List & Site Audit Report is an app that is focused solely on punch lists. The existence of the ability to simply list all of the potential problems of a specific project, or problems at the current stage in the on-site work, is capable of heavily influencing the outcome of the entire project as a whole. This app can also operate with notes and photos added as attachments to your lists and reports, and the general user-friendliness inspires users to work with it even more.
Punch List & Site Audit Report is a free app, but some of its capabilities are considered "premium" and thus inaccessible without an active subscription. The subscription is $5.99 for a month and $35.99 for an entire year, with the ability to pay for extra years for the same prices. This app is also one of the few applications in this field that offer lifetime licensing for a single purchase of $189.99.
User ratings:
iOS – 4.6/5 stars based on 2.2K user reviews, with its most recent update being published on February 18th, 2021.
User reviews:
Bald cop – iOS – "I love the ease of use and the way it streamlines my ability to document my site safety audits. Very intuitive, easy to use, no flash. Just a get-it-done work-horse.I wish there was less character limitations for the comments, and a way to save the info for my title pages for each client, so I didn't have to remember how I filled it out on previous occasions. I like everything to be uniform. Other than that, for what I use it for (site safety audits) it's exactly what I need."
7. Fieldwire
Key features:
Project management capabilities with RFI tracking, automated submittals, specification reviews, and more
Drawing and blueprinting with annotations, markups, status update images, as build archives and RFI hyperlinks
Construction inspection, 2FA, detailed on-site inspection, annotations & markups for progress photos, and more.
Pricing:
The application itself is free on both platforms, but users would have to purchase one of several subscriptions to be able to use most features.
There are four subscription tiers available in Fieldwire:

"Basic" tier is completely free
"Pro" tier is $54 per user per month
"Business" tier is $74 per month per user
The "Enterprise" tier does not have a public price; it can only be acquired by contacting Fieldwire for a quote.
Fieldwire fashions themselves as a "fully featured blueprint management solution" – which makes accessing and sharing models one of the primary features of the app. Fieldwire's construction project app allows users to access the most relevant project model from anywhere, and the app itself can be downloaded for both iOS and Android.
Offline model view is also available when it comes to Fieldwire and its capabilities, as well as some other features – sheet hyperlinking, adding annotations and markups, attaching photos, quickly importing drawings and blueprings, and so on.
As with most examples in this article, Fieldwire's mobile app is free, but you would have to have a Fieldwire subscription active to use it in the first place. Fieldwire has three (four) subscription tiers, depending on whether we can count a timed free trial as a separate subscription tier. Fieldwire calls this kind of free trial its Basic tier, and there are also Pro, Business, and Enterprise tiers. A Pro subscription tier is $54 per user per month, offering unlimited projects and sheets, custom task statuses, sheet comparison, email support, etc.
A Business subscription tier – $74 per month per user – includes everything mentioned before, as well as phone support, custom forms, BIM viewer, and cloud platform synchronization. The last subscription tier is Enterprise, which does not have a public price in the first place (only negotiated). Still, it does have SSO, API access, a dedicated account manager, and company-wide usage for the app in question.
User ratings:
iOS – 4.8/5 stars based on 7K user reviews, with its most recent update being published on May 9th, 2023.
Android – 3.7/5 stars based on 3.56K user reviews, with its most recent update being published on May 8th, 2023.
User reviews:
Ralph Lozano – Android – "I've been in the industry for 25+ years and tried everything out there. Most had some cool unique feature or were trade specific driven. That's fine but most were complex, not user friendly to the old dogs, quirky, or had no integration with other basic management tools. That is what sets Fieldwire apart from others. It's intuitive, easy to learn no matter what age, and it holds your team accountable for what work they perform in real time. Regain control over your projects. Game changer."
WooderMan – iOS – "I've been using FW for over 4 years now in the PM and Estimating field. For starters, I used the free version for a little while prior to purchasing as I wanted to give it a test drive before spending unnecessary money. …  If you're contemplating purchasing a PM/field app, take a look at this one! Worth every penny. I recommend paying annually to save a little money rather than monthly."
8. GoCanvas
Key features:
App creation from scratch with zero lines of code, either via one of the existing templates or by using your own combination of elements.
Allows for the creation of invoices, waivers, estimates, work orders, inspections, and many others.
Pricing:
GoCanvas has two pricing tiers – "Essential" and "Elite," neither of which has any public pricing available; it can only be acquired after requesting a quote from the software provider.
Another variation of reporting application is called GoCanvas, and this one is geared more towards contractors and contractor-specific use cases. There are two main features that GoCanvas provides – filling out various reports, and creating forms. The first feature is extremely useful when it comes to filling out inspection forms, audits, work orders, estimates, etc. The second feature is more case-specific and mostly used for less known operations and tasks. Additionally, GoCanvas supports exporting into PDF format and file sharing of all of your forms and filled out documents, making it one of the best construction management apps in this field.
GoCanvas's free version contains a temporary free trial, which must be turned into a paid subscription. There are two main subscription tiers that GoCanvas has – Essential and Elite. None of them have any public pricing available on the official website, but there are quite a few of key differences between these two subscription tiers.
Essential is supposed to be targeting a growing company that requires more automation capabilities, it can offer priority tech support, an online onboarding program, unlimited forms, offline access, photo capture & uploading, as well as support for 3 or more users and plenty of other features that you would have to pay extra for. Elite, on the other hand, includes everything that the Essential tier can offer, combined with a dedicated customer onboarding program, a lower limit of seven users or more, as well as a long list of some of the more uncommon features, such as SSO, full API access, customer-facing forms, and many others.
User ratings:
iOS – 4.7/5 stars based on 1.5K user reviews, with its most recent update being published on May 3rd, 2023.
User reviews:
Crazyhorsecannon – iOS – "Moving our inspections from paper to apps was a very scary idea. The thought of having no paper to touch was only slightly less scary than the thought of us having to build an app as none of us are computer programmers. A year into it we love it. Actually we loved it from day one. This is the only way to go….GOCANVAS"
9. FingerCad
Key features:
Comprehensive modeling operations with just a smartphone
Support for a variety of CAD formats, including the popular .DXF format
Both advanced CAD modeling operations and simple quick drawing can be performed with FingerCAD
Pricing:
As one of the cheapest solutions on the market, FingerCAD's perpetual license costs only $2.99 and there are no additional purchases involved whatsoever.
Moving away from reporting applications, FingerCad is a comprehensive mobile application that allows for actual modeling operations with nothing but your mobile device. It supports several different formats (with .DXF being one of them), and can be used for both quick drawings and advanced modeling operations. All of that is thanks to FingerCad's interface, which is, while complicated, is actually offering a lot of features from desktop modeling software – to be used with your mobile device.
FingerCad is one of the few construction project management apps that does not have a full-scale software counterpart, which is where its relatively small price comes from. FingerCad is not a free solution, but it costs as little as $2.99 and does not require any additional purchases for the entire app to work.
It is worth noting that the development of FingerCAD was restarted starting from version 4.0, released on December 8th, 2022. The intent is to optimize the experience for more modern iPhone versions and fix existing issues with the application. This particular update implemented a list of new features, including interface redesign, source code optimizations, and improved performance.
User ratings:
iOS – 1/5 stars based on 3 user reviews, with its most recent update being published on December 8th, 2022, offering a complete redesign of the app and announcing a variety of new features on the way.
User reviews:
lyciron – iOS – "I think CAD on an iPhone is very useful. This one has great potential. The big thing missing is documentation. I can not find the method for copy. Otherwise this is a great begining. Please continue to update this app."
Red Drop – iOS – "It's interesting to tinker with but I found myself seeking interface instruction with respect to what tool or edit button does what. Help file, tool tips, user manual, etc."
10. Oracle Aconex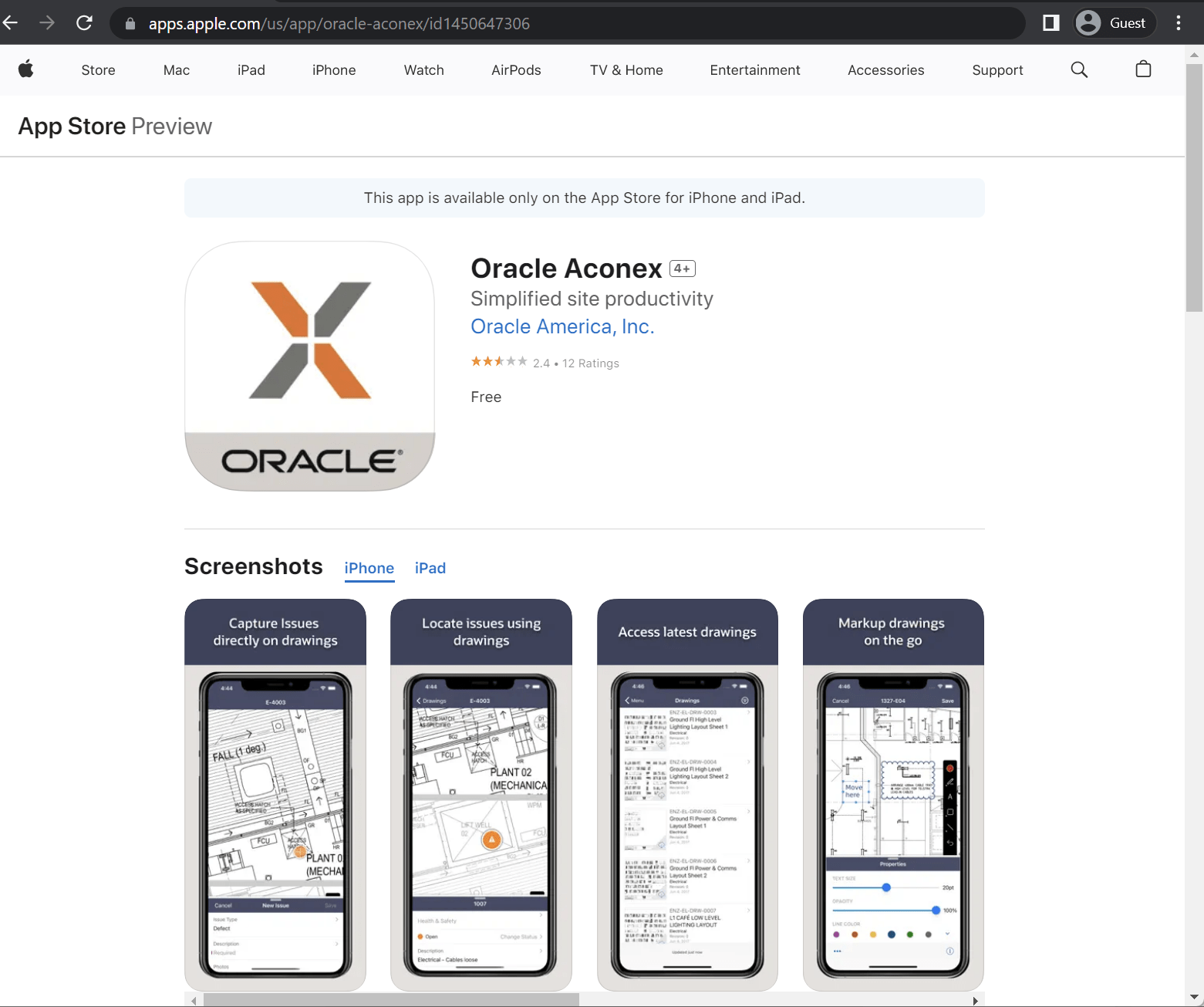 Key features:
Inspection and issue management for the sake of quality control
Punchlists as a way to help with pre-handover inspections
Control safety on construction sites
Connect issues with project drawings in a comprehensive BIM environment
Pricing:
While Oracle Aconex is a free app, it does require a paid Oracle subscription to be activated for it to work.
Unfortunately, there is no public information about Oracle's pricing, meaning that the only way to receive an exact price is to request a quote from Oracle themselves.
Aconex is a relatively popular information management platform that Oracle has recently acquired. One of the results of this acquisition is Oracle Aconex – a multifunctional construction project app that offers several useful features for construction and engineering projects. For example, Oracle Aconex can view and interact with various drawings and design documents. There are features like working with project mail, gaining access to your project-related tasks, attaching photos or videos to your annotations, and more.
As with almost any other app on this list, Oracle Aconex is a free app that would be useless without its mainline desktop counterpart – and that product has a price. Unfortunately, there is no public price available for Oracle Aconex, making it difficult to assess the service as a whole, as well as the usability of the app.
User ratings:
iOS – 2.4/5 stars based on 12 user reviews, with its most recent update being published on April 25th, 2023.
User reviews:
User in KSA – iOS – "When I searched issue by inputting its own number, this app gets shut down. It is very critical problem. Please update this as soon as possible. Other points is very good to use."
11. BuilderStorm
Key features:
Access to project drawings, the ability to download them, view them, comment on them, and more
Extensive control over RFIs, including the ability to answer, issue, create or assign different RFIs on the fly
Access to digital forms and the ability to sign any of them on the fly, from registers to permits and RAMS
A daily diary, a photo gallery, photo uploading feature, and many others
Pricing:
There is no public information available about the pricing of BuilderStorm's services, although its official site claims to have "Flexible Pricing" as one of its benefits, offering to "Pick and choose features based on what your company needs".
When it comes to original approach to the best construction management applications, BuilderStorm is as unusual as it gets. While technically there is no dedicated app from BuilderSoft themselves, adaptive web design allows for the usage of their cloud-based construction management platform from most of the modern devices. This list includes desktop, Android and iOS devices, making it a jack-of-all-trades of sorts.
As for the platform itself, BuilderStorm offers several different construction-related features, such as reporting, procurement management, schedule management, project tracking, accessing files in the cloud, and so on.
While BuilderStorm's website has a wealth of information, such as its case studies and specific features, there is no information about the app's price.
User ratings:
BuilderStorm's App Store page is currently missing, and its Google Play Store page does not have a public rating available. Its last update (3.34.234) was released on April 26, 2023, and it has over 500 downloads.
12. BuilderTREND
Key features:
Project management in the form of warranties, requests for information, document annotation, daily logs, client relationship management, electronic signatures, selections, etc.
Financial management capabilities, such as budgeting, takeoff, bids, invoicing, proposals, bills, account integrations, estimates, financial reporting, and so on
Pricing:
BuilderTREND has a free smartphone application for Android and iOS devices, but the solution itself requires a paid subscription to work outside of the demo period.
There are three pricing tiers available to BuilderTREND users:

"Essential" tier is $399 per month (first month is $99)
"Advanced" tier is $699 per month ($399 for the first month)
"Complete" tier is $999 per month (first month is $699)
There are four fields in which BuilderTREND mobile app excels at – financial management, project management, customer account management and presales management. As for the particular features, there are:
scheduling;
bid requests;
purchase orders;
plan markups;
CRM functions, etc.
BuilderTREND as an app is free, but the project management platform itself is not – it has no free version and no free trial, but there is a demo that you can schedule on a case-by-case basis. As for the solution pricing, there are three subscription tiers available – Essential, Advanced, and Complete. All three of these subscription tiers have a discount of sorts that only works for the first two months of using the service – an Essential tier goes from $99 per month to $399 per month, an Advanced plan starts from $399 per month but then turns into $699 per month, and a Complete subscription is progressing from $899 per month to $1,299 per month.
With that being said, these subscription tiers vary quite a lot – an Essential tier offers basic features such as scheduling, lead management, email marketing, to-do lists, invoices, and daily logs. An Advanced tier adds budgeting, lead proposals, estimates, receipt management, and surveys to the previous tier. A Complete tier includes everything above, as well as RFIs, warranties, and selections, among other features.
User ratings:
iOS – 4.5/5 stars based on 3K user reviews, with its most recent update being published on April 27th, 2023.
User reviews:
ALP111466 – iOS – "We started using builder trend in 2014. It has profoundly changed out business approach for the better. We do high end custom Home building in remodeling work. It keeps our project organized, subcontractors in the loop, and our clients informed. … It is user-friendly and not difficult to get the hang of. We love it!!! We hope our competition continue to be slow to catch on!"
on target remodeling – iOS – "My company has been using Buildertrend for just over a year now and the results are astounding. Many tasks that had to be done using multiple platforms can now be done using one platform. The ability for customers to have their own project site where they can view progress payments, change orders, pictures, videos and documents is invaluable. … All along the way there is excellent customer service available Monday through Friday to take care of any questions or issues that might arise. Simply put if you are not using this or something similar I just don't see how your company can grow effectively."
13. Autodesk Construction Cloud
Key features:
Construction collaboration capabilities, including asset management, centralized scheduling, issue tracking in a single location, creation of meetings and meeting agenda objects, and so on
Quality control-related features, be it RFI management, submittal information management, and photo upload
File management is all about access to 3D models in the field, support for multiple data types, access to drawings and sheets, quick download, dynamic search, and many other capabilities
Pricing:
The application itself is free, but an active Autodesk Build subscription is needed to be able to use it.
There are three possible tiers of Autodesk Build subscription that could be purchased from within the app itself:

Autodesk Build 550 costs $49.99 a month and covers up to 550 sheets
Autodesk Build 5000 costs $79.99 a month and works with up to 5000 sheets
Autodesk Build Unlimited has no limitations on the number of sheets it can work with and costs $139.99 per single month
Previously known as PlanGrid Build Field, Autodesk Construction Cloud is a construction app that specializes in drawing and document management, as well as collaboration between teams within the same project. It combines the features of PlanGrid, Autodesk Docs, Autodesk Build, and Autodesk BIM Collaborate into a single versatile solution. Some of the features of this app are presented below.
automatic hyperlinks for faster navigation;
distribution of issue reports via rolling log;
RFI lifecycle management;
easy and fast drawing viewer;
versioning;
synchronization, and more.
The Autodesk Construction Cloud app is free, but it also requires a full-scale solution such as Autodesk Build to work in the first place – and it is even possible to purchase one of three existing Autodesk Build versions directly from the app itself. As such, there is Autodesk Build 550 ($49.99 per month), Autodesk Build 5000 ($79.99 per month), and Autodesk Build Unlimited ($139.99 per month). The biggest difference between the three is the number of sheets that can be kept up per account – 550 sheets for the smallest version, 5,000 sheets for the medium offering, and an unlimited sheet number for the most expensive option.
User ratings:
iOS – 4.7/5 stars based on 17.2K user reviews, with its most recent update being published on April 27th, 2023.
Android – 3.8/5 stars based on 4.43K user reviews, with its most recent update being published on April 25th, 2023.
User reviews:
Tubyfeyh – iOS – "PlanGrid has moved from something I casually asked if we would be using on a project to the standard- every project I am on is now on PlanGrid. Passing information between the field and the office has never been easier; fumbling around with full size prints is a thing of the past. Is this app perfect? Not quite. Is it light years ahead of where we were even 2 years ago? Yes. Yes it is. If I could give a 4.5 star review I would, but all of my suggestions so far have at least gotten a response, many have been implemented. Thanks PlanGrid!"
HornetV2 – iOS – "I got into using this app as it's one used by one of our clients on many different projects. App is great when it comes to access documents and drawings for the project. My only complain is that when accessing a project, it only will allow you to download the whole set of documents related, and when you have many projects as well as using other apps, it is a problem with data download and memory storage. … Just saying this in here as a suggestion of what could be improved here."
Maezel Malicad – Android – "This app is amazing! it is really a great app for my field. This software is easy to use even tho you're not familiar with this. In the help of PlanGrip, i dont need to carry lots of paper works because i can just keep it to this app and edit it anytime i want. Good thing is i don't have any problem or trouble using this app."
14. Procore
Key features:
Field enablement tools – punch lists, RFIs, documents, drawings, photos, and daily logs
Project management capabilities, such as submittals, scheduling, specifications, and other means of connecting teams and projects together
Quality and safety management solutions for better compliance with quality specifications and safety regulations – with inspections, observations, incident monitoring, etc.
Pricing:
Procore's mobile application is free, but there is also a requirement for any user to have a subscription to the service itself – and there is no public pricing available for Procore; it is always tailored to every potential client.
While some of the examples above were more suited for custom building processes and remodeling operations, Procore's construction project management app is more suited for companies that specialize in mass construction with less variety.
For example, with Procore you can access project directory, see schedules, track drawing set versions, mark up drawings/RFIs, interact with project data in many ways (both locally and remotely), log various daily activities on site (from weather to labor), and more.
Additionally, Procore can utilize the capabilities of your mobile device to provide some additional features, such as attaching photos from camera directly to your punch lists or drawings, or scanning QR codes to locate various building project submittals from Procore.
While the app is free, Procore as a service is still a premium product, so it is important to mention its price. Unfortunately, Procore does not have any public information about its pricing brackets, meaning that every potential client would have to get a custom quote for their use case to have some understanding of Procore's pricing.
User ratings:
iOS – 4.6/5 stars based on 25.1K user reviews, with its most recent update being published on May 8th, 2023.
User reviews:
Mmanningutc – iOS – "I am a project manager for a medium size GC in Nashville. We started using Procore about 1 year ago. Our experience with the software has been great. It has allowed us to easily manage our drawings along with drawing revisions and our own drawing mark-ups. We are also able to send RFIs from the field as well as view submittals and other relevant project data. … The Daily Reports or Daily Logs as Procore calls them are easy to fill out on the IPad and can easily upload photos of work in progress."
NH housewright – iOS – "I have used most of the construction software out there. I' be taken the classes, read the recommended manuals and gotten a lot of sleep doing it. … ProCore is easy enough to use that if you have reasonable computer skills, know how to copy and paste, are comfortable with Excel, then you can use ProCore without requisite training. I've only found a couple of things that are hard to do. One is to upload a schedule into ProCore from Excel. … The other is uploading photos from another source, like google photos. You. Can't. You need to move your pix into your pictures then upload one by one to ProCore. If you try this on cellular wi-fi it's going to fail 90% of the time. According to ProCore online help, that's the nature of the beast. The rest of the software…pretty easy stuff."
15. Solocator
Key features:
GPS camera capabilities, allows for stamping photos with additional information – from GPS position and local time to street address, altitude, compass, etc.
Industrial pack allows for automatic photo exporting to cloud storage locations, batch edit notes, custom filenames, editable notes overlay, photo tracking in map view, and so on
Pricing:
The basic version of the app has a surprisingly low entry price of $0.99
Some of the more technical features could be purchased for an additional one-time transaction of $4.99
Solocator is another case-specific application, and this one specializes in adding more context to on-site photos. Solocator allows you to add various data to your photos, such as date, altitude, direction, and GPS coordinates. This is extremely helpful in many different cases, such as progress reports, issue reports, repairs, snags, and so on. That way, you won't need to manually explain context for each of your photos, if they'll already have both latitude and longitude added to them.
Solocator is one of the few construction project management apps on this list that is not a mobile extension of a full-scale project management platform, making its pricing model rather tame. The app costs $0.99 – offering information about photos, such as GPS coordinates, altitude, bearing, date, time, and even a local time zone. There is also an expansion of sorts called the Industry Pack, which costs an additional $4.99 on top of the app's own price, offering additional features – street address, customizable fields for project name/photo description/photo author, different coordinate formats (UTM/MGRS), etc.
User ratings:
iOS – 4.2/5 stars based on 285 user reviews, with its most recent update being published on May 24th, 2023.
User reviews:
Appleabc123 – iOS – "I have used this app for years to take pictures for ecological volunteering and other projects. It is wonderful for documenting conditions in the field with geographical coordinate data overlayed on the image. I use it for downed trees and other environmental conditions to report. The app has been consistently good for all these years and I have never had an issue. Also, all the functions work offline which is excellent. I highly recommend this app!"
MicklPickl – iOS – "This app was mentioned in a land surveying forum, and I'm so thankful for it. It has become crucial to our workflow in my surveying company, and we have purchased this app for each of our party chiefs as well as office technicians. The developer is very responsive and I hope the app stays up-to-date in the future. This app is a prime example of why smartphones have become indispensable."
16. Clockify
Key features:
Time management with a lot of additional features, such as calendar, timesheet, timer, auto tracking, as well as reporting, forecasting, estimating, location monitoring, and so on
Other features include scheduling, timesheet approval, invoice management, expense recording, time off management, etc.
Pricing:
The initial Clockify app installation is free, but plenty of paid subscription tiers are available with additional features.
There are four different tiers of subscription:

"Basic" tier is $4.99 per month per user
"Standard" tier is $6.99 per user per month
"Pro" tier is $9.99 per month per user
"Enterprise" tier is $14.99 per user per month
Clockify as a service has quite the reputation of being one of the best time-tracking tools on the market, offering a large number of supported devices to work with – including both desktops and smartphones. Clockify offers the ability to perform location tracking, generate thorough reports, calculate billable hours, and, of course, track your time via a built-in timer or manually inputting numbers. It can also be integrated with about a hundred different applications and software appliances, has a rather extensive free version, and even offers a self-hosted variant of its service for better security and privacy, if necessary.
Even though Clockify offers a lot of its features for free, they also have as many as five different pricing plans – that includes the free plan, of course. Other plans are Basic, Standard, Pro, and Enterprise. A Basic plan ($4.99 per user per month) is a relatively small extension of the Free plan, with bulk editing, project templates, and time audit capabilities. A Standard plan ($6.99 per user per month) can lock timesheets, has a QuickBooks integration, and can force 2FA over the entire team. A Pro plan ($9.99 per user per month) adds scheduling and forecasting to the feature list while supporting features such as GPS tracking. Last but not least is the Enterprise plan ($14.99 per user per month) – with its SSO support, audit log capabilities, custom subdomains, and more.
User ratings:
iOS – 4.6/5 stars based on 1.6K user reviews, with its most recent update being published on April 27th, 2023.
User reviews:
The 649 – iOS – "When needing to keep track of your hourly check and time, this is the perfect app to get you all the details you need. You are in control with this app. The flexibility it gives you in managing your time is definitely a plus. Oh did I mentioned reporting features, well there are so many options when it comes to reporting. If you don't have time to check your reporting in the app, not to worry. The app provides you with a weekly report via email, with a detailed breakdown. This app is more than a time clock."
Virgil Brigman – iOS – "I use this app to track time for work-related efforts as a consultant. For the longest time I used a different product, but the vendor made a very dramatic change to the subscription structure, which drove me to look for other options. After evaluating a dozen or so other options, I landed on Clockify and I am quite pleased with the features and functionality – even in the "basic" version. … There are more advanced features to be had for a subscription price, but right now I'm satisfied with the basic stuff. Overall, great job with this product.
17. Zoho Projects
Key features:
Project management capabilities, such as an overview of current discussions, comment threads, tasks, ability to create tasks and modify existing ones, centralized access to the entire construction management dashboard filled with tasks, as well as planning via a calendar, timesheet module for work hours recording, and many others
Pricing:
The application itself is free of charge and has a rather basic set of features.
There are also two paid plans that users have to pay a monthly subscription fee for:

Zoho Projects Premium costs €5 per user per month
Zoho Projects Enterprise costs €10 per month per user
It has become fairly common for various software and entire platforms to be based in the cloud – and Zoho Projects is one such example, a construction project management application that is based entirely in the cloud. It is targeted mostly at smaller and mid-sized companies, with various project management features – time management, collaboration, third-party integrations, task management, automation capabilities, as well as a lot of customization. It would be fair to mention that Zoho does have a free plan, but it is quite limited in its capabilities – paid plans, on the other hand, offer a lot of value for their price.
There are only two main pricing plans that Zoho offers – Premium and Enterprise. Zoho Projects Premium (€5 per user per month) has task automation via blueprints, advanced issue reports, Gantt charts, resource utilization statistics, business rules, and so on. On the other hand, Zoho Projects Enterprise (€10 per user per month), is far more enterprise-oriented, offering SLAs for Issues, SSO support, portfolio dashboards, custom fields, dependencies between projects, and many more other features.
User ratings:
iOS – 4.6/5 stars based on 1.6K user reviews, with its most recent update being published on April 27th, 2023.
Android – 3.6/5 stars based on 2.01K user reviews, with its most recent update being published on April 20th, 2023.
User reviews:
Doc McStubbins – Android – "small integration issues make this much less fluid that it should be. our requirements from administration are a bit more involved than I'd like, but thats not a problem on your end. When I open the app, it always defaults to the last project(not the current one). just one of a number of small issues. overall, good for keeping track of thing, and extremely customizable(if you have some coding knowledge)"
A Selvam – iOS – "Zoho Team is demonstrating Phenomenal engagement with customer event of raising any issue. Thanks and Please continue same resolution time Touch-base in resolving issues!!!"
18. TeamGantt
Key features:
Project timeline control capabilities, including adding due dates, organization for task lists, project files and documents management, and time tracking for every task
Other features include managing checklist items, starting and modifying discussions, and a centralized overlook of Gantt charts
Pricing:
TeamGantt's free version of the application is rather limited in its features.
There are also three pricing plans available for its users:

"Lite" that costs $24 per single manager per month
"Pro" is $59 per manager per month
"Enterprise" goes for $99 per month per active user in the management department
Several previous examples could be applied to the project management industry as a whole, but there are also enough solutions that only target the construction industry as their primary audience. TeamGantt is one such solution, focusing most of its features on construction project management tasks. It can act as a centralized project management hub for multiple projects while also offering the ability to work with tasks, reports, portfolios, calendars, etc. It has many collaboration-related features and a dedicated mobile app that is more than just the web version of the full-scale solution. Unfortunately, it is also quite limited in what it can offer for free, with a limitation of only one project at a time being one of the biggest ones.
TeamGantt has three different pricing plans – Lite, Pro, and Enterprise. A Lite plan ($24 per month for one manager) can offer all of TeamGantt's core features, with the addition of integrations, calendars, boards, and lists. A Pro plan ($59 per month for a single manager) turns off all of the previously existing limitations in terms of how many tasks can be created at once while also having time tracking, estimates, portfolio management, workload management, and more. An Enterprise plan ($99 for one manager billed monthly) is the only subscription tier that has no limits in terms of how many projects can be kept up at the same time, combined with uptime SLA, security reviews, a dedicated account manager, etc.
User ratings:
iOS – 2.9/5 stars based on 47 user reviews, with its most recent update being published on June 24th, 2022.
User reviews:
Robo7759 – iOS – "Just as many of the other reviewers of this app, I would like to see the timeline view. But I can see that the developers are working on the list view first, as that is the only thing you can see in the app. As such, I think one of the more immediate updates should include the ability to move around your tasks and groups like you can do on the desktop task list. Thanks and good luck with the development, TeamGantt!"
NicroMX – iOS – "There is some basic functionality missing. I would like to see the gantt view on ipad. There should also be a "shake entire project" button. However, this is best free solution that I have found. Even with the free version I have been able to connect with support quickly and get answers to questions."
19. ClickUp
Key features:
Seamless collaboration and task management on the go
Centralized view on existing to-do lists and the creation of new ones
Push notifications and employee monitoring
Pricing:
A part of ClickUp's functionality is completely free, but there is also a large number of features that are only accessible to paid subscribers.
ClickUp has four different subscription tiers:

"Unlimited" tier goes for $5 per user per month
"Business" is a slightly bigger subscription plan that costs $12 per single user paid monthly
"Business Plus" is one of the most expensive subscription levels available at ClickUp, with the price being $19 per month per user
"Enterprise" does not have any public pricing available, can only be acquired after requesting and receiving a quote
ClickUp is a versatile construction project management platform that has a multitude of different features suitable for this particular job. It has templates, comments, variations of proofing, a map view, column calculations, and even offline mode. It can be used to calculate estimates, visualize workflows, automate tasks, manage resources, and many other operations. ClickUp also has a mobile app that offers most of the aforementioned features while providing unprecedented mobility to its users.
While ClickUp's construction project management app is free, the project management platform has multiple different subscription levels. ClickUp does have a basic version of its software that is completely free and has a lot of functionality – whiteboards, time tracking, unlimited members, and so on. Other subscription tiers are Unlimited, Business, Business Plus, and Enterprise.
Each of these subscription tiers has its own merits and is suitable for a rather specific category of clients:
Unlimited plan ($5 per user per month) is for smaller teams and is more or less the free version with no limitations
Business ($12 per user per month) plan is for companies that are a bit bigger and have to have features such as workload management, precise time estimates, and extensive automation,
Business Plus ($19 per user per month) plan is for situations where there is a need to manage multiple full-sized teams at once, with features such as custom permissions and priority support,
Enterprise plan is the only plan with no public pricing, offering enterprise-level API access, SSO support, a dedicated manager for your company, white labeling, etc.
User ratings:
iOS – 4.7/5 stars based on 3.9K user reviews, with its most recent update being published on April 5th, 2023.
User reviews:
Nny.00 – iOS – "I'm a new user to project management apps and ClickUp and so I can't say I've had anything else to compare it to. But I am a designer and I have to say the app UI leaves something to be desired. It doesn't feel intuitive and just gets me frustrated using it. … As far as features that ClickUp has to offer, I am happy that there are so many ways of customization that can allow for different brains to process information easiest to them. This allows for everyone on the team to work the best way suited to them. This is one of the main reasons why I continue to use ClickUp. Inclusive design rather than exclusive design!"
Yoispo – iOS – "I have tried ClickUp before but could not figure out how to navigate it. Well, this latest version is a whole new app. I just started using the free version and am thoroughly impressed. I have been working on improving my work flow for years. I thought I was almost there with my use of Apple reminders, Google calendar and Evernote. I think ClickUp could be the one tool to replace my current system. I'm still trying to figure out if storing documents will work as well for me. I have contacted ClickUp support three times today with questions and they have responded more quickly than any other vendor I've used. And I'm only on the free plan. If you're like me you owe it to yourself to see what ClickUp can do for you."
20. SmartUse
Key features:
Many variations of sheet modification in a collaborative environment, including quick zoom, detail callouts, hyperlinking performed automatically, and revision comparison capabilities
There are also multiple collaboration features, improving the overall understanding of the project's necessities and reducing the number of errors – presented in a user-friendly touch-based interface
Pricing:
The process of downloading the app is free, but there is no free version of the software available for all users.
There is only a 30-day free trial available, which has to be replaced with one of several subscription tiers that SmartUse has:

"Standard" costs $65 per month per user
"Team" costs $39 per user per month, but you cannot pay for less than five employees at once
"Enterprise" tier is only suitable for companies with over 20 employees and there is no public pricing available whatsoever
Some applications are even more specific than targeting a niche of construction project management apps and software. SmartUse is a good example of this – hyper-focusing on a trivial document-sharing feature to make it as accessible and feature-rich as possible. SmartUse excels in document management, side-by-side viewing, document search, sorting, etc. The fact that SmartUse is a cloud-based service also makes it extremely easy for the solution itself to act as a single source of truth, offering documents to all project participants in their most up-to-date state.
SmartUse's pricing policy is also relatively simple – there is no free version, but there is a free 30-day trial is available. There are also three different subscription tiers available – Standard, Team, and Enterprise. A Standard plan (for $65 per month per user, with the ability to reduce this price down to $49 per month per user if you decide to pay up-front for an entire year or service) has most of what SmartUse can offer, including unlimited documents in the system, issue tracking, markups, hyperlinks, and even some of the enterprise-level features, such as API integration, SSO and a dedicated manager.
A Team plan, on the other hand, is almost exactly the same as a Standard plan, with the biggest difference being annual billing and the plan itself being available only for teams with five or more members at once (with a price tag of $39 per month per user). Last but not least is an Enterprise plan, which does not have a public price tag, and only works for companies that pay for over 20 users at the same time.
User ratings:
iOS – 4/5 stars based on 5 user reviews, with its most recent update being published on May 7th, 2023.
User reviews:
HeavyRoc – iOS – "SmartUse has revolutionized the way we do business. From design reviews, to issuing prints to the field, to generation and tracking punch lists, and completing As-Builts. Our IT manager said this week "Imagine if we had to go back to using traditional paper drawings? It would be like giving back your iPhone and going back to a rotary phone"."
Construction Project Management App recommendations
Even with this much information, figuring out what solution your company needs is no simple task. One tried, and true solution is to determine your priorities and see whether you need a solution for a specific purpose or something versatile with plenty of different features.
Potential customers that are looking for a very specific feature would be happy to work with solutions such as ClockShark or Punch List & Site Audit Report, since this category of applications only offers a very specific feature and expands upon it as much as it can. Other examples include Solocator and GoCanvas for GPS photo marking and list creation.
Alternatively, if the potential customer is a company and is looking for a jack-of-all-trades kind of solution with a variety of different features, solutions such as Autodesk Construction Cloud or Revizto would be their most suitable option – offering as many features from its desktop counterparts as possible while still having a user-friendly experience in the form of a mobile application. This also includes solutions such as Procore, Fieldwire, and even CoConstruct.
Conclusion
It's safe to say that the construction project management apps market is massive, and it's tough to compare most of the applications, since a lot of them are used in very specific use cases or very specific types of work. That being said, this kind of variety on the market allows for any user to find the exact construction app that they want.
Why you can trust us
The Revizto team is committed to providing only an objective view of different information, including products, technologies, and so on. Expert insights, product data, and strategic methodologies are used to create helpful market overviews to ensure every visitor has as much information as possible to make an informed decision.
All of our materials include many different factors, including pricing, customer reviews, unique features, and many others. Detailed methodology is used in our review process, spearheaded by the BIM/VDC Specialist James Ocean.
James Ocean is Head of BIMspiration at Revizto and keeps everything moving onwards and upwards. From supporting and teaching our internal team as well as our clients, James shows us the ins and outs and how to best leverage Revizto to maximize workflows, cut costs, and get all types of projects through the finish line.
---