Glossary
September 06, 2021
Updated 3 March 2023 by James Ocean
Best Architecture Apps for iPad Pro, iPhone, and Other Devices in 2023
Table of Contents
Introduction
Architects worldwide have been able to change and improve their working habits in recent years drastically – and the abundance of architecture apps is the main reason for that. Now, it's far easier to create an efficient workflow both on-site and in-office if you're an architect since architecture apps took over both desktop and mobile markets, offering an unprecedented level of usefulness in many different fields.
While some apps are created for particular purposes, others are made for a more general audience by using simplified elements, a user-friendly interface, and abundant information on the subject. However, the massiveness of the tech scene may lead to some confusion on what to choose for your specific purposes.
This is where we come in, offering a list of the best architecture apps for many different purposes – from general project management to sketching, measurements, lighting, and more.
Top 25 best architecture apps
Polycam is an example of the newer generation of architecture apps for the iPad Pro (as well as for iPhone 12 Pro) since these two devices are the only ones so far that are equipped with a LiDAR (Light Detection and Ranging, a remote measuring method that uses pulsed laser to deliver highly accurate distance measurements).
Polycam allows for quick and accurate 3D scans of rooms and other spaces, and all of that with an addition of real-life imagery, too. Both planning and renovation branches of architecture should benefit significantly from the addition of such a quick method of 3D scanning since LiDAR allows for much more accuracy and precision than ever before.
Additionally, Polycam can work in many other ways with these 3D scans, including export into different formats, importing into full-fledged CAD software, generating 2D drawings and floor plans, and so on.
DroneDeploy is another contender on the list of the best architecture apps for iPad (and iPhone, too), and this one also caters to a specific audience. If the previous example was more about newer versions of Apple devices, then this app is, as the name suggests, made for people and companies that use drones.
Aerial site intelligence has become quite prominent in the last few years. The app market was forced to keep pace, too – this includes DroneDeploy, which allows for intelligent mapping, drone flight automatization, and transforming all of the drone images into a comprehensive map of the construction site, with dimensions, borders, and so on.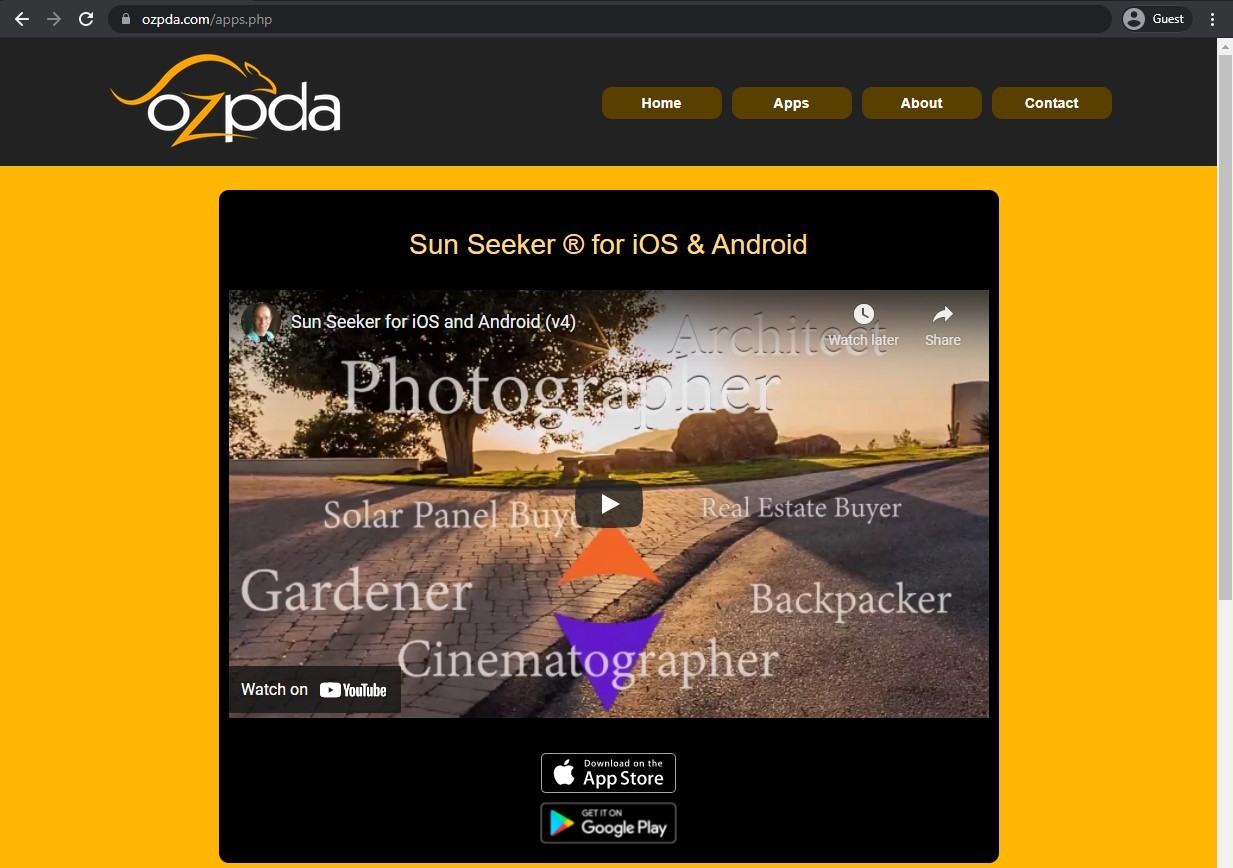 Sun Seeker is one more example of an app with a specific purpose in mind – and this time it is all about the sun's position and the amount of sunlight for the structure at any given moment. Even though this app has many other use cases, it is extremely popular for architects and highly praised for its usefulness.
The feature set offers sun position visualization for any time of the day or the year. This app can show both a 2D compass and an AR visualization of an actual sunlight path, with the ability to switch to sunrise or sunset in an instant.
Concepts is a digital sketching app. It's flexibility and accuracy have earned it a place in the list of best architecture apps for iPad Pro (although it still works with other iPad versions, and iPhones). It also has an extreme variety of use cases – not only for architects but also for illustrators, product designers, and so on.
Surprisingly enough, it is a relatively old app – and it has been earning awards left and right for the entirety of its lifetime. It can export your drawings into different formats and different apps, from Adobe to AutoCAD, as well as many other ones.
Shapr3D is a slightly different take on an app primarily used for 3D modeling and/or sketching. This one takes advantage of both Apple Pencil and finger-based actions to deliver one of the best architecture apps for iPad.
Used mainly during the stage of early concepts, Shapr3D allows for a quick and easy switch between 3D and 2D versions of your design sketch. It also offers compatibility with the majority of the well-known CAD software to allow for easy export and further processing down the line.
SketchUp is an example of 3D CAD software that has been on the market for a while, and right now, it is a result of over 20 years worth of software changing and evolving.  Its intuitive design tools are particularly well-known and widely used by landscape designers, architects, interior designers, etc.
It offers both 3D and 2D modeling capabilities, including floor plans, elevations, and other features, as well as a massive library of 3D models that can be used to populate rooms and scenes. The addition of VR and AR into the software allowed for an accessible and in-depth 3D tour of each model, and its ability to work on the web will enable it to secure its place on our list of best architecture apps for PC and many other devices.
ArchiSnapper, a field-reporting application that allows users to generate extensive reports in the middle of site visits, represents a slightly different field of architectors' work. It offers a centralized dashboard for the reports, reducing the amount of paperwork, among other benefits.
You can use ArchiSnapper to annotate, draw, add photographs, sketch, and comment using only your mobile device – this kind of extensive toolset allows ArchiSnapper to be on this list of best architecture apps for iPad Pro, as well as other Apple mobile devices.
Another exciting participant of this list of best architecture apps is ARki, a presentation platform that uses 3D visualization and augmented reality to create highly interactive presentations. It works with various 3D models in many different formats, including ArchiCAD, Revit, Rhino, Blender, etc.
The addition of mixed reality allows for on-site visualization. The app itself can be used to perform virtual tours over any of the models, with real-time lightning included in the package. It is a great virtual presentation tool that earns its place in this list of architecture apps for iPhone and iPad.
As one of the best architecture apps for iPhone, iPad, Windows, and Mac OS devices, BIMx is a multifunctional application that allows different parties to view 3D models and 2D plans. It also allows you to get measurements from every model and to leave markups and feedback directly inside the model.
Another massive benefit of using BIMx is the absence of paper models and drawings, which allows for a greatly diminished dissonance between the actual construction site and the design studio. All of this is combined with a simple user interface and game-like model navigation.
On a slightly smaller scale, there's one more app focused on measuring the overall area of the construction – it is called Planimeter. Planimeter is a tremendous architectural app for iPhones and Android devices that can measure various objects, be it perimeters, lawns, fences, paths, and more – all of that with a built-in satellite map.
Planimeter can provide measurements in imperial and metric units, can work with GPS tracking for easier measurements of larger territories, and is relatively simple to use for everyone.
MagicPlan is a multifunctional sketching app that offers high-speed interior plan generation by using the device's camera. All you have to do is stand in the middle of a room and let your device detect all of the corners, windows, doors, and so on – thus producing an entire room's plan in a matter of minutes. It can be synchronized with a laser measurements device for additional accuracy, as well.
Other than that, MagicPlan offers a centralized hub for all of your plans and projects, allows for the addition of comments, images, and markups to each of them, provides estimations, generates reports, and more.
Autodesk mobile apps were made to allow for the mobility of opening AutoCAD or Revit files from anywhere using only your mobile device. Autodesk A360 allows you to upload and view 3D and 2D drawings, no matter what was used to create them. Some of the additional features include design markup, dimension measurement, project status tracking, large-scale model navigation, and so on. The existence of Autodesk mobile apps dramatically reduces the need to always have full-fledged architecture app for Mac or other desktop devices with you.
Cedreo is a web-based home design software suitable for many different purposes and professions – including remodeling specialists, builders, designers, architects, and so on. It uses 3D renderings to implement design ideas and visualize them as close to reality as possible.
Some of the features of Cedreo are floor plan sketching, 3D renderings, home decoration capabilities, customization for both interior and exterior of your models, and more. And the fact that Cedreo is a web application makes it eligible for the list of architecture apps for Mac, PC, and any other device with a web browser.
RoomScan Pro is an alternative to MagicPlan and some other participants of this list since it can generate floor plans without drawing them manually. All you have to do is to place your mobile device against each of your room's walls, and the app itself would generate the entire plan, complete with dimensions and other characteristics. It can be paired with a Bluetooth laser scanner for added accuracy too.
There's also a different version of the app that uses LiDAR feature in iPad Pro and iPhone 12 Pro to generate floor plans just as fast as RoomScan Pro – which is why it is called RoomScan LiDAR.
Morpholio Trace is a handy application for both designers and architects since it makes early design stages far easier by utilizing AR technology to allow for sketching and commenting on the actual photo or object in real life. It combines the intelligence and precision of CAD software with the speed and beauty of sketching as a process.
Revizto is an ICP (Integrated Collaboration Platform) for contractors, building owners, engineers, and architects that allows for streamlined communication throughout the entire lifecycle to reduce misunderstandings and errors that appear inside of a project. Revizto offers an extensive toolkit for both iPad and Mac users so that you can navigate the Revizto project, collaborate in real-time and track issues within the project, and so on.
Some of the features that Revizto provides are offline mode, the ability to combine 3D and 2D models, add photos, and more. There's also an issue tracker, a virtual ruler, a clash manager, camera sharing capabilities, and more.
Sketchbook is a simple yet effective sketching app for Android and iOS devices. It was created by a very famous company in the field of construction-related software named Autodesk. Sketchbook is versatile enough for basic sketches and comprehensive artwork while still being easy to work with. It can offer symmetry tools, perspective guides, steady stroke, and many other drawing tools that an architect or an artist may need.
Canvas is another example of an app mainly used for object-scanning purposes. It can use a smartphone's camera to perform room scans, transforming those into BIM or CAD files or even 2D drawings. It can also be used to share designs from the app with reliability and security, making it perfect for both homeowners and actual professional architects. Its monetization model is somewhat unusual, though, with the scan itself being free. Still, other features, such as sharing, are locked behind the paywall, which is calculated from the amount of space scanned within this particular project.
Construction Master Pro is not an app that you would imagine working for the architecture industry since it is pretty much a sophisticated calculator – or at least looks like it at first glance. In reality, it is an extremely useful app for architecture that can make all on-site calculations that much easier – volume estimates, area size calculations, right-angle solutions, stairs layouts, and more. The ability to perform calculations of this complexity positively affects the overall number of errors per project and removes the requirement to carry around a physical calculator with you at all times.
Matterport is another app that was not created solely for architectural purposes but remains rather useful in this specific field. What Matterport can do is create immersive 3D experiences by scanning environments with the help of your device's camera. It allows for quick layout creation, with markup and editing features, and support for 360 cameras and other similar devices. Matterport refers to their 3D models as "Spaces," and there can be limits to how many Spaces you can hold/edit at a time depending on the subscription tier. Still, there is always a free tier and an app to try the basic feature set before deciding if it is worth the money.
Procreate is an app that lets you turn your iPad into a sophisticated artwork creation machine, with many different brushes, layers, and other features that artists have been using for a while now. Procreate's interface is intuitive and user-friendly, making it easy for users to access any tool they want from the application's feature set. It is not a designated app for architecture, but its popularity makes it one of the market's most user-friendly design/sketching tools.
There are many different PDF viewing programs for iPhones and iPads, but most of them are not specialized enough to be used properly by architects. Bluebeam Revu solves this problem with its viewing/editing app for architects for Apple devices with several different specialized features.
Bluebeam Revu can be used to verify measurements and markup PDFs with industry-standard symbols, which is extremely useful for this specific industry, especially with the ongoing effort toward paperless workflow for the construction industry.
While it may not sound special, Paper is one of the best architectural applications for sketching and similar tasks. It was created by a company called FiftyThree (later absorbed to become a part of WeTransfer), and it is a great way to create sketches, edit photos, take notes, build lists, and so on. That same company also created a high-end stylus for iPads, built specifically for Paper's user-friendly interface – and some users claim it to be better than Apple's proprietary pencil.
Working in tandem with the aforementioned Morpholio Trace, Stencil is an app for architects that makes stencils easier to work with and create. This app allows transforming parts of regular images into stencils, with the ability to overlay those anywhere afterward. It is a great addition to Morpholio Trace's functionality and was created by the same company – Morpholio. Stencil can work with color gradients and other task-specific features, allowing for the natural creation of facade patterns, graphic trees, or even people as part of the stencil.
While it might not be a strictly architectural tool per se, CamToPlan is a useful app that helps a lot with measuring and/or creating floor plans with nothing but a smartphone. The app claims to be easier to use than the laser meter since all of the measurement lines are drawn via your device's camera in real-time.
The app can export its measurements into several different formats and is great for quick basic estimates of rooms, furniture, etc. It is available for iOS and Android, and there are two versions of this app for architects – one is free but has ads and is limited in its capabilities. At the same time, the other is paid but has multiple exclusive features such as sharing, measurements, etc.
Conclusion
The introduction of mobile apps allowed for a drastic change in how architects work. Right now, there's no need for unnecessary paperwork or outdated appliances since most of it can easily fit in your phone or tablet. In this article, we've presented our list of best architecture apps for iPad, iPhone, PC, Mac, and other devices.
---