Glossary
September 06, 2021
Updated 17 July 2023 by James Ocean
Best Architecture Apps for iPad Pro, iPhone, and Other Devices in 2023
Table of Contents
Introduction
Architects worldwide have been able to change and improve their working habits in recent years drastically – and the abundance of architecture apps is the main reason for that. Now, it's far easier to create an efficient workflow both on-site and in-office if you're an architect since architecture apps took over both desktop and mobile markets, offering an unprecedented level of usefulness in many different fields.
While some apps are created for particular purposes, others are made for a more general audience by using simplified elements, a user-friendly interface, and abundant information on the subject. However, the massiveness of the tech scene may lead to some confusion on what to choose for your specific purposes.
This is where we come in, offering a list of the best architecture apps for many different purposes – from general project management to sketching, measurements, lighting, and more.
Top 25 best architecture apps
Polycam is an example of the newer generation of architecture apps for the iPad Pro (as well as for iPhone 12 Pro) since these two devices are the only ones so far that are equipped with a LiDAR (Light Detection and Ranging, a remote measuring method that uses pulsed laser to deliver highly accurate distance measurements).
Polycam allows for quick and accurate 3D scans of rooms and other spaces, and all of that with an addition of real-life imagery, too. Both planning and renovation branches of architecture should benefit significantly from the addition of such a quick method of 3D scanning since LiDAR allows for much more accuracy and precision than ever before.
Additionally, Polycam can work in many other ways with these 3D scans, including export into different formats, importing into full-fledged CAD software, generating 2D drawings and floor plans, and so on.
Customer ratings:
Key features:
Several different options to capture objects in 3D, including LiDAR mode, Photo Mode, Room Mode, and even 360 Mode
Measurement taking and blueprint generation
3D capture sharing
Model exporting in multiple formats – mesh data, blueprints, color point cloud data, etc.
Pricing:
Polycam is a free app available for both iOS and Android devices, it has three different versions available

"Free" is the original state of the app, it could be downloaded from either of the app stores free of charge, it includes unlimited LiDAR capture capabilities, up to 180 captures in Photo Mode, capture sharing, iMessage export, and more
"Pro" starts at $14.99 a month, or $79.99 for a year-long license, adding unlimited Photo Mode captures, Building Plan Tool, all export formats, no video watermarks, and other features to the free version
"For Teams" has the identical price tag of $14.99 a month or $79.99 a year per single user, but this particular version also unlocks features such as shared team library, subscription/license management, and so on

The app itself also allows its users to purchase a perpetual license for one account for $499.99
Customer reviews:
owenplof – "I remember the moment in Pixar's Ratatouille where the food critic is transported back to his childhood having experienced something so delicious that his very heart is changed, and his life is forever altered. A very similar scene almost certainly has played out thousands of times around the globe since the inception of Polycam, as 3D modelers everywhere one at a time discovered an app that turned hours of troubleshooting and manual labor into seconds of automated smartphone contained convenience. Strongly appreciate the effort to allow users to keep scanning for free if one can't afford the pro subscription with trade off's that still render the app usable for personal use without ads. My sincerest compliments to the chef, the app is one of the most essential in the industry, and the entire App Store too!"
14792678 – "Tbh i dropped a paycheck on the new iphone 12 pro for the sole purpose of using the LiDAR Scanner. After using this app and several others for about 4 months i can easily say this one is my favorite 3d scanner. Hands down the best for detailed photo-scans of objects. In the top 3 for scanning rooms and spaces. I wrote this review because i really want to see some new features introduced in the social-media platform on the app. I would love to be able to comment and share other people's scans, follow certain users and locations, and message other profiles. Also, there is a section to add a description when posting a new scan, but this description isn't available (to my knowledge) to its polycam viewers. As an artist, including the specifics on a sculpture i post in the description is pretty important. I hope to see these changes implemented soon! If they do, i think this app has the potential to become one of the top social medias in the future."
feelinglikeadumbo – "EDIT: they fixed the bug and now the app works perfectly! Incredible app. For starters: I'm on iPhone 12 Mini, iOS 15.6 The app just hangs on the message "hold device still to calibrate" forever and never does anything. Not to mention the lack of feedback the app gives the user, of which there is none. Would be helpful to have some indication that the app is processing or something so I could tell how much longer I need to stay still. Maybe a progress bar at the very least? Or any feedback that the app is actually doing anything or why it's asking me to hold still. When I try to close the capture window and exit without saving it doesn't do anything except add a small message that says "saving data" which ,once again, hangs forever. I haven't even been able to get the app to take one photo. I hope an update comes soon because in theory this sounds like a very powerful app that I'd be happy to pay for, but until then I have to give it a poor review."
DroneDeploy is another contender on the list of the best architecture apps for iPad (and iPhone, too), and this one also caters to a specific audience. If the previous example was more about newer versions of Apple devices, then this app is, as the name suggests, made for people and companies that use drones.
Aerial site intelligence has become quite prominent in the last few years. The app market was forced to keep pace, too – this includes DroneDeploy, which allows for intelligent mapping, drone flight automatization, and transforming all of the drone images into a comprehensive map of the construction site, with dimensions, borders, and so on.
Customer ratings:
App Store – 4.7/5 stars based on 4.2k customer reviews
Key features:
Capturing data in many forms – 3D models, 2D maps, videos, photos, panoramas, etc.
Enterprise-grade data processing and analytics
Data sharing, annotations and model inspecting from inside the app itself
A built-in market for internal apps to extend the capabilities of the solution even further
Pricing:
DroneDeploy's pricing scheme is somewhat complicated, there are two categories of pricing – for individuals and for teams
DroneDeploy's pricing for individuals includes two pricing tiers

"Individual" – $499 a month per user ($329 a month if billed annually),  includes 3k image upload limit, basic level of customer support, as well as plenty of features, such as annotations and measurements, overlays, side by side comparisons, and more
"Advanced" – $599 a month (can only be billed annually), expands upon the previous version's features with large map processing, radiometric thermal support, 3D data extraction, ground control points, etc.

DroneDeploy's pricing for teams is somewhat different, even though there are also two pricing tiers

"Teams" does not have public pricing available, includes 10k image upload per map, team/user management, call support, and practically every other feature from the "Advanced" tier
"Enterprise" does not have any public pricing info, either, even though it is the biggest offering of the company that provides SSO support, API access, drone operations management, live streaming, and plenty of other features to scale the solution across different organizations and companies
Customer reviews:
Lyonmw – "I have been using the DroneDeploy app for over 3 years. I manage a large group of pilots and being able to plan flights on my desktop and then have my pilots in the field automatically sync the plan is amazing. I have flown with all of the flight apps out there and have always come back to DroneDeploy for the simplicity and reliability. Great job!"
Ecological Design – "I'd like to get my drone up in the sky at elevation before I start the flight plan. Put the camera down focus take a picture then start the flight plan. Everything went great today even with 10 mile an hour breeze. Changing batteries on the first landing the drone was off by about 20 feet and landing and some brush. I'm sure it would've stopped but, why wait. I took control and brought it over to the landing point manually. Changing batteries was no problem, put the drone up to altitude once again and continue the flight. Now it's all in the processing."
kylei20 – "I've used Drone Deploy several times now. The software is very intuitive and easy to use even for a beginner. What sets them apart is their customer service and investment in education. Their reps are proactive and very helpful by reaching out and making sure you have what you need. They're also very receptive to questions and feedback. The company and software system is top notch!"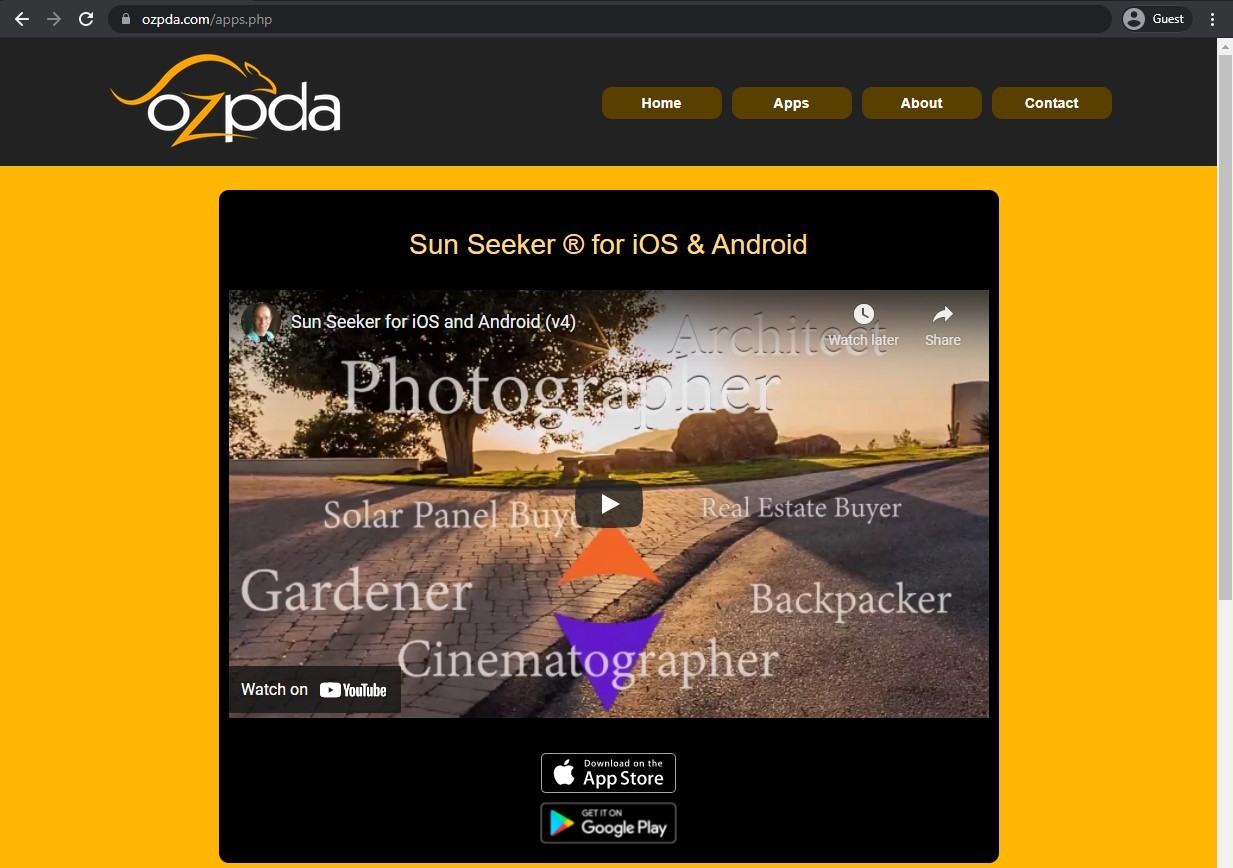 Sun Seeker is one more example of an app with a specific purpose in mind – and this time it is all about the sun's position and the amount of sunlight for the structure at any given moment. Even though this app has many other use cases, it is extremely popular for architects and highly praised for its usefulness.
The feature set offers sun position visualization for any time of the day or the year. This app can show both a 2D compass and an AR visualization of an actual sunlight path, with the ability to switch to sunrise or sunset in an instant.
Customer ratings:
Key features:
Flat compass + 3D AR camera
A combination of magnetometer, gyroscope, and GPS creates extremely accurate data about sun positions and other parameters
A variety of sun-related specific parameters that the app can track, including twilight times, sun direction, equinox data, solstice paths, etc.
Pricing:
Sun Seeker for both Android and iOS is a paid app that costs $9.99
Customer reviews:
tr1ee7 – "My wife and I are designing a solar focused home in NM, USA. Sifting through overly technical websites with mountains of raw data left us starving for usable information specific to our homesite. This app not only translates such data into usable information for today's date but, gives us projections of where the sun will be throughout the year. Now we are able to site our future home with (solar) precision as well as make better decisions as to the exact nature of our structure's design to maximize solar gain for the winter and shade for the summer."
geowyn – "This evening I was walking across the campus where I work, close to sunset. I am still exploring this app and noticed it has a nice feature where you can see the path of the sun's rays on top of a map. I noticed that at a certain point where my path would cross between two buildings, I would likely catch sight of the sunset. As I approached the spot, I slowed down and then stopped and watched for a few minutes, taking in the beautiful transition as the sun light through the western clouds painted the sky beautiful colors. Thank you!"
timkenney – "I've always been fascinated by weather, stars and sky phenomena and when I discovered this app I was just delighted. Especially because of the 3-D feature where you can lift the phone and find out where the sun is even on a cloudy day. But I actually found it useful when my daughter was looking for a house to buy and we were able to charge which direction it was facing and where the sun would be in any given season. Providing great insight into how the house would handle the various seasons, as sunlight and where it falls can make your house too hot or too cold."
Concepts is a digital sketching app. It's flexibility and accuracy have earned it a place in the list of best architecture apps for iPad Pro (although it still works with other iPad versions, and iPhones). It also has an extreme variety of use cases – not only for architects but also for illustrators, product designers, and so on.
Surprisingly enough, it is a relatively old app – and it has been earning awards left and right for the entirety of its lifetime. It can export your drawings into different formats and different apps, from Adobe to AutoCAD, as well as many other ones.
Customer ratings:
Key features:
Vector-based sketching and whiteboarding
Storyboarding, designing and many other tasks that can be done using Concepts
Multiple color wheels and a host of tools to work with
Drag-and-drop interface and easy file sharing
Pricing:
Concepts is a fairly useful app with plenty of different pricing tiers

"Basic" – a free version of the software, works great as a digital sketchbook with an assortment of different tools, brushes, color wheels, layers, and basic exporting capabilities
"Pro" – includes two variations of this subscription, Everything and Essentials. Everything is a subscription-based pricing model for $4.99 a month (or $29.99 a year) that includes 200+ libraries, features and services for all kinds of use cases. Essentials is a perpetual licensing model that allows users to unlock specific features as a one-time purchase (some features may be locked to a specific platform, ranges from $1.99 to $24.99)
"Teams" – $10 per month per license ($100 per year per license), a business-focused pricing tier that expands upon the previous offering with priority support, re-assignable licenses, self-service billing, and more
"Enterprise" – a variation of the "Teams" subscription with no public pricing available, may include manual billing, personalized support, security audits, special services, etc.
Customer reviews:
Owensv – "Concepts has gone through many changes since my last five star review a couple of years ago. It's really a different app now, only better than ever. They went through an evolution where there were so many powerful features being added, that the app lost its intuitive feel, and there was even one point at which it was sometimes frustrating for users like myself who just needed a go-to sketch program, and didn't "live" in the app enough to keep up. Not any more. Somehow, with the addition and integration of powerful new editing tools that let you select and have your right-brain way with your drawing, the Wow is back. I think the key is that Concepts, unlike some other apps I also own (and like), is conceived from the ground up as a tablet program, and not an adaptation of a more PC centric package like GIMP or Photoshop, etc. The developers also release more updates than for any other such app I have, almost always containing useful features along with under the hood fixes, as though…oh, I don't know, maybe they actually try using what they design or something. How nuts is that? Six to seven stars for this latest version."
AndrewHaglund – "I started using this app 1 day before the release of version 5. I made this sprawling and complex drawing of a customer journey map to map out the design of a brand new feature we're working on for our app. I found the version 4 UI highly functional but felt it was really complicated and busy. I was only using the free version, since that was fulfilling my needs. That all changed with version 5. Version 5 introduces an all-new UI (and payment structure) which massively simplifies the controls while drawing, and lets you hide and show different panels if they're in the way (the Layers button for example). I'm still confused about how the color palates work, so I'm using the "Recent" color palate and that's doing the job. This tool feels indispensable to me now. That infinite canvas is amazing, and the sketch tools and features feel like a super expensive piece of drawing software at a fraction of the price. My favorite feature, and why it's awesome for drawing journey maps and wireframes for designing apps, is Concepts' infinitely-sized canvas. It's like the biggest whiteboard ever and you can just keep going and going. Making super long journey map type of work is nearly impossible on fixed page size drawing apps, so this is truly revolutionary for me."
psychoacoustic – "I've been using Concepts for years now, during which time it's evolved from "oh, that's nice" to an absolutely essential part of my workflow. My main use of Concepts is for various kinds of technical sketching/drafting purposes. Everything from concept drawings for projects destined for the workshop and/or CAD, pattern drafting complex fiber arts work, and much more. I'm not a production visual artist; rather Concepts is my first-stop design studio. As such, Concepts' infinite canvas, layers, and vector-vs-pixel based model are the key features that make my work a joy. With the infinite canvas, I can seamlessly work and sketch on related ideas & drawings, then rearrange and/or export what I need for inclusion in other documents. Layers are a gigantic timesaver, making it easy to select, duplicate, and modify various "slices" of my work, allowing easy correction of mistakes, evolution of ideas, and eliminating lots of tedious redrawing. Likewise, the vector model plays into the layer support, making it straightforward to select, group, and edit individual artifacts. All that's the tip of the iceberg. As you get further into it, so many features come together to make your work better and faster. How about a *tiny* bit of smoothing to clean up my janky line work? Or crank smoothing to 100% for minute to get ruler-straight lines without even having to break out the "Precision" tools."
Shapr3D is a slightly different take on an app primarily used for 3D modeling and/or sketching. This one takes advantage of both Apple Pencil and finger-based actions to deliver one of the best architecture apps for iPad.
Used mainly during the stage of early concepts, Shapr3D allows for a quick and easy switch between 3D and 2D versions of your design sketch. It also offers compatibility with the majority of the well-known CAD software to allow for easy export and further processing down the line.
Customer ratings:
App Store – 4.8/5 stars based on 2.1k customer reviews
Key features:
Accurate model creation
User-friendly adaptive interface
Effortless multi-platform use across iPad, WIndows and Mac devices thanks to Shapr3D Sync
Vast exporting and importing capabilities to and from a multitude of data formats
Pricing:
Shapr3D's pricing model is fairly common, counting three different pricing tiers

"Basic" is the free tier of Shapr3D, it can hold up to 2 designs at once, includes all 3D modeling capabilities, capable of importing from a number of major CAD platforms, and allows for low-res exporting for the sake of prototyping
"Pro" – $25 per month per license when billed annually ($38 per month per license if paid on a monthly basis), removes the limitation in terms of design amounts, expands the number of CAD systems that the data can be exported to, adds real-time product renders, technical drawings, and priority tech support
"Enterprise" does not have public pricing available on the official Shapr3D website (although the App Store page suggests that the "Business" subscription starts at $59.99 a month or $499.99 a year), expands upon the "Pro" version with SSO support, reassignable licenses, consolidated billing, a dedicated account manager, and more
Customer reviews:
ivynya – "Coming from a background of Fusion 360 and Tinkercad (because Fusion 360 does not run well on Apple Silicon Macs), this is a great software with a reasonable number of functions – fast gesture based sketching using Apple Pencil, easy access to common tools like fillet, chamfer, and various boolean operations, and a very easy to use export system with an impressive number of formats. I now use Shapr3D to design parts that I 3D print because it's significantly faster than working with Fusion or other software. However: Rotation is nothing like other CAD programs I've used. Rotating on the screen does not rotate around a fixed point (ie. not orbit) – thus, if you rotate many times in a single axis, your camera will have actually shifted position. Turning on two finger rotation in the settings does not help. This sounds highly inconvenient, and it is when only viewing models, but when actually working I found myself needing to readjust so much anyway that this doesn't actually matter too much – but it is really disorienting as a new user."
Steve Lynch – "I'm about $3600 deep in "The big name CAD Program" product, and still don't really know how to use it well after a year and a half. I downloaded this app, followed a tutorial, and designed a complex gear assembly in like 40 minutes. It's insane how intuitive and easy it is. My 12 year old son is designing things to 3D print, and I've been cleaning up files I've been afraid to touch, because they were "Close enough", but not perfect, and I'm not good enough with my other software to fix them without potentially messing them up. CAD hasn't changed in like 30 years. It's ugly, it's complicated, and it's time consuming… I know I sound like a total fan boy. Just download it, and make something. That's the only way you're going to understand what I'm saying… this is exactly what I've been looking for! You can import and export other files, and best of all, unlike almost every other iPad app for CAD, this one uses the Apple Pencil, which is amazingly intuitive, and it does not need to be on the internet to work. 4 thumbs up guys!!!"
timpappasjr – "Stumbled across this application and after reading the description it hinted at a similarity to a highly expensive parametric design software for pc known as Solid Works. That caught my interest because that was a software I fell in love with while in school for mechanical design. So that alone made me download and try the app. I tried the free version which is fully functional when it comes to design but limits certain features and number of designs that can be created. After a few versions of a design which I completed. I decided to bite the bullet and sign up for the monthly full version. So far I am glad I did you gain extra features to not only save your designed without limited number but also adjust colors to make designs look and feel more real to get a better idea of the vision of the product you are considering constructing. This app is intuitive but I have extensive Solid-works and AutoCad exposure and that helped tremendously with designing on this because this program is a slight mixture of both applications and tooling works similar to a blend of each of those two programs. Apple Pencil is a necessity for this because it acts as a mouse/courser and is very precise."
SketchUp is an example of 3D CAD software that has been on the market for a while, and right now, it is a result of over 20 years worth of software changing and evolving.  Its intuitive design tools are particularly well-known and widely used by landscape designers, architects, interior designers, etc.
It offers both 3D and 2D modeling capabilities, including floor plans, elevations, and other features, as well as a massive library of 3D models that can be used to populate rooms and scenes. The addition of VR and AR into the software allowed for an accessible and in-depth 3D tour of each model, and its ability to work on the web will enable it to secure its place on our list of best architecture apps for PC and many other devices.
SketchUp is available with no restrictions for 7 days after creating an account, and needs an active subscription afterwards to continue working. It is available for both iOS and Android devices, as well as desktops.
Customer ratings:
Advantages:
A massive library of pre-modeled content
Drawing and modeling tools are easy to use
An impressive list of different rendering styles
Shortcomings:
No basic tutorial explaining some of the more commonly used features and tools
Lacks data-driven and parametric features
Plenty of specific features are only available via extensions, making them inaccessible from a mobile app
Pricing:
SketchUp's main pricing plan is SketchUp "Go" – $119 per year per person, a basic set of features that includes unlimited cloud storage, a library of pre-built 3D models, and a basic modeling/designing functionality.
There are also two more pricing plans that are only applicable to the desktop version of SketchUp:

"Pro" – $299 per year per device, can offer quick insights for design research, 2D design documentation, a library of plugins to expand upon the desktop application's functionality, and more
"Studio" – $699 per year per device, an advanced package of SketchUp features such as real-time visualizations, animation and 360-degree panorama exporting, Revit file importing, and so on
Customer reviews:
Nayeemullah I. – "SketchUp is a useful tool for 3D modeling and visualization, particularly for designers who are looking for an intuitive and user-friendly software program. While it may not be suitable for designs that require high levels of precision, it offers a wide range of features and a large online community for support and inspiration."
Lalao L. – "With this tool, you can materialize your ideas quickly and easily, without getting lost in the technical details. You can also pre-build your projects in 3D before realizing them, which saves time and money. What I like most is that you can tell a story with your 3D models by presenting them as 2D drawings or animated videos."
Fabiana T. – "As someone who has used Sketchup for several years, including as a student and professor teaching it for landscape architecture and architecture, I can say that my experience with the software has been mostly positive. One of the things I appreciate most about Sketchup is its user-friendly interface, which makes it easy to learn and use even for those with little to no experience in 3D modeling. The software's tools are intuitive and allow users to create accurate and detailed models quickly. The Warehouse feature is also a great asset, as it provides access to a vast library of pre-made 3D models that can be used in designs, saving time and effort in the modeling process.However, I have found that Sketchup can be limited in its ability to handle large-scale projects or complex models, particularly when it comes to working with vegetation or other natural elements that can slow down the software or cause it to crash."
ArchiSnapper, a field-reporting application that allows users to generate extensive reports in the middle of site visits, represents a slightly different field of architectors' work. It offers a centralized dashboard for the reports, reducing the amount of paperwork, among other benefits.
You can use ArchiSnapper to annotate, draw, add photographs, sketch, and comment using only your mobile device – this kind of extensive toolset allows ArchiSnapper to be on this list of best architecture apps for iPad Pro, as well as other Apple mobile devices.
Customer ratings:
App Store – 4.3/5 stars based on 6 customer reviews
Key features:
Checklists, audits and safety reports
Vast construction collaboration capabilities in terms of data sharing
Snag lists, daily reports, field reports, etc.
Incredible speed and versatile automation capabilities
Pricing:
ArchiSnapper has a very simple pricing model – $34 per month per user ($29 per month if billed on a yearly basis), which includes all features, no limitations on the project numbers, 24/7 support, and so on
There is also a free 14-day trial that starts after launching the app for the first time, and companies with over 25 users can contact ArchiSnapper to receive a personalized quote for the solution
Customer reviews:
lweeber – "If the comment bar could be added to the bottom when taking picture process would go smoother. Most pictures need small comments and it would be easier to input it there if needed instead of having to exit from picture screen. App makes this info easy to input. Thanks 🙂"
Another exciting participant of this list of best architecture apps is ARki, a presentation platform that uses 3D visualization and augmented reality to create highly interactive presentations. It works with various 3D models in many different formats, including ArchiCAD, Revit, Rhino, Blender, etc.
The addition of mixed reality allows for on-site visualization. The app itself can be used to perform virtual tours over any of the models, with real-time lightning included in the package. It is a great virtual presentation tool that earns its place in this list of architecture apps for iPhone and iPad.
Customer ratings:
App Store – 4.5/5 stars based on 79 customer reviews
Key features:
3D project visualization capabilities with the help of AR technologies
Offline storage for captured models
Mixed reality support to compare real objects with 3D models
Model importing capabilities using FBX file format, supported by Revit, SketchUp, Blender, 3dsMax, ArchiCAD, etc.
Pricing:
ARki can offer a rather flexible licensing model with four different pricing tiers included

"Basic" is the free version of the solution, limited to one single project and all of the aforementioned basic features – AR/3D mode, model importing, project sharing, etc.
"Pro" – £17.99 per month per license (£200 up-front if paid for a year in advance), an extended version of the original software with multiple projects, multiple layers, world anchors with location coordinates, UI customization for every layer, annotations, remote project sharing between users, and more
"Business" – £1,600 per year, represents 10 "Pro" licenses in a single package for a lowered price
"Enterprise" is a package with no public pricing available, it is only suitable for large enterprises and can offer bespoke projects, custom tools, dedicated designers and project managers, and so on
Customer reviews:
Artito – "I have been using this app for a while now, it delivers AR to a very high standard. The app has gone through numbers of updates and has improved massively."
pennydropper – "I'm very impressed with ARki – I'm using it much more than I thought I would and am really looking forward to the app growing and adding features. Agree with the gps comment in a previous review."
Cuttlas.A – "I recently started using the ARki app to view architectural designs and I have to say, it's pretty cool. Instead of just looking at 2D plans or static 3D models, I can see the design come to life in front of me through my phone's camera. It's a unique way to experience architecture and get a better sense of the design. If you're into architecture or just want to try out some cool AR technology, give ARki a try."
As one of the best architecture apps for iPhone, iPad, Windows, and Mac OS devices, BIMx is a multifunctional application that allows different parties to view 3D models and 2D plans. It also allows you to get measurements from every model and to leave markups and feedback directly inside the model.
Another massive benefit of using BIMx is the absence of paper models and drawings, which allows for a greatly diminished dissonance between the actual construction site and the design studio. All of this is combined with a simple user interface and game-like model navigation.
Customer ratings:
Key features:
Ability to trace 2D drawings on 3D models
A walkthrough mode of sorts
Google Cardboard VR support
Instant 2D documentation viewing capabilities
Intuitive controls
Pricing:
Graphisoft BIMx is a freemium app of sorts, offering most of its functionality for free, but also having a dedicated subscription model that unlocks some of the more uncommon features.
Graphisoft BIMx PRO subscription starts with a free two-week trial, and the subscription itself starts at $9.99 per month
Customer reviews:
Gfaustin – "In all honesty, It is very efficient for the job site. I bring it with me every day it's nice to quickly pull up a set of documentations. However, the downfall is that no annotations can be made on it. This is something that is needed and then exported to ArchiCAD so I can make revisions they need to implement this to take this to the Perfect companion up for ArchiCAD. One should be able to export the annotation to ArchiCAD, and have the review tool imported."
JSKArchitect – "I'm happy to report that after I reported a bug with BIMx related to either the new iOS 15 or iPhone 13, the bug was fixed within a week. And the bug was part of a teething problem of the sort you might expect from a major OS release. Thank you, Graphisoft! Good support. This program is INDISPENSABLE in communicating my designs to clients and if you use Archicad you should be using it too."
On a slightly smaller scale, there's one more app focused on measuring the overall area of the construction – it is called Planimeter. Planimeter is a tremendous architectural app for iPhones and Android devices that can measure various objects, be it perimeters, lawns, fences, paths, and more – all of that with a built-in satellite map.
Planimeter can provide measurements in imperial and metric units, can work with GPS tracking for easier measurements of larger territories, and is relatively simple to use for everyone.
Customer ratings:
App Store – 4.7/5 stars based on 2k customer reviews
Key features:
Outdoor project measurement
Convenience of measuring asphalt, paving, landscaping, flat roofs and other locations for contractors
Can measure fields, paths, circular regions, and perimeters
Markers could be added to pinpoint specific locations
Pricing:
Planimeter has a very simple pricing model – the app itself costs $7.99 in the App Store, and there are no additional price tags or subscriptions attached to it
Customer reviews:
Wilber12345 – "This is the best app out there for measuring and and marking tracks of land. I use it to map out agricultural features, potential sites for housing and ponds, and for hunting purposes. It has the potential to be the best mapping/surveying app for iOS. If the app designers added options for parcel info and boundaries, as well as historical imagery, and soil maps, I would be willing to pay $50 or more. For this app. With that said, it's current utility is well worth the money."
Earlylate – "This is one of the best apps of its kind. The capability is incredible and allows for most of my needs. This includes things like having multiple shapes colors and more. On the down side, it would be nice if you had more options for showing notes and presenting measurements. Another major issue is the inability to export maps to another device or a sync feature so my maps would be current on all my devices. The only other thing I can think of is the maps offered in this program are not as current as some of the other apps I use. Not a big deal overall but worth mentioning."
Baldilox – "In todays intense Farming operations I find this app to be a necessity. Here in California's expensive Vegetable and Berry production regions precision is a must. The sub inch GPS systems we utilize in our industry to ensure consistency and accuracy is key as the we try to drive efficiency and yields. That said, it's understood that though this app isn't going to get to that level of accuracy +/- 1" it is still a tool I use to do rough calculations daily to run labor cost efficiency for harvest and farm labor crews as it gives us ballpark until the efficiency reports are generated from payroll. I've used this app for years after trying many others and I found it to be simple and clean interface. Just my 2 cents."
MagicPlan is a multifunctional sketching app that offers high-speed interior plan generation by using the device's camera. All you have to do is stand in the middle of a room and let your device detect all of the corners, windows, doors, and so on – thus producing an entire room's plan in a matter of minutes. It can be synchronized with a laser measurements device for additional accuracy, as well.
Other than that, MagicPlan offers a centralized hub for all of your plans and projects, allows for the addition of comments, images, and markups to each of them, provides estimations, generates reports, and more.
Customer ratings:
Advantages:
User-friendly and convenient for home design purposes
Can also be advantageous with site surveillance thanks to the ability of scanning with nothing but a camera
High accuracy for dimensions captured with the application
Shortcomings:
The ability to scale one room to the size of another does not work as intended
Limited number of integrations with other design software solutions
The price for subscription is somewhat steep
Pricing:
MagicPlan offers three different pricing plans for its customers, aside from the business plan and the free plan:

"Sketch" – $9.99 per month ($99.99 annually), includes unlimited projects, 2D & 3D sketch exporting, Teams collaboration, measurements, etc.
"Report" – $39.99 per month ($399.99 annually), adds notes, markups, premium integrations, 360-degree images, and customizable objects/forms"
Estimate" – $89.99 per month ($899.99 annually), includes cost estimating, phone support, custom price lists, and more

As for the aforementioned free and business plans, the former is a limited version of the solution with up to 2 projects, and  the latter is a quote-based offering with no public pricing that can offer SSO support, account management, custom objects, personalized onboarding, and more
Customer reviews:
WoolfsRedd – "Being able to turn off the sound of the app without having to turn off the ringer of your phone would be really great. Also, when choosing colors for tiles/carpet, after purchasing a plan…why is white and grey not an option? If I'm doing tiles in my laundry room, I'm not going to use pink or green on the floor…it would be wonderful to include the full color spectrum for flooring, and maybe have a way to change wall colors/materials as well. I may want tiles on my shower walls rather than glass, but no option that I've found for doing so. Having options for exterior siding, deck materials, etc would really be great as well. Seeing the house in 3D really helps me to visualize my ideas, and fix any fine tuning issues. But I have no way to tell if my deck or shed are going to work well with the rest of the space, as they do not show up in 3D mode. All in all, I still really like using this app, it would get five stars in a heartbeat if these features were added 🙂"
TimCarterDuluthMN – "I'm a professional renovator, historical preservationist, and home flipper. I am in the process of integrating MagicPlan into my workflow. I have experimented with it on past projects and it has helped me estimate materials I need by calculating accurately the square footage of areas I need to cover with a finishing product. To say that it is very easy to use would be an understatement. It excels at room scanning in particular. You can be up and running with a basic room scan in under a minute and begin adding objects to your plan from there. A whole house layout can be done in 15 minutes, and again start adding objects from that point. That is work that would take many hours and possibly multiple trips to a home previously. I look forward to continuing to evaluate this product as I move forward with my business. I will be exploring how to build-out the object library and price list database for a truly robust solution for project estimating at all stages. Thank you Magicplan."
CtheRose1 – "The old version was a 4.5-5 star app for the casual user. It had some limitations if you room had some extra corners or hidden corners or had an unusual stair arrangement. But overall great. BEST OF ALL you didn't have to pay a lot of money until your plan was good and then you could buy just that plan and do more in depth work. LOVED it. Then they changed to a subscription only services. For a casual user like me that is TOO expensive. They did give you a token so you could still try before you had to subscribe, but that is only good if you never change your phone. Over the last 10-12 months I have been playing around with my new kitchen design. And since I upgraded my phone I have lost all that work. Just when I thought I had everything ready. Not happy at all. Was going to give a 2 stars, but raised to 3 since from some research today it might still be the best thing available. Would be very willing to pay a reasonable fee for 1 plan."
Autodesk Drive (formerly Autodesk A360) and Autodesk FormIt
Autodesk mobile apps were made to allow for the mobility of opening AutoCAD or Revit files from anywhere using only your mobile device. Autodesk A360 allows you to upload and view 3D and 2D drawings, no matter what was used to create them. Some of the additional features include design markup, dimension measurement, project status tracking, large-scale model navigation, and so on. The existence of Autodesk mobile apps dramatically reduces the need to always have full-fledged architecture app for Mac or other desktop devices with you.
It should be noted that the Autodesk A360 app has since been deprecated, transferring its features to Autodesk Drive. Autodesk Drive does not have a dedicated mobile version – but it can be accessed with all of the A360 features by going to drive.autodesk.com using a web browser of a mobile device.
Customer ratings:
Key features:
(Autodesk Drive) Access to 2D and 3D drawings from Revit or AutoCAD
(Autodesk Drive) Easy data sharing with measurements, status tracking, model navigation, and more
(Autodesk FormIt) Simplified design decisions with sun calculations, early program analysis, etc.
(Autodesk FormIt) A variety of tools to express design ideas, including gestures, easy form creation, cloud storage, and more
Pricing:
Autodesk Drive is provided for free for any user that purchases one paid Autodesk product
Autodesk FormIt is originally a free app with limited features. There is also an Autodesk FormIt Pro subscription that is included in the Autodesk AEC Collection – which has three different subscription options

$430 per month of subscription
$3,430 per year of subscription
$10,290 per three years of subscription
Customer reviews:
mikeharwitz – "I had been playing with FormIt for over an hour making fun and interesting designs before even thinking of looking for the "help" button. Very intuitive, snappy response. Though not it's intended design, I am using it for designing sculptures and find it the easiest to use for my needs yet. Barely any learning curve. Syncs drawings to Autodesk's cloud service, which has a clunky interface. Haven't figured out how to export from Autodesk360 cloud to a file standard accepted by 3d printing services, would be great if they could clean up the workflow for that – again, not the intended design use of Formit, but since it's such a great cad program, pretty please make it easier for a novice to get a fabrication-service ready file out? I would happily pay for this app."
AdjHanson – "Great capability for a mobile application, but any sufficiently detailed structure causes the app to crash during use, resulting in the loss of all progress. Even more infuriatingly, the app will crash anytime you attempt to save your progress if you've done more than 3-4 minutes of work. If I want to add to a rendering, I have to save every time I make a change to avoid overwhelming the app and causing it to crash. Even then, it often crashes upon opening for no apparent reason. It creates a "restored" version of any file that crashes, but these restored copies wont open or load and are therefore useless. I use a brand new iPad Pro with the highest capabilities so this shouldn't be an issue. This app is fantastic for viewing renderings on the go, but not making them."
Jonkeek – "FormIt is just an amazing program that allows the user that spends a few hours fiddling with it to discover a new, fast way to create structures that look beautiful. I use FormIt in many ways but primarily to create perspective accurate shapes that are ultimately used in drawing/paint programs, like Procreate. I strongly encourage everybody to try this great piece of software to explore its vast capabilities."
Cedreo is a web-based home design software suitable for many different purposes and professions – including remodeling specialists, builders, designers, architects, and so on. It uses 3D renderings to implement design ideas and visualize them as close to reality as possible.
Some of the features of Cedreo are floor plan sketching, 3D renderings, home decoration capabilities, customization for both interior and exterior of your models, and more. And the fact that Cedreo is a web application makes it eligible for the list of architecture apps for Mac, PC, and any other device with a web browser.
Key features:
A web interface that can be used by either desktops or mobile phones
Floor plan sketching capabilities
3D rendering features
Interior decoration capabilities
Pricing:
Cedreo can be acquired using one of the four licensing plans

"Free" has a rather self-explanatory nature, it is a very limited version of what Cedreo can do, with 1 user, 1 project, up to 5 renderings, as well as limited material, furniture, and tool libraries
"Personal" – $49 per project, a paid version of Cedreo limited to a single project, but not limited in terms of furnishing and materials, it can perform up to 20 renderings, and allows for blueprints to be downloaded, as well
"Pro" – $49 per month per user ($490 per year, if paid in advance), allows for zero limitations in terms of project numbers, as well as 40 renders per month, renders for professional use, phone and chat customer support, and no watermarked renders
"Enterprise" – $69 per month per user ($690 per year, if paid in advance), only available for users that work with more than 10 projects per year, adds collaboration and project sharing, permission management, role management, etc.
RoomScan Pro is an alternative to MagicPlan and some other participants of this list since it can generate floor plans without drawing them manually. All you have to do is to place your mobile device against each of your room's walls, and the app itself would generate the entire plan, complete with dimensions and other characteristics. It can be paired with a Bluetooth laser scanner for added accuracy too.
There's also a different version of the app that uses LiDAR feature in iPad Pro and iPhone 12 Pro to generate floor plans just as fast as RoomScan Pro – which is why it is called RoomScan LiDAR.
Customer ratings:
App Store – 4.3/5 stars based on 4.8k customer reviews (RoomScan Classic)
App Store – 4.1/5 stars based on 1.2k customer reviews (RoomScan Pro LiDAR)
Key features:
Capability to scan building interiors and exteriors
Utilizes Apple's latest LiDAR and RoomPlan technologies for better scan accuracy
Can export data in a variety of different formats, from PNG to ESX, XYZ, PLY, OBJ, or even IFC and DXF
Apple Pencil support for plan annotation
Pricing:
RoomScan Classic is a free app that also has a premium version of it – it can be purchased for $3.99 per month as a subscription or for $39.99 for a perpetual license.
RoomScan Pro LiDAR is also a free app, but this one only has a single price of $9.99 per month as a subscription fee to gain access to all of the app's features.
Customer reviews:
Lokpro – "I stumbled across this app while searching for ways to speed up my productivity of a home remodel. This is an absolute fantastic app! It quickly and easily lets you digitize your current floor plan, while giving you "material purchase lengths" needed for doing many different type of jobs. Any idiot trying to use this app for final installment should never be allowed to hold a sharp tool! This is an extremely effective home measuring tool, and a great way to digitize your current floor plan!"
iPhoner6327 – "Great for Quickly measuring out the dimensions of the room. I have my iPad or iPhone with me more often then a notepad and tape measure. The only issue is sometimes walls can be hard to get to but a little planning Solves that. I only use the touch against the walls featuring have been very happy with the results. I had thought about deducting a star for the export feature. The free export comes with the iPad movements superimposed on the floor plan. The 'paid' export images do not have these Swishes all over. However, as a workaround open the clean image in the paid for section and take a screenshot. The app tries to block this but it is too slow."
Disappointed-9999 – "I am glad I found this app, because my room plans have some unusual angles with small doorways. I needed a floor plan to plan for a bathroom remodel. This app is very difficult to learn how to work with. Yes, I read the instructions, and was able to use the "touch" method with my phone. However, it kept telling me I had not touched after returning to the wall after the start point, when I had. So, I had to keep trying over and over. I couldn't get the AR method to work for me. I tried the Get Assistance email, but no one got back to me today. I also had problems with linking another room thru a doorway—the two rooms weren't properly aligned (remember the doorways are narrow—24" wide, and set at angles), and I had problems trying to rotate and slide them into position. In two rooms, the measurements surrounding a window area aren't accurate, and I don't know how to correct that. Needs more support FAQs, or instructions."
Morpholio Trace is a handy application for both designers and architects since it makes early design stages far easier by utilizing AR technology to allow for sketching and commenting on the actual photo or object in real life. It combines the intelligence and precision of CAD software with the speed and beauty of sketching as a process.
Customer ratings:
App Store – 4.7/5 stars based on 9.1k customer reviews
Key features:
Drawing markups, multiple layers, and other drawing capabilities
Creating PDFs and adding photos/3D models to projects
A flexible and versatile solution for a number of different use cases
Pricing:
There is little to no official pricing info available on the official Morpholio Trace website, aside from a single Morpholio Trace B2B version that costs $99.99 per transferable license (but it has to be connected to a specific Apple Customer ID, as well as to a specific company name, since the B2B version of the software is considered a "custom app").
However, the App Store product page mentions a free 30-day trial and two different subscription tiers

"Plus" – $9.99 per month, supports up to 20 projects, includes a scale triangle, a super ruler, stencils, a complete set of brushes and pens, and more
"Pro" – $19.99 per month, expands upon the "Free" and the "Plus" versions with folders, no limits on the project numbers, as well as smart fill, AR perspective finder, maps to scale, and so on
Customer reviews:
supersl1m – "I was skeptical to be honest but I really needed an app/ program that could do if not all most and in this case about 85% which worked for me most of the app is skill based and imagination based how good you are to imagin the world and be on its on you skill base is using the tools and new innovative was to use a tool for one thing the to make something completely different . The only bad thing was using the 3D thing like the model the view with the 3 images in 3D , they did not have a 3D program or way of making a 3D model to then add so I had to opt out to us a third party which was lame and not compatible with trace , or it was super basic and I had to pay a rediculous amount for subscription so if they "trace" would have included this or added it with the premium version it would have been cool any ways great app thanx !"
formatt – "For the record, I'm a Landscape Architect and Planner. I've completely incorporated it into my daily workflow, now that working out of the office has become somewhat difficult (COVID-19). After this has come to pass, not sure I'd go back to actual trace and scales, unless necessary… that's how well this works. Customer service (Joey) is outstanding! Assisted with a fairly significant issue within hours (I hadn't updated my OS to the latest). Offered suggestions and they got back to immediately with dialog regarding it. Two items I'm hoping for improvement on: 1. Better ability for scaling PDF exports. The current scales are fairly limited. CS said they're already working on this and to keep an eye out. 2. I'd like to see a pencil tool. It currently has technical pens, sharpies, markers, etc., even chalk… but having a drawing tool that reflects just a simple colored pencil, would be awesome. Other than those two items, it's perfect IF you use it for the way it was intended."
rich_blondes – "Im not a pro at it by any means but I gave it a five. It's a little complicated at first, in comparison to some others and I really don't recommend it for the iPhone because it is really a professional app that any designer could benefit from. There is a learning curve. There are more simple apps that are probably better for beginners. I give it five stars because it is great in the fact it is so clean in its ui and for the short time Ive been using it, I believe it is perfect for someone to hold their best work. I think it would be a wonderful add for someone that is a professional designer of any kind. It's has to be a little complicated in order for it to have the features that it is packed with. I think once I learn more, and can intuitively know all of the tools and changing them when I need to, I will pay for it with my design projects. So if you know Morpholio well, and have the app mastered, you will be just as happy with the up dated version. You have a lot to look forward to. I'm going to play more with this app. One thing I wish I knew how to send my stencils to creative cloud, or to render a Psd file. It probably is able to be done but I am a novice in that department. Such a beautiful app"
Revizto is an ICP (Integrated Collaboration Platform) for contractors, building owners, engineers, and architects that allows for streamlined communication throughout the entire lifecycle to reduce misunderstandings and errors that appear inside of a project. Revizto offers an extensive toolkit for both iPad and Mac users so that you can navigate the Revizto project, collaborate in real-time and track issues within the project, and so on.
Some of the features that Revizto provides are offline mode, the ability to combine 3D and 2D models, add photos, and more. There's also an issue tracker, a virtual ruler, a clash manager, camera sharing capabilities, and more.
Customer ratings:
Advantages:
Great issue tracking capabilities across the board
Ability to assign specific clashes to different personnel
A variety of integrations with popular BIM and CAD solutions
Useful coordination and collaboration tool with centralized information access
Shortcomings:
There may be some difficulties with large project files, leading to software slow-downs or even crashes
The UI may take some time to get used to after solutions such as Navisworks
Data filtering is difficult to set up properly
Reporting feature could be more customizable
Pricing:
Revizto does not have any pricing information available in public, the only way to obtain such information is to request a quote from the company in question and/or schedule a demo of that same solution.
The unofficial information states that Revizto has three pricing plans:

"Starter" – $600 per year per user, the basic package for small teams with 10 users or less
"Team" – $500 per year per user, suitable for up to 20 users at once
"Company" – $400 per year per user, only available to teams or companies with 50 users or more
Customer reviews:
Steven B. – "We are now only using this software for as-built purposes and we are trying to enforce it that the subs sign in to be able to do shop drawing changes that come in from out in the field. We want our superintendents more involved in the coordination process and this is how we plan to get them in there."
seiya o. – "fast, easy, and accurate visual coordination at ease by using Revizto. We were able to have our client provide positive feedback. customer service was great. I especially thank to rep for all the help that he provided in the early days of Revizto."
Bill M. – "Our project collaboration efficiency increased, as did our quality and confidence with our designs as a result of the "single source of truth" approach that Revizto provides."
Sketchbook is a simple yet effective sketching app for Android and iOS devices. It was created by a very famous company in the field of construction-related software named Autodesk. Sketchbook is versatile enough for basic sketches and comprehensive artwork while still being easy to work with. It can offer symmetry tools, perspective guides, steady stroke, and many other drawing tools that an architect or an artist may need.
Customer ratings:
Key features:
A variety of brush types, from airbrushes to pencil markers and smear brushes
Precision-related tools such as guides and rulers to use when necessary
A clean and concise interface that is easy to use for people of different skill levels
Layers can be mixed and matched
Pricing:
Sketchbook is a mostly free app that also has a one-time Premium Bundle for $1.99 that expands the existing feature set with layer grouping, custom brushes, exporting to PDF, importing and exporting color palettes, and so on
Customer reviews:
Emmimid – "I absolutely love this app! It's by far the best free drawing app out there… it has so many tools and features, and preset colors are really handy. It's also really easy to edit with, surprisingly. So it does more than just draw with a little help of copy and pasting of layers. My phone has a pretty small screen, (iPhone 5s) but with a stylus, it's actually pretty easy to draw real art. And it has so many brushes. And the app runs super smoothly on my phone. And a bonus, no annoying ads. No in-app purchases. I absolutely love that, and is yet another reason why I love this app. I also really love the design of the app, once you get the hang of what it can do it's so easy. And the clean minimalist appearance is really nice. My recommendation for future updates, there isn't really a way to just blend colors. Sure there are brushes with that affect, but it would be so helpful if there was a blender that just blurred the colors together instead of smearing them; a brush that isn't supposed to resemble any real-life brush. If you could add that it would be so helpful! Also when I save a drawing to my camera roll, the quality is reduced from what it was in the app, So normally I just screenshot my art instead. But if you could fix this issue I would greatly appreciate it. Thank you for this amazing app. I definitely recommend."
TheTRUEgge – "This is a fantastic drawing app, and I am continually astounded by the things it can do. It doesn't lag even when I have an admittedly absurd number of layers hanging about, and the line correction tool is extremely well-done. However, there are a couple of things I think this app would benefit from. As a webcomic artist, I would personally really like the ability to import new fonts- until then, I'm stuck doing my formatting in photoshop, which works, but using two different applications (On two different systems, notably) is not ideal. Additionally, I would love to be able to 'favorite' tools from various classes and have a personalized toolbar where they are- this would save me a lot of time scrolling through the options and remembering which brush I really liked that one time. I would also really like an easy way to copy/paste selected areas on the mobile version (I do all my work on an iPad Pro and it works fantastically), and maybe an easier way to make straight lines symmetrical to the edges of the frame- the only way I've found to work consistently is the rectangle tool, which isn't always the best option. In any case, I adore this app, and I'm really happy that the full version is now completely free. I can't wait to see the new features you implement in the future."
SprinkleBeargirl aka. – "So I keep on seeing negative reviews, but for one, there's a line stabilizer AND a shape making tool, so you're be able to draw cleanly. Also, even though it took me a while to get a hang of this app, but you can edit and personalize each brush(tool) and get your strokes to go from thick to thin, along with other things that other expensive softwares have. Those other things include being adding patterns, being making your own tool sets, being able to use the lasso to move parts of the art piece that you're making, and having a lot of specific tools such as say Japanese brushes. You can find those. And pattern tools, to prevent recoloring of your art. And If you didn't know, there used to be an Autodesk Sketchbook Pro, but the creators decided to improve the user experience and added all of those 'pro' features to the free version. I've seen art that I would've definitely thought was done in another software, and popular artists that use this app to this day. Even the App Store app has a tutorial that uses Autodesk professionally. The type of software doesn't make the art, it's the artist that makes the art. So I definitely recommend it, to all artists. Really, this can even be sort of used as a graphic software."
Canvas is another example of an app mainly used for object-scanning purposes. It can use a smartphone's camera to perform room scans, transforming those into BIM or CAD files or even 2D drawings. It can also be used to share designs from the app with reliability and security, making it perfect for both homeowners and actual professional architects. Its monetization model is somewhat unusual, though, with the scan itself being free. Still, other features, such as sharing, are locked behind the paywall, which is calculated from the amount of space scanned within this particular project.
Customer ratings:
App Store – 4.6/5 stars based on 241 customer reviews
Key features:
3D space scans in minutes
Takes a full advantage of a LiDAR sensor
Capable of transforming scan results to legitimate CAD files
Low price per model
Pricing:
Canvas as an application is free in and of itself, but receiving measurement reports is the only way of monetization for this app – it costs $0.15 per square feet to create a floor plan with key dimensions and quantities, with a minimal order price of $20
Customer reviews:
ElevatedCEO – "Bought my iPad specifically for Canvas and it has been one of the best decisions I've made as a business owner. The Canvas team helped me at no extra cost, to fix a rookie mistake I made, because it was my first scan. What other company will do that for you? From then on, I knew we were in good hands. The app works like it's supposed to, easy to use, saves time and money….Just download it and start using it already, then thank me later."
Garbin2 – "Canvas, 30 minutes and a LiDAR equipped camera and you have an amazing real life interior scan of your building. Spend a couple of bucks and you get so much more. This should be in every architects, house flipper's, homebuyers, real estate agents and etc's tool box. Gives you a finished product you could only dream of a couple of years ago while saving you thousands of dollars and hours of work measuring. Prepare to be amazed. Must also recognize the dedication of the Canvas team led by their CEO who got on the phone with me when I had a problem. The entrepreneurial spirit and dedication that makes a successful company lives here."
Rkevman – "I have used Canvas for over a year on at least 8 projects. I am a design build remodeler that used to field measure and draw a 1/4 scale drawing on graph paper, then draw the same in Chief Architect. That process would take me the better part of 8 hours total including windshield time, measuring and drawing. Now I scan the existing house with my LiDAR sensing iPad then upload to Canvas. Within several days I am able to download the file into Chief Architect and have an as-built plan and 3d of the existing space. I easily save 6 hours on each project and my team has access to the info within days of my scan rather than weeks. This is one of those no-brainers if you are looking to save time and get to other activities."
Construction Master Pro is not an app that you would imagine working for the architecture industry since it is pretty much a sophisticated calculator – or at least looks like it at first glance. In reality, it is an extremely useful app for architecture that can make all on-site calculations that much easier – volume estimates, area size calculations, right-angle solutions, stairs layouts, and more. The ability to perform calculations of this complexity positively affects the overall number of errors per project and removes the requirement to carry around a physical calculator with you at all times.
Customer ratings:
App Store – 4.9/5 stars based on 22.5k customer reviews
Key features:
Easy conversion to and from different building dimension formats, including feet, inch, yards, decimal feet, metric, etc.
Context-sensitive help feature
Calculations and outputs can be shared and/or saved in file
An extensive user guide
Pricing:
Construction Master Pro Calc offers a free trial period of 7 days after the first app launch, and it has to turn into a paid subscription in order for the end user to have access to the app.
1 month of access to the entire feature set of the app costs $4.99, and there is also an option to pay for an entire year in advance for $39.99
Customer reviews:
Ycam20012 – "If you're making a living in the trades, you need this app. Always with me because it's on my phone, not a separate device that I could easily forget or leave somewhere by accident. I use this app nearly every day. I'm a residential builder/remodeler and this is a go to app for roof framing, layout, gable walls, stairs, concrete, blocks, and brick takeoffs just to name a few. I am always finding new ways to use this app. Highly recommended."
Tigmanha – "I have had this on my iPhone for a very long time. Super convenient because you normally always have your phone on hand, not always a calculator when you need one in the field or shop. I have used this as a metal fabricator, structural fitter, ironworking in buildings, plants and working on large ships. This app is always updated with newer software which you cannot do with a calculator. If you use a calculator in the trades, just get this app."
Nowheels57 – "Where do I start singing the praises for this app? Let's start with the construction master calculator itself. It is an invaluable tool for figuring roofs alone, but so much more. When you have the app on your phone it is always handy and at your fingertips. I purchased the app many years ago, and it transfers every time I replace my iPhone. I probably would have worn out several calculators in the time I've had this app. Cool thing is, when there is an upgrade, it downloads and I am up to date in minutes. I cannot live without the Construction Master Pro. Just sayin."
Matterport is another app that was not created solely for architectural purposes but remains rather useful in this specific field. What Matterport can do is create immersive 3D experiences by scanning environments with the help of your device's camera. It allows for quick layout creation, with markup and editing features, and support for 360 cameras and other similar devices. Matterport refers to their 3D models as "Spaces," and there can be limits to how many Spaces you can hold/edit at a time depending on the subscription tier. Still, there is always a free tier and an app to try the basic feature set before deciding if it is worth the money.
Customer ratings:
App Store – 4.7/5 stars based on 1.8k customer reviews
Key features:
Creating comprehensive yet vivid digital visuals for home insurance or other purposes
Easy sharing of models and objects using different social networks
Accurate measurements to avoid costly errors
Remote project planning, job site documenting on a daily basis, etc.
Pricing:
Matterport boasts five different pricing tiers available for its service

"Free" is the basic version of the software that only supports 1 active space and up to 2 users, it has limited camera support, but still has plenty of features to work with, including creating immersive 3D experiences, taking accurate measurements, and so on
"Starter" – $11.99 a month (pricing may change depending on the number of active spaces), supports up to 3 users, a great choice for small businesses or singular professionals with features such as sharing/embedding, access to technical files, space traffic analysis, etc.
"Professional" – $65 per month, supports from 20 to 150 active spaces and up to 10 users, offers account analytics, automatic face blurring, access to BIM, TruePlan and e57 files, among others
"Business" – $321 per month, supports up to 300 active spaces and up to 50 users, a solid choice for businesses with a lot of active users in the design department, allows for integration with Autodesk Construction Cloud, full analytics & reporting, deeper collaboration across teams, and so on
"Enterprise" is a pricing plan with no public cost information available, it is always tailor-made for every large customer that requests a quote from Mattermost, includes SSO access, 5TB attachment data, API access, centralized administration account, and more
Customer reviews:
De_crazy_cat – "I've been looking for a 3D scan app that doesn't need LiDAR for awhile now, and I think I found it. The scan method with the dots is very smart (this app doesn't use a panoramic style scan, it uses and stitches photos). However the final scans sometimes are bad and aren't quite aligned correct. This would put me at 3 stars, however I know the app is new and I have hope that the developers will fix this."
MarkACarroll – "Matterport Capture app is awesome. It supports all types of capture devices and works with the smartphone only as well. Works with Lidar laser like Lecia BLK360 and iPhone 12 Pro with Lidar. Works with iPhones from many generations as well, not just the newest ones, which is valuable for those who already invested in devices. Works on iPads, too. App also creates 3D from 2D using AI, which is awesome. AI is trained on years and years of real 3D capture data, which makes the tech far more powerful. It's cool stuff. Check it out, doesn't cost a thing to start scanning today. Such a cool company."
Procreate is an app that lets you turn your iPad into a sophisticated artwork creation machine, with many different brushes, layers, and other features that artists have been using for a while now. Procreate's interface is intuitive and user-friendly, making it easy for users to access any tool they want from the application's feature set. It is not a designated app for architecture, but its popularity makes it one of the market's most user-friendly design/sketching tools.
Customer ratings:
App Store – 4.4/5 stars based on 36.3k customer reviews
Key features:
Ultra high definition canvases
3D painting with lighting and animation
Keyboard and apple pencil support
Continuous auto saving feature
Pricing:
Procreate is a premium app that costs $12.99, no additional payments or subscriptions are necessary to get access to the entire feature set
Customer reviews:
monderpurple – "I love this app and it has made digital art so easy for me, and I'm thrilled to see the addition of clipping masks and shape tools! One thing I think is an absolute necessity for the next update, however, is a reworking of how the fill bucket tool functions. Other (free) programs such as medibangpaint that I've used have capabilities like expanding fill bucket selection without having to use the select tool, and the fill bucket taking all marks into consideration, regardless of layers, when making its fill. The 'reference' setting has proved to be inconvenient at best. Also, having to drag the color swatch from the top right corner is cumbersome. Fill should be its own tool like drawing and erasing. Honestly, I just want to see the fill bucket function like it does in EVERY other art program I've used. Another thing to note, many programs have the very useful feature of allowing you to have reference images in a separate window on the screen, so you can see them no matter where you are on the canvas. Would love to see this integrated. And, a final request, please make blending tools stop picking up colors from outside your selected area when you blend. I use the selection tool,,,, so the brush doesn't interact with things outside the selection,, why do blending brushes pick up things from outside the selection and drag them into your selection,, That said, thank you for making such a fantastic art program accessible at such a low cost!"
Beef n Stuarts – "This is the superior digital art program for iPad, but it's missing a few fundamental features that nearly all others have to offer! I have to edit my comic pages in another app for text and speech bubbles. I would like to shortcut this step by just having a complete app. Give me proper shape tools and text tools! Selection is too much of a hassle and the auto shape function doesn't create perfect shapes about 80 percent of the time. Though it's a handy tool, I want a conventional shape tool as well. Secondly, the app has been acting really weird on me lately. When I open the app, it opens a completely random file as opposed to opening me up to the main selection menu. That is annoying, but doesn't prevent me from using the app unlike this next one. When I add a new layer, the app freezes up and crashes. And I'm not using an excessive amount of layers, the resolution is small too. Sometimes when I'm switching from eraser back to pen or changing layers, my pen size suddenly gets ginormous. I have to undo the line and then do a scribble to fix it. It's extremely annoying. Not very much of an inconvenience until it happens frequently enough for me to notice, and I just wish it would end bc I must have wasted accumulated hours just scribbling to fix the pen back to its proper size. The app didn't always treat me this way, so I'm not sure what changed. But I want it to work as seamlessly as it did almost a year ago."
TokyoDAZElucu – "One thing I never liked about most other drawing programs, especially on desktop, was how incredibly overwhelming and complicated the user interface tends to be. Even as someone who has been doing digital art for many years, I find the many buttons and knobs and whistles of other programs to be very difficult to get used to, and the workspace feels very cluttered even when I trim down the windows to just the tools I need. Procreate is different. The developers put a lot of care into developing this program and it shows. The result is a wonderfully elegant and streamlined UI that lacks clutter while still being incredibly powerful and giving the artist many tools to work with, and it utilizes the most of the iPad and Apple Pencil's functions to make it very efficient to use and easy to master. In addition to its lovely and easily customizable layout, I commend the Savage team for sticking to their guns regarding their pricing, as Procreate has always been single-purchase with free updates, unlike other companies that have fallen to the temptation of subscription and microtransaction models. Moreover, their customer support is excellent. I have seen many instances on their forums of developers personally getting in contact with users to assist with problems they may be having. I cannot recommend Procreate enough, and I eagerly await the developments they have planned for us."
There are many different PDF viewing programs for iPhones and iPads, but most of them are not specialized enough to be used properly by architects. Bluebeam Revu solves this problem with its viewing/editing app for architects for Apple devices with several different specialized features.
Bluebeam Revu can be used to verify measurements and markup PDFs with industry-standard symbols, which is extremely useful for this specific industry, especially with the ongoing effort toward paperless workflow for the construction industry.
Customer ratings:
App Store – 1.7/5 stars based on 405 customer reviews
Key features:
Markup and measuring features in a mobile app – commenting, adding images, multimedia, etc.
Extensive collaboration features, including accessing projects created with desktop applications, working with Studio Sessions, chatting, setting permissions, and so on
Document synchronization with Dropbox, ShareFile, WebDAV, and other services
Add and sort through markups, including custom columns and their status
Pricing:
Bluebeam Revu on iPad is a dedicated premium app for $9.99 with no additional charges involved.
There is also a subscription service called Bluebeam Cloud that has multiple pricing tiers, all of which provide access to the desktop version of Bluebeam Revu, and the price for that subscription ranges from $240 to $400 per user when billed once a year
Customer reviews:
Danmilla4rilla – "This program can't be beat on PC. Mobile version is good, but has few bugs. I had lots of crashing problems. I found if I used the original files I had no crashing problems. If I tried to reduce file size to save on data across multiple devices, the crashing issues would appear. I tried adobe, Fox it, ect, and none are as easy to use as bluebeam in my opinion, although they could read the reduced size files, but with loss of bookmarks, and measuring ability. I like the field guys to be able to easily measure/scale, and have bookmarked files. Those features aren't available on other devices. If I didn't have the crashing bug this app would have gotten 5 stars. Use original file, crashing is drastically reduced."
kadezm21 – "Based on the huge number of negative reviews, I was pretty skeptical about downloading and using this app but so far I've had good luck and it's sped up the process of documenting and organizing info from site visits. Part of it may be that I typically prepare what I need for note-taking beforehand and distill it into one pdf of as few pages as possible. That being said I've still added over 100 photos and 50 or so markups to a pdf without running into any issues. I know plenty of people need more than that but speaking as an engineer doing day trips to collect info for arc flash studies or documenting existing conditions this has been hugely useful."
Qzzpity – "I use this app daily in conjunction with OneDrive. The work flow is not as ideal as with Egnyte but it's easily manageable on the 2020 iPad Pro 11.9". Overall this app works great. I haven't had any problems other users described. I do hope Bluebeam starts making updates for this app to support more features on the iPad. I would love to be able to sketch more flexibly and update the file storage UI. Summary, if you need to view large pdf's or plans, this is the app for you and it does not crash like apple files app. Highly recommend. Comment: **I am not sure why there are so many negative reviews because this is my favorite app and I use it just about as much as the mail app. Totally worth it!"
While it may not sound special, Paper is one of the best architectural applications for sketching and similar tasks. It was created by a company called FiftyThree (later absorbed to become a part of WeTransfer), and it is a great way to create sketches, edit photos, take notes, build lists, and so on. That same company also created a high-end stylus for iPads, built specifically for Paper's user-friendly interface – and some users claim it to be better than Apple's proprietary pencil.
Customer ratings:
App Store – 4.6/5 stars based on 55.4k customer reviews
Key features:
The Paper Store can be used as the source of inspiration, with its set of guides and daily activities to how-to instructions
Organizing multiple sketches in a journal and synchronize it across different devices
A natural gesture-based sketching and drawing interface
Add many object types to drawings and sketches, be it photos, objects, or something else
Pricing:
Paper is a free sketching app that also offers some of its more professional features for a subscription fee of $11.99
Customer reviews:
myoozishan – "I like the tool palette, and the experience of actually sketching is very nice, but the change to how journals are navigated between is frustratingly bad. Before, there was a list on the left and I could just jump to the journal (notebook? I forget what they're called) that I wanted. Now that list is no longer an option. Instead I have to swipe through these big, unlabeled pictures of books to find the one I want. Not only is this laborious and a completely unnecessary step backward in efficiency, but the titles of the journals are not even on the pictures of the books themselves; you have to wait until each one is front and center and then the name pops up on the top. This makes a bad situation even worse – because the right journal is even harder to locate. If you were going fully skeuomorphic you'd think you could at least put the title of the journal on the cover of the picture of the journal? Ug. Sorry for ranting. I want to love this app, but this was just a totally boneheaded move. Please bring back the list mode, and if you must develop the UI in a skeuomorphic direction, please try to do so without making it harder to use efficiently."
Vtron/Lazarus – "I have used paper for many years and I love the application. I use it for note taking, drawing, scheduling, and forming ideas. Recently however (around a few days ago) I have noticed something off. Sometimes when I'm trying to write (whether with the pencil or with my finger) the app seems to randomly undo or delete what I just wrote. Sometimes when it does this it "makes this default" by not allowing me to use the undo arrow in the top right. Sometimes when I glue and paste it has caused me to lose the work I wanted to edit, and this happened today with a college class schedule. I won't delete the app because I have many ideas, drawings, and notes here, but I'm concerned about using it until this issue, assuming it's general and not particular to me since my other apps work just fine, is addressed and resolved. I really hope it is fixed soon. Paper is too good of an app to stop using due to a bug. I hope this gets to the Paper team, thank you sincerely."
happy lizard & friend – "This app has been above and beyond amazing and so many of my friends love it too! I would say there are no problems and it doesn't feel so overwhelming like in most of the sketching apps I have downloaded because they have so many tools. My favorite part is that is gives a variety of options for starter books and introduces how to use all of the tools the best way possible! I know i said that there was no buts and this is not a complaint the app is already amazing but if it had two more features I would love it even more, the first thing it should add is a feature to lock the drawing or photo in place so that you are unable to zoom in or out! This way is so if you want to focus on one specific part you won't have to worry about getting distracted and accidentally drawing on the wrong part of the page! The second thing that they should add is oil paint so that if you want to do some abstract art or something else you won't have to improvise. In conclusion I think that you should definitely download this app and as a person who has, I have used it everyday since."
Working in tandem with the aforementioned Morpholio Trace, Stencil is an app for architects that makes stencils easier to work with and create. This app allows transforming parts of regular images into stencils, with the ability to overlay those anywhere afterward. It is a great addition to Morpholio Trace's functionality and was created by the same company – Morpholio. Stencil can work with color gradients and other task-specific features, allowing for the natural creation of facade patterns, graphic trees, or even people as part of the stencil.
Key features:
Accessible graphic design tool with user-friendly interface
Web-based design provides unprecedented versatility and mobility
Several millions of stock photos to choose from, as well as templates, fonts, icons, and so on
Extensions for popular web browsers, and even for WordPress
Pricing:
Stencil follows the example of solutions such as Cedreo, not having the dedicated mobile app but being accessible from almost any mobile device out there via the web version of the solution; there is also a Google Chrome extension available, as well as a Firefox add-on and a WordPress plugin
Stencil's pricing model is relatively standard, with three main pricing tiers available to the public

"Free" is a limited version of the solution that offers up to 10 images/month, up to 10 favorites, no more than 50 images uploaded, less than 10 collections, etc.
"Pro" – $15 per month per user, includes a massive library of templates, several million icons and graphics to choose from, priority support, up to 100 favorites, watermarking, thousands of fonts, and more
"Unlimited" – $20 per month per user, the biggest offering from Stencil that has unlimited image saving/uploading, unlimited favorites, unlimited collections, and so on
While it might not be a strictly architectural tool per se, CamToPlan is a useful app that helps a lot with measuring and/or creating floor plans with nothing but a smartphone. The app claims to be easier to use than the laser meter since all of the measurement lines are drawn via your device's camera in real-time.
The app can export its measurements into several different formats and is great for quick basic estimates of rooms, furniture, etc. It is available for iOS and Android, and there are two versions of this app for architects – one is free but has ads and is limited in its capabilities. At the same time, the other is paid but has multiple exclusive features such as sharing, measurements, etc.
Customer ratings:
App Store – 4.6/5 stars based on 2k customer reviews
Key features:
Easy floor plan creation
Fast measurement results
Floor plan exporting
Works with Apple's LiDAR sensor for higher accuracy
Pricing:
CamToPlan's payment model is fairly generous, it asks for $26.99 per year, with features such as ad removal, measurements unlocking, PDF exporting and sharing, .obj 3D rendering, etc.
Customer reviews:
StudioAdeline – "Amazing. I do design work and this has already saved me multiple trips back to sites to get measurements. Would definitely recommend this app with a phone that has LiDAR."
Matty Kahler – "My first thought was "ugh….another subscription based app." But after using it to easily and quickly measure and display measurement data for a garden bed we're installing, I'm won over! What would have taken 5~10 minutes of laying a tape measure, drafting out rough sketch, and then manually calculating dimensions, took me a minute or two. I get accurate measurements simply by walking over the bed, and I can the send those measurements on to others! And due to it being a complete picture of the land, it made planning our garden bed SO simple! $25 for a tool this handy, per year, is worth it in my books. I've spent far more than that on laser measuring devices which take way more time than this app did."
Today Tacos – "Needed this app in the purchase of a property, to determine some of the remodeling projects we will need. Surprised and amazed at LiDAR tech on my iPad Pro. Colors are accurate. Measuring is close enough for rough estimates, and the ability to walk through in a 3D space is really helpful. Movement interface is a little confusing and not really all that intuitive, that's why the 4 stars. I can see me using this for many more projects. Otherwise, really satisfied so far. Also, I'm a contractor professionally."
Conclusion
This article is one of many examples of how much of an umbrella term the "architecture app" actually is. It can be a dedicated sketching up like SketchUp, it can be an issue tracking-focused app such as Revizto, it can even be something that is practically a sophisticated calculator (Construction Master Pro Calc) – and yet, all of them are considered architecture apps by definition, which may seem somewhat overwhelming at first.
However, there is also the fact that this kind of wealth of options to choose from means that a regular user is far more likely to find a solution that fits their specific use case the most – if they're willing to put in effort to look for one, that is.
The introduction of mobile apps allowed for a drastic change in how architects work. Right now, there's no need for unnecessary paperwork or outdated appliances since most of it can easily fit in your phone or tablet. In this article, we've presented our list of best architecture apps for iPad, iPhone, PC, Mac, and other devices.
Why you can trust us
At Revizto, the team is committed to providing objective insights into products and technologies by utilizing expert knowledge, product data, and strategic methodologies. Their aim is to offer visitors comprehensive market overviews, empowering them to make informed decisions. The materials they provide cover a wide range of factors including pricing, customer reviews, unique features, and more.
Leading the review process is James Ocean, the BIM/VDC Specialist at Revizto. As the Head of BIMspiration, James plays a vital role in supporting and educating both the internal team and clients. He provides guidance on effectively leveraging Revizto to optimize workflows, reduce costs, and successfully complete projects of all types. His expertise ensures that users can make the most of Revizto's capabilities and achieve their project goals.
---