Glossary
August 26, 2021
Updated 13 March 2023 by James Ocean
Top 20 Floor Plan Apps for iPhone, iPad and Android in 2023
Table of Contents
Introduction
When it comes to floor plans, you'd think that it's easy enough to do – all you need is a pen, a ruler, and a piece of paper. However, the entire subject is far more complex than that – if you want a floor plan that can actually work, that is.
The subject of floor plans is surprisingly deep and complex; it involves a lot of planning and meticulous measurement to get the best result possible. Even the most experienced professional might take hours, or even days, for just a single floor plan to be drawn by hand. The same can be applied to floor plans created by various iterations of CAD software.
However, all of that changed with the recent boom of popularity regarding floor plan apps for various mobile devices – Androids, iPhones, and iPads, for the most part. Since it's hard to picture a person without some sort of portable device with them nowadays, the floor plan app market has grown substantially in recent years and shows no signs of stopping any time soon.
At the same time, nothing is perfect, including these apps – with most of them having various limitations. And some of the limitations are just odd, to say the least. For example, the ability to create your geometrical shapes should be evident for any CAD app from the get-go. And yet, this option is surprisingly rare, even among the most premium apps on the market.
Definition and use cases
The actual definition of a floor plan app implies a standalone application for either Android or iOS devices that offers floor plan creation/modification capabilities for those mobile devices. Floor plan apps also cover additional designs (aside from the original floor plan design inside a house), such as foundation, landscaping, interior design, and more.
There are four primary purposes that the floor plan app can be used for, and we'll go over every one of them in the list below.
Drawing. The most apparent purpose on the list is to use a floor plan app to do exactly what it's supposed to do – draw a floor plan. It is worth mentioning that these apps vary heavily when it comes to the precision and accuracy of your drawings, so it is better not to jump to the first app that you see in this category and evaluate your choices.
Sales process. Another exciting use case for these apps is mainly for salespeople and contractors, and it revolves around various industries that take part in the residential sales process. Waterproofing, HVAC, foundation repairs, and many other services can give much more accurate estimates if they have an accurate floor plan to work with.
Inspection. One more construction-related matter that benefits heavily from the addition of floor plan apps is inspection. Both site inspectors and field auditors need to have some variation of a floor plan to have on hand to add comments and mark necessary things. The accuracy of these inspections is extremely important for the safety of the building, and the overall safety on the construction site, so having these apps in your portable device is as useful as ever.
Landscaping. Although "floor plan" usually implies only indoor schematics, modern floor plan apps can also be a helpful tool for landscapers – helping with various external parts of a house, including flowerbed placements, tree placements, and many more possibilities.
Top 20 best floor plan apps
The overall scope of the floor plan app market right now makes it somewhat tough to figure out the exact app that you want to get. Luckily enough, we've created a list that includes the 20 best floor plan apps for both Android and iOS. Next, we're going to go over those apps, one by one.
Planner 5D is a widely-known design app that can work with structures of various scales, from a single room to an entire house. It offers a robust set of features that help design all of the essential structural parts of a house, from walls and windows to stairs and additional floors. There are also landscaping capabilities, pool plans, and strong rendering capability for both 2d and 3d graphics.
The app itself is available for all platforms that can be seen in the picture: Mac, Android, iOS.
Revizto is a full-fledged BIM application used by AECO professionals to perform floor plan-related activities. As an integrated collaboration platform, Revizto is packed with industry-leading features from issue tracking, camera sharing, visibility control, 2D and 3D maps and levels, automated clash detection, and more. The tool is used by over 3,000 firms across 150 countries, including 20 of the top 25 ENR firms, and offers complex features delivered with seamless UI and user-friendly UX. The floor-planning component offers advanced industry capabilities that drastically reduce inefficiencies and boost productivity. Revizto's application capabilities were only limited to iPads for a while, but now there are also mobile apps available for both Android and iOS users starting from April 12th, 2023, offering a variety of features such as 3D/2D rulers, stamps, levels, and more.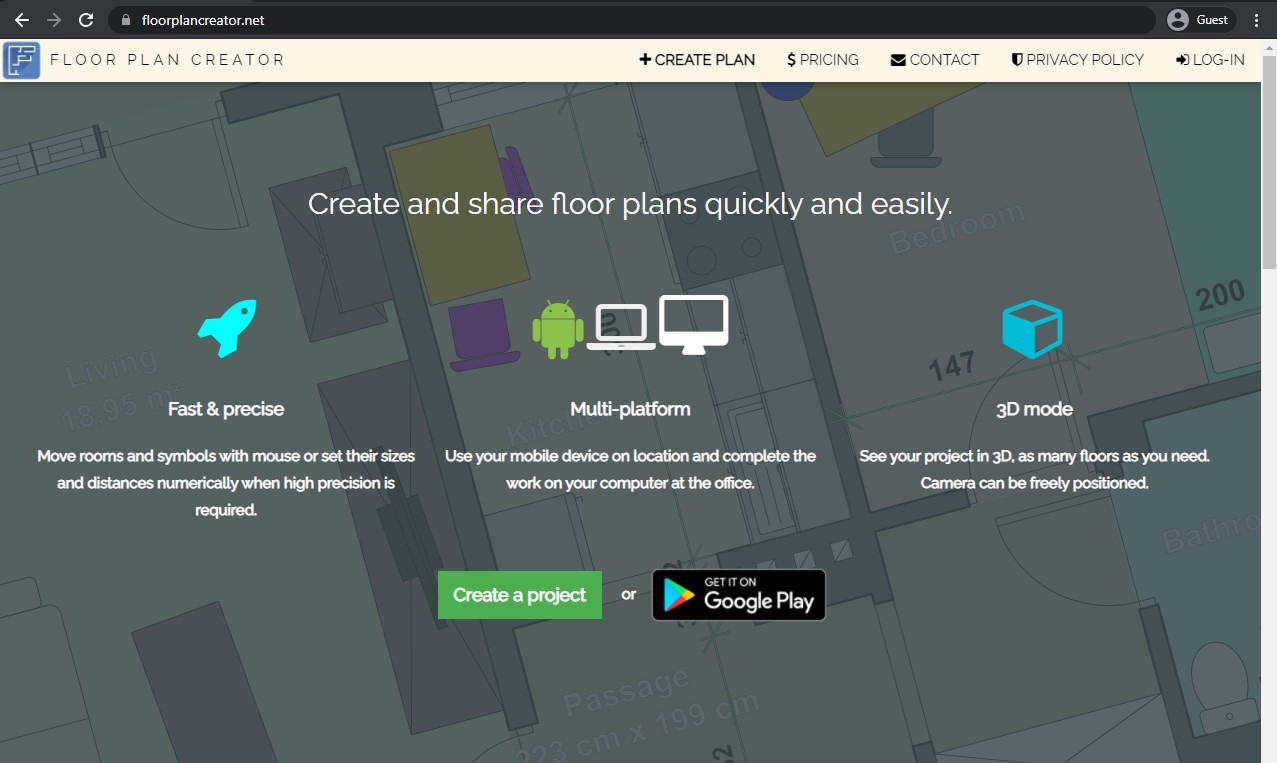 Another exciting find for architects is an app called Floor Plan Creator, which offers an extensive set of floor plan generation capabilities, as well as several other features, such as perimeter calculation, floor measurements in different units, unique markings for windows, doors, electricity, and fire, and more.
The app itself is only available for Android devices with a one-time purchase to activate premium features, and there's also an alternative in the form of an HTML5 web application that runs from almost any browser in the first place but is distributed via a paid subscription plan.
Attention to detail is the cornerstone of Home Design 3D, offering a massive amount of tools for interior design, with various colors, sizes, angles, textures, and so on. It can be used to draw entire floor plans, add and delete walls, change wall thickness, add windows, and furnish the plan with simple drag-and-drop features. It's also possible to use 3D visualization for your entire project to see how it'll look in reality, with the ability to import the whole project to Dropbox or email.
This is one of the best floor plan apps for Android, and it's also available for iOS devices.
MagicPlan is another example of well-known home design applications, but this one's approach is somewhat different – in addition to the traditional way of designing floor plans by hand, it also has an option to scan the rooms in question using your device's camera to build entire floor plans in minutes. It's also possible to use a laser meter in combination with the app to measure your space's dimensions, and you can also add furniture, calculate cost estimates, and more.
Both 2D and 3D models are available with the virtual tour capability, and the app is available for both Android and iOS devices.
Another take at the best floor plan app for iPad and other devices is Room Planner, offering your standard package of floor plan app capabilities, such as designing floor plans, performing interior decoration, modifying wall colors, and so on. Additionally, Room Planner offers several different layouts and presets for different room types, like bedroom, bathroom, living room, kitchen, etc. There are also capabilities to work both online and offline and 3D virtual reality capabilities for your projects.
This app is available for download in both Google Play Store and AppStore for respective devices.
AR Plan 3D is, as the name suggests, a floor plan app that focuses mainly on its AR-related capabilities. A virtual tape measurer is the main feature of this app, allowing for quick and accurate room measurements. This allows for fast floor plan generation and instant measurements of everything that was visualized in either Imperial or Metrical units. This app also includes a 2D floor plan application called Floorplanner, which offers classic floor plan generation in 2D with a side view.
This application can be used by both Android and iOS devices.
RoomSketcher is a perfect floor plan app for a beginner architect, offering extensive design and drawing capabilities, as well as the ability to create entire rooms – all of that in a user-friendly interface. Additionally, you can also furnish your interior, experiment with different styles, choose different materials and wall colors, and more.
This app is available in both Google Play Store and an App Store.
Grapholite is a multifunctional business graphics app that positions itself as an alternative to Visio. It offers compatibility with many different business graphic types, including flowcharts, office layouts, organizational charts, venn charts, wireframes, network layouts, and, of course, floor plans. Grapholite's floor plan capabilities include the ability to generate floor plans in a short time span and furnish it with an extensive library of elements, from windows and doors to furniture, accessories, appliances, and so on.
The mobile version of Grapholite is only available in AppStore, and its desktop version only supports Windows-based systems.
Homify is an app that combines your standard set of floor plan app features with a variation of a social media application, which allows you to both design specific rooms for yourself and browse through other people's creations. It can also serve as a third party between a customer and an architect or a designer.
Homify is a great example on the list of the best floor plan app for iPad and Android devices.
CubiCasa combines fast indoor scanning with the ability to turn scan results into an accurate floor plan that includes various dimensions of the structure. There are many languages that the room can be labeled with. The entire app focuses on 2D plans, allowing for the automatic generation of home reports with room highlightsand several other features.
Both Android and iOS devices can download CubiCasa from a respective app store.
SmartPlan is the floor plan app that represents simplicity at its peak, offering the bare minimum of using AR technology to measure different parts of your room, including walls, floors, windows, doors, and such. This allows the app to generate floor plans in both 2D and 3D automatically. It is quite straightforward, but the downside is that there's not that much else to it. The only thing you can tweak in the app is the measurement system used, from Metric to Imperial and back, and that's about it.
The app itself is only available for Android devices, is free, and contains no ads whatsoever.
Roomle allows its users to visualize how their home would look after the redesign/remodeling. It can work with Augmented Reality (ARKit supported), and there are also plenty of different features for 3D furnishing, floor planning, and more. The software is easy to use, capable of synchronizing progress over multiple devices, and can even provide comprehensive statistics from one of the white-label solutions you are working with.
Roomle is available only for iOS devices and has several different pricing plans depending on how many specialized features a user wants, from app-less AR to CRM integrations and everything in between.
Home Design Outdoor Garden is a versatile floor plan app that is available on many platforms and can offer a lot of remodeling experiences free of charge, with the ability to expand the entire feature set for a one-time fee. Home Design has a drag-and-drop interface, a variety of items for outdoor design, and a generally user-friendly experience that may be somewhat limited in the free version.
Home Design Outdoor Garden is available on PC, Mac, Android and iOS devices, and all of them work on a freemium model – the original app is free but has additional functionality that could be added for a one-time fee ($4.99 for an iOS app).
One of the uncommon features that Houzz has is the ability to use both photos and floor plans in the design process, combining the best of both worlds to offer the best design experience for everyone. There's also a massive library of third-party assets and design ideas to browse through, as well as the ability to draw and annotate on any of the attached photos before sharing them with either an interior designer or your friends.
Houzz is a free app with a premium subscription; it is available for both iOS and Android devices in their respective application stores.
Homestyler is a 3D floor planner that claims to be extremely easy to use, offering floor planning and interior design to everyone with nothing but your mobile device. It can work with regular pictures as a baseline and place 3D models of various pieces of furniture within the plan. Homestyler also acts as a social media, showcasing various interior design options from other people and offering inspiration for anyone interested in designing. Homestyler can also work well with perspective, capable of calculating the depth and dimensions of a building from a photo.
Homestyler is a free application with paid subscription-based features that is available for both iOS and Android devices, as well as in a desktop variant.
Home Maker represents a unique approach to floor plans since Home Maker is technically a game, not a floor plan app. However, Home Maker also has a surprisingly deep system of floor plan generation, interior decoration, and a wealth of 3D objects for decor. Sharing designs is also easy in Home Maker since there are plenty of options to present your design to others inside the app itself.
Home Maker is available for Android and iOS devices; it is a free application with in-app purchases for premium currency.
A complete antipode to the previous example, Room Scan is a floor plan solution used for drawing plans, first and foremost. It has two different versions – Room Scan Classic, an older version of the app, and Room Scan LiDAR, an updated version that takes advantage of iPhone's LiDAR capabilities to improve the scanning results. Room Scan can add notes to photos and measurements, supports Apple Pencil, is capable of exporting into a multitude of different file formats, and so on.
Room Scan LiDAR is a free app with a monthly subscription that opens more options, and it is only available on iOS devices right now.
Room Creator is a fairly simplistic yet effective interior design tool for floor planning. Room Creator makes it easy to design rooms individually, with the ability to render them in 3D and walk through them at any point. The interface is simple and easy to use, objects can be placed and moved using drag-and-drop, and it is even possible to share your creations with others by uploading your efforts to the server to get a unique RoomID that would lead to your room specifically.
Room Creator is only available for Android devices; it is free but contains advertisements you'll need to watch to use specific features.
Last, but not least, is Madrees – an app for floor plan and design that works in both 2D and 3D to provide a host of useful features to anyone interested in interior design or floor planning. Madrees can offer data export, image output, and a lot of interior customization, be it walls, floors, or even furniture. The application's interface is relatively easy, and it works in both 3D and 2D, making it a rather convenient option for most customer needs regarding interior design.
Madrees is a free app that is only available for Android devices.
Conclusion
The abundance of floor plan apps leads to many choices when it comes to picking one app that suits your specific goal. With this article, we've attempted to summarize the point of floor plan apps and present a list of the best floor plan apps for Android and iOS devices.
Solutions such as Planner 5D and Revizto are geared towards the commercial audience, first and foremost, targeting companies of various sizes and providing features that would be the most useful in a business setting, such as VR support, advanced clash detection, and so on. Alternatively, many floor plan apps are aimed toward a more casual audience, such as Home Design or AR Plan – with a much more casual and user-friendly interface, and less focus on industry-specific features. There are even apps such as Home Maker, a game with floor planning and designing capabilities, and not a floor plan app – it is also an unusual approach to the same purpose.
---