Glossary
August 26, 2021
Updated 22 September 2023 by James Ocean
Top 20 Floor Plan Design & Creator Apps for iPhone, iPad and Android in 2023
Table of Contents
Introduction
When it comes to floor plans, you'd think that it's easy enough to do – all you need is a pen, a ruler, and a piece of paper. However, the entire subject is far more complex than that – if you want a floor plan that can actually work, that is.
The subject of floor plans is surprisingly deep and complex; it involves a lot of planning and meticulous measurement to get the best result possible. Even the most experienced professional might take hours, or even days, for just a single floor plan to be drawn by hand. The same can be applied to floor plans created by various iterations of CAD software.
However, all of that changed with the recent boom of popularity regarding floor plan apps for various mobile devices – Androids, iPhones, and iPads, for the most part. Since it's hard to picture a person without some sort of portable device with them nowadays, the floor plan app market has grown substantially in recent years and shows no signs of stopping any time soon.
At the same time, nothing is perfect, including these apps – with most of them having various limitations. And some of the limitations are just odd, to say the least. For example, the ability to create your geometrical shapes should be evident for any CAD app from the get-go. And yet, this option is surprisingly rare, even among the most premium apps on the market.
Definition and use cases
The actual definition of a floor plan app implies a standalone application for either Android or iOS devices that offers floor plan creation/modification capabilities for those mobile devices. Floor plan apps also cover additional designs (aside from the original floor plan design inside a house), such as foundation, landscaping, interior design, and more.
There are four primary purposes that the floor plan app can be used for, and we'll go over every one of them in the list below.
Drawing. The most apparent purpose on the list is to use a floor plan app to do exactly what it's supposed to do – draw a floor plan. It is worth mentioning that these apps vary heavily when it comes to the precision and accuracy of your drawings, so it is better not to jump to the first app that you see in this category and evaluate your choices.
Sales process. Another exciting use case for these apps is mainly for salespeople and contractors, and it revolves around various industries that take part in the residential sales process. Waterproofing, HVAC, foundation repairs, and many other services can give much more accurate estimates if they have an accurate floor plan to work with.
Inspection. One more construction-related matter that benefits heavily from the addition of floor plan apps is inspection. Both site inspectors and field auditors need to have some variation of a floor plan to have on hand to add comments and mark necessary things. The accuracy of these inspections is extremely important for the safety of the building, and the overall safety on the construction site, so having these apps in your portable device is as useful as ever.
Landscaping. Although "floor plan" usually implies only indoor schematics, modern floor plan apps can also be a helpful tool for landscapers – helping with various external parts of a house, including flowerbed placements, tree placements, and many more possibilities.
Top 20 best floor plan apps
The overall scope of the floor plan app market right now makes it somewhat tough to figure out the exact app that you want to get. Luckily enough, we've created a list that includes the 20 best floor plan apps for both Android and iOS. Next, we're going to go over those apps, one by one.
Planner 5D is a widely-known design app that can work with structures of various scales, from a single room to an entire house. It offers a robust set of features that help design all of the essential structural parts of a house, from walls and windows to stairs and additional floors. There are also landscaping capabilities, pool plans, and strong rendering capability for both 2d and 3d graphics.
The app itself is available for all platforms that can be seen in the picture: Mac, Android, iOS.
Customer ratings:
Advantages:
A massive number of objects and an even bigger variation for customization for every single object available
Seamless transition between 2D and 3D models and vice versa
Intuitive drag-and-drop interface
Shortcomings:
A confusing pricing model that scales up very quickly
A very limited free version
The roof design process is difficult and could be more user-friendly
Pricing:
There is no official information about Planner 5D's pricing available on the solution's website
The unofficial information claims that the pricing model is confusing and somewhat expensive in the long run:

$9.99 for 20 HD images (high-quality 3D renders)
$49.99 for 200 HD images (high-quality 3D renders)
$6.99 for a month of full access to the object catalog and 3 HD renders
$15.99 for a year of full access to the object catalog
$24.99 for a premium account
$9.99 per user per year for educational users

All of the prices (aside from the educational ones) are doubled for commercial clients.
My personal opinion on Planner 5D:
Planner 5D is a well-known design application with a large library of objects to choose from and plenty of tools for interior or exterior decoration. The capability to create floor plans is one of many options that Planner 5D can offer, alongside landscaping, rendering, and so on. It has a rather user-friendly interface, an easy swap between 2D and 3D view states, and is generally well-regarded by most of its users. At the same time, it has a very confusing pricing model that becomes extremely expensive the bigger the project is, and some specific fields of work (such as roof design) are still very basic.
Revizto is a full-fledged BIM application used by AECO professionals to perform floor plan-related activities. As an integrated collaboration platform, Revizto is packed with industry-leading features from issue tracking, camera sharing, visibility control, 2D and 3D maps and levels, automated clash detection, and more. The tool is used by over 3,000 firms across 150 countries, including 20 of the top 25 ENR firms, and offers complex features delivered with seamless UI and user-friendly UX. The floor-planning component offers advanced industry capabilities that drastically reduce inefficiencies and boost productivity. Revizto's application capabilities were only limited to iPads for a while, but now there are also mobile apps available for both Android and iOS users starting from April 12th, 2023, offering a variety of features such as 3D/2D rulers, stamps, levels, and more.
Customer ratings:
Advantages:
Great issue tracking capabilities across the board
Ability to assign specific clashes to different personnel
A variety of integrations with popular BIM and CAD solutions
Useful coordination and collaboration tool with centralized information access
Shortcomings:
There may be some difficulties with large project files, leading to software slow-downs or even crashes
The UI may take some time to get used to after solutions such as Navisworks
Data filtering is difficult to set up properly
Reporting feature could be more customizable
Pricing:
Revizto does not have any pricing information available in public, the only way to obtain such information is to request a quote from the company in question and/or schedule a demo of that same solution.
The unofficial information states that Revizto has three pricing plans:

"Starter" – $600 per year per user, the basic package for small teams with 10 users or less
"Team" – $500 per year per user, suitable for up to 20 users at once
"Company" – $400 per year per user, only available to teams or companies with 50 users or more
My personal opinion on Revizto:
Revizto is a complex BIM solution that may seem a bit out of place on this list. However, the fact that Revizto can perform all kinds of enterprise-level complex actions does not take away from the fact that it also can be used as a floor plan design app. The fact that Revizto has so many features and capabilities in terms of clash detection and design overview makes it even more suitable for something as seemingly basic as floor plan creation. At the same time, most of its shortcomings are tied to large-scale complex projects – projects that are far bigger than any floor plan one can imagine, meaning that the solution in question is basically perfect for such a task. Of course, there may be a bit of a bias involved here, as well, but I do believe that Revizto has a place on this list as one of the best floor plan design solutions on the market so far.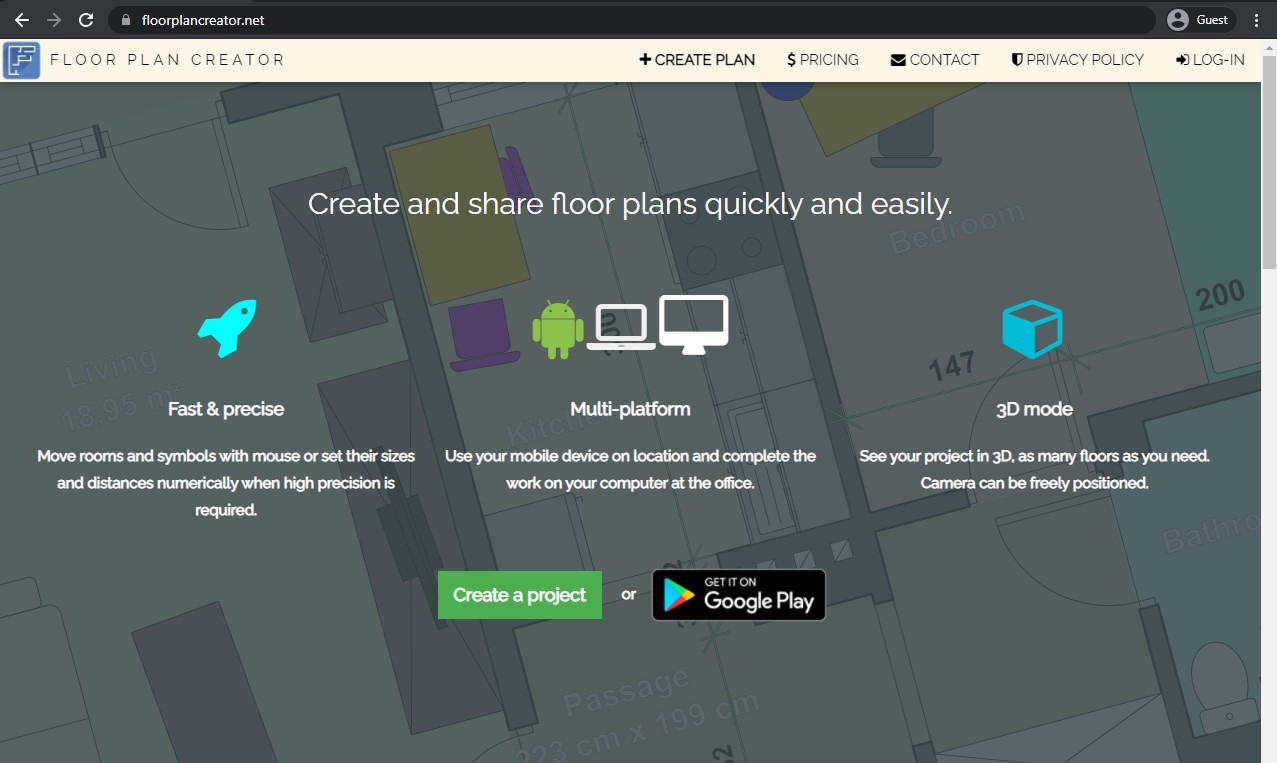 Another exciting find for architects is an app called Floor Plan Creator, which offers an extensive set of floor plan generation capabilities, as well as several other features, such as perimeter calculation, floor measurements in different units, unique markings for windows, doors, electricity, and fire, and more.
The app itself is only available for Android devices with a one-time purchase to activate premium features, and there's also an alternative in the form of an HTML5 web application that runs from almost any browser in the first place but is distributed via a paid subscription plan.
Customer ratings:
Key features:
Projects with multiple floors
3D tour mode
Support for both imperial and metric units
Exporting in several different formats: SVG, PDF, DXF, etc.
Automatic calculation for room perimeters, wall dimensions, etc.
Pricing:
Floor Plan Creator can offer three different pricing plans for its solution:

"Free" – costs $0, can only host 1 project at a time, does not have high-resolution image exporting capabilities, and the project limitation can be alleviated with $6.95 for 10 extra projects
"Standard" – $4.95 per year, expands the original project limit to 10 projects (and the expansion price is also lower now, with $4.95 per 10 extra projects), while also enabling high-resolution image exporting, PDF exporting, DXF exporting, and a library of symbols
"Pro" – $6.95 per month, removes the limitation in terms of project number, allows to perform watermarking with your own logo for exported files
My personal opinion on Floor Plan Creator:
Floor Plan Creator, on the other hand, is a solution that was built with this one purpose in mind – to create floor plans with different levels of complexity. It can also calculate perimeters, perform measurements, mark important objects such as windows or doors, and more. There is also a rather interesting pricing model – the solution itself is free as an Android app with the ability to activate more features for a one-time fee. Another version of Floor Plan Creator is a web-based solution that has a lot more reach but can only be purchased using a subscription-based model. It is not the most feature-rich solution on the market, but the convenience of two different pricing models and the overall mobility of the app make it rather useful for plenty of potential customers.
Attention to detail is the cornerstone of Home Design 3D, offering a massive amount of tools for interior design, with various colors, sizes, angles, textures, and so on. It can be used to draw entire floor plans, add and delete walls, change wall thickness, add windows, and furnish the plan with simple drag-and-drop features. It's also possible to use 3D visualization for your entire project to see how it'll look in reality, with the ability to import the whole project to Dropbox or email.
This is one of the best floor plan apps for Android, and it's also available for iOS devices.
Customer ratings:
Key features:
Extensive floor plan designing capabilities in both 3D and 2D
Decoration and furnishing for both outdoors and indoors, a vast built-in library of objects to choose from
Project visualization in 3D, including compass, day/night function, and more
Extensive importing, exporting, and project sharing – be it using the official website or via Dropbox, OneDrive, e-mail, etc.
Pricing:
Home Design 3D's pricing information consists of a separate Home Design 3D Gold solution available for PC, Mac and iOS users for $8.99, and an additional $8.99 can be paid for extra features after the initial purchase.
My personal opinion on Home Design 3D:
Interior design is the main focus of Home Design 3D – which is where its name comes from. The solution in question has plenty of different interior design features, including a large library of objects, floor plan creation, extensive furnishing and design capabilities, and even a drag-and-drop interface to make it easier to operate the solution. Home Design 3D also supports three-dimensional visualization of any floor plan created inside of it, and there are plenty of different data-sharing options to choose from – be it the software's website, Dropbox, emails, OneDrive, etc. Home Design 3D is available for both iOS and Android devices (as well as PC and Mac desktops), and its pricing model is surprisingly fair and straightforward – a limited free version is available for all platforms except for PC, and a Gold version of the software with all features can be purchased for just $8.99 per seat.
MagicPlan is another example of well-known home design applications, but this one's approach is somewhat different – in addition to the traditional way of designing floor plans by hand, it also has an option to scan the rooms in question using your device's camera to build entire floor plans in minutes. It's also possible to use a laser meter in combination with the app to measure your space's dimensions, and you can also add furniture, calculate cost estimates, and more.
Both 2D and 3D models are available with the virtual tour capability, and the app is available for both Android and iOS devices.
Customer ratings:
Advantages:
User-friendly and convenient for home design purposes
Can also be advantageous with site surveillance thanks to the ability of scanning with nothing but a camera
High accuracy for dimensions captured with the application
Shortcomings:
The ability to scale one room to the size of another does not work as intended
Limited number of integrations with other design software solutions
The price for subscription is somewhat steep
Pricing:
MagicPlan offers three different pricing plans for its customers, aside from the business plan and the free plan:

"Sketch" – $9.99 per month ($99.99 annually), includes unlimited projects, 2D & 3D sketch exporting, Teams collaboration, measurements, etc.
"Report" – $39.99 per month ($399.99 annually), adds notes, markups, premium integrations, 360-degree images, and customizable objects/forms
"Estimate" – $89.99 per month ($899.99 annually), includes cost estimating, phone support, custom price lists, and more

As for the aforementioned free and business plans, the former is a limited version of the solution with up to 2 projects, and  the latter is a quote-based offering with no public pricing that can offer SSO support, account management, custom objects, personalized onboarding, and more
My personal opinion on MagicPlan:
The market in question has a number of well-known applications, and MagicPlan is one of those solutions – a versatile multifunctional app that can create floor plans, perform interior decoration, measure specific objects or dimensions, and more. Not only it allows for floor plans to be created by hand, but there is also the ability to use a phone's camera to create such a plan automatically based on photos of the existing real-life interior. The ability to work with laser measurement tools makes it a very precise solution, and the availability for both iOS and Android devices makes it extremely convenient to use on the go. On the other hand, the price of the solution is relatively high by this market's standards, and there are little to no integrations with other programs or solutions to work with.
Another take at the best floor plan app for iPad and other devices is Room Planner, offering your standard package of floor plan app capabilities, such as designing floor plans, performing interior decoration, modifying wall colors, and so on. Additionally, Room Planner offers several different layouts and presets for different room types, like bedroom, bathroom, living room, kitchen, etc. There are also capabilities to work both online and offline and 3D virtual reality capabilities for your projects.
This app is available for download in both Google Play Store and AppStore for respective devices.
Customer ratings:
Key features:
Advanced interior planning
Choose from a large library of furniture from famous brands
Ability to start from scratch or choose one of the existing plans as a baseline
Realistic HD renders
No limitations on how many rooms can be created
Pricing:
Room Planner's pricing information is not publicly available on their official website and apps themselves are free.
However, there are multiple different in-app purchases that could be found on the app's App Store page, including, but not exclusive to:

Basic version – $9.99
3 Months Subscription – $34.99
Yearly Subscription – $59.99
Lifetime – $149.99
My personal opinion on Room Planner:
Room Planner seems to be offering a relatively basic feature set for a solution of this caliber – floor plan creation, interior decoration, and so on. There are also several unusual features – multiple presets and templates for floor plan projects, the ability to perform virtual reality walkthroughs inside of your projects, and even the possibility for an app to work offline. Room Planner can also offer a vast library of objects to use in interior decoration – objects that represent perfect counterparts of existing furniture from various brands. There is no clear information about the solution's licensing model, and plenty of users state that the app itself has plenty of bugs and other issues, but it does its job fairly well and can be quite useful for a specific range of potential clients.
AR Plan 3D is, as the name suggests, a floor plan app that focuses mainly on its AR-related capabilities. A virtual tape measurer is the main feature of this app, allowing for quick and accurate room measurements. This allows for fast floor plan generation and instant measurements of everything that was visualized in either Imperial or Metrical units. This app also includes a 2D floor plan application called Floorplanner, which offers classic floor plan generation in 2D with a side view.
This application can be used by both Android and iOS devices.
Customer ratings:
Key features:
Tape-like measuring for doors, windows, or even entire rooms' perimeter/height
The ability to create a 3D floor plan using gathered measurements
Measurement sharing using social networks, emails, messages, or in a Floorplanner Archive
Automatic calculation of different parameters such as walls square, floor square, perimeter, etc.
Pricing:
AR Plan 3D is a free app that also has plenty of limitations in terms of both tools and the number of projects that a user can save.
There is also a premium subscription that eliminates both of these limitations:

$19.99 per month
$49.99 per 3 months
$89.99 per year
My personal opinion on AR Plan 3D:
AR Plan 3D is a floor plan solution with a very limited feature set. The solution in question is one of many options provided by its developer Grymala, and the name of the app speaks for its biggest feature – AR support. AR Plan 3D can be used to generate floor plans using a smartphone's camera, as well as measure specific objects or locations, support for both Imperial and Metric systems in terms of dimensions, and so on. Of course, any parameters and floor plans generated with AR Plan 3D can also be exported using multiple options, but the total number of features can be quite limited for the free version of the solution – and the subscription price for a paid version is rather high, especially when purchasing a one-month-long plan.
RoomSketcher is a perfect floor plan app for a beginner architect, offering extensive design and drawing capabilities, as well as the ability to create entire rooms – all of that in a user-friendly interface. Additionally, you can also furnish your interior, experiment with different styles, choose different materials and wall colors, and more.
This app is available in both Google Play Store and an App Store.
Customer ratings:
Advantages:
Easy creation of rooms and entire floor plans
Massive library full of both objects and templates
Praise-worthy customer support
Shortcomings:
An overwhelming number of features and a steep learning curve
Mac solution cannot move/delete several elements of decoration at once
Furniture customization options are lacking
Pricing:
There are four different pricing plans that RoomSketcher can offer:

"Free" is a limited version of the software with one-user limitation, 3D snapshots, limited furniture library, and access to RoomSketcher mobile apps
"Premium" – $2 per month per project, adds 2D floor plans, live 3D, material replacement feature,
"Pro" – $10 per month with print-to-scale, branding, customizable floor plans, complete furniture library, as well as 3D photos, 3D floor plans and 360 views (acquired using RoomSketcher's "credits" system)
"High Volume" – $60 per month per user, the biggest feature set of RoomSketcher in a single package, with personal training, dedicated manager, order system integrations, multiple customer profiles, etc.
My personal opinion on RoomSketcher:
RoomSketcher is less of an interior design floor app and more of a floor plan creator with a variety of customization features that may rival some of the full-fledged architectural software. It is a great tool for entry-level architects that can offer plenty of drawing and design capabilities in a mobile app. There are also internal furnishing capabilities, but those are relatively basic and not the main focus of the solution's efforts. RoomSketcher's customer support is often praised as helpful and user-friendly, and the library of different objects/furniture makes architecture project creation a lot easier for newcomers. It can still be quite difficult to work with RoomSketcher if the person in question does not have any prior experience with similar software. At the same time, there is also a noticeable feature disparity between different versions of the solution, and Android/iOS applications are only accessible for tablets, not smartphones, which does limit the scope of RoomSketcher's capabilities to a certain degree.
Grapholite is a multifunctional business graphics app that positions itself as an alternative to Visio. It offers compatibility with many different business graphic types, including flowcharts, office layouts, organizational charts, venn charts, wireframes, network layouts, and, of course, floor plans. Grapholite's floor plan capabilities include the ability to generate floor plans in a short time span and furnish it with an extensive library of elements, from windows and doors to furniture, accessories, appliances, and so on.
The mobile version of Grapholite is only available in AppStore, and its desktop version only supports Windows-based systems.
Customer ratings:
App Store – 3.2/5 stars based on 5 customer reviews
Key features:
Floor plan creation for home, office, and many other building types
Infographics and planograms
Plenty of different objects to add to a floor plan for improved clarity
Pricing:
Grapholite's one and only application is free and does not have any time limitation on using that free version.
At the same time, there is also a one-time $14.99 purchase that unlocks several premium features.
My personal opinion on Grapholite Floor Plans:
Grapholite is a single app that attempts to compete with Microsoft Visio by providing a variety of different business graphics and other capabilities. Grapholite's solution can create venn diagrams, flowcharts, wireframes, office layouts, and so on. Surprisingly enough, Grapholite can also generate floor plans, and is rather good at it, too. Plenty of general advantages of this solution also apply to floor creation – a user-friendly interface, a simple licensing model, and so on. There is even a library of items and objects that can be used for floor plan generation specifically to make each plan more unique and distinctive. The solution is relatively cheap, but it is rather limited in its platform coverage – only supporting Windows-based workstations and iOS-based smartphones, which limits its overall reach quite a bit.
Homify is an app that combines your standard set of floor plan app features with a variation of a social media application, which allows you to both design specific rooms for yourself and browse through other people's creations. It can also serve as a third party between a customer and an architect or a designer.
Homify is a great example on the list of the best floor plan app for iPad and Android devices.
Customer ratings:
Key features:
Vast and varied library of images to choose from, including architectural pieces, interior design examples, and more
Ability to connect directly with the designer if they deployed an image in the app
Extensive filtering options to simplify the overall search process
Pricing:
Homify is a free solution with no additional purchases necessary. There is no indication of any pricing information available at the official website.
My personal opinion on Homify:
Homify is quite different from most of this list's floor plan solutions since it can be used for floor plan creation and content sharing at the same time. Homify uses its own social network of sorts to allow users to share their own project plans and other images. This also makes it possible for potential clients to find designers or architects based on a specific project – and Homify can act as a third party between them if there are commercial projects involved. Homify's own floor plan creation capabilities are also quite competent, offering multiple tools to work with and a variety of objects to choose from in a built-in library. The solution in question is also completely free to use – there seems to be nothing indicating any sort of payment or subscription fee at the official website or at the App Store web page.
CubiCasa combines fast indoor scanning with the ability to turn scan results into an accurate floor plan that includes various dimensions of the structure. There are many languages that the room can be labeled with. The entire app focuses on 2D plans, allowing for the automatic generation of home reports with room highlightsand several other features.
Both Android and iOS devices can download CubiCasa from a respective app store.
Customer ratings:
Advantages:
Easy and convenient floor plan creation
Incredible floor plan accuracy
General convenience and mobility as a result of being a smartphone application
Shortcomings:
The scanning process is easy to interrupt, forcing users to start over
Can be somewhat expensive when working with large number of floor plans on a regular basis
Relatively simple solution that may lack some of the more specific and expert-level features
Pricing:
CubiCasa's pricing is relatively straightforward – the application itself is free, but it charges for every single floor plan.
$9.99 per scan with 24 hours of delivery, with no fixed furniture, 5,000 sq. ft or less of total scanned area, as well as home report and styling support

+$10 for fixed furniture placements
+$10 for a GLA (gross living area) report
+$10 for a much faster turnaround – 6 hours or less instead of up to 24 hours
My personal opinion on CubiCasa:
CubiCasa is another alternative for users that are not willing to create their floor plans by hand – the software in question relies on multiple photos of the location in question and all of the floor plans are generated manually by the software's staff. It is one of the most unique approaches to this topic on the market – instead of relying on AR or some other technology, CubiCasa requests photos of the location instead and creates each floor plan by hand. This is also how this solution is monetized – every single floor plan except for the very first one costs something, with additional features such as faster turnover, fixed furniture placements, and so on. CubiCasa may not be the most customizable solution on the market, but it is extremely simple to work with, and that benefit alone is going to draw quite a lot of potential users.
SmartPlan is the floor plan app that represents simplicity at its peak, offering the bare minimum of using AR technology to measure different parts of your room, including walls, floors, windows, doors, and such. This allows the app to generate floor plans in both 2D and 3D automatically. It is quite straightforward, but the downside is that there's not that much else to it. The only thing you can tweak in the app is the measurement system used, from Metric to Imperial and back, and that's about it.
The app itself is only available for Android devices, is free, and contains no ads whatsoever.
Customer ratings:
Key features:
Floor plan creation with nothing but a camera
Various measurements are available for floors, windows, doors, etc.
Metric and imperial units are supported
Floor plans can be shared via a number of different methods
Pricing:
SmartPlan is completely free, there is no official website and the solution itself does not require any kind of additional purchase to unlock more features.
My personal opinion on SmartPlan:
SmartPlan is an app that puts simplicity above everything else – it is a combination of several basic floor plan creation features with an AR integration that allows for floor plans to be created in no time. It is not the most accurate solution on the market, it can only trace the dimensions of a room based on the floor (not the ceiling) positioning, and there are plenty of other little issues that may create a frustrating experience for someone who expects more from this solution. The main selling point of SmartPlan is the fact that it is completely free and does not include any sort of additional charges or payments to have access to all of its features. It is not the ultimate floor plan design app, but it works great as a completely free way to assess the situation and receive a rough plan of your current room or house with little effort.
Roomle allows its users to visualize how their home would look after the redesign/remodeling. It can work with Augmented Reality (ARKit supported), and there are also plenty of different features for 3D furnishing, floor planning, and more. The software is easy to use, capable of synchronizing progress over multiple devices, and can even provide comprehensive statistics from one of the white-label solutions you are working with.
Roomle is available only for iOS devices and has several different pricing plans depending on how many specialized features a user wants, from app-less AR to CRM integrations and everything in between.
Customer ratings:
Capterra – 5.0/5 stars based on 1 customer reviews
App Store – 4.2/5 stars based on 1.3k customer reviews
Key features:
Easy and convenient floor planning with furnishing and other means of customization
AR technology can be used to place 3D models of a furniture directly in your room for a much better visualization of a specific furnishing plan
Extensive plan sharing allows for information to be distributed using social media, emails, and other means
Pricing:
Roomle's pricing on the official website is only relevant to companies that are planning to use it as a selling platform for furniture or other objects. The Roomle iOS app has a separate pricing scheme – a free app with two different paid plans that could be purchased for various advantages:

"Plus" – from $6.99 per three months, can offer 3D live view, plan sharing, full access to 3D object catalog, AR support, etc.
"Professional" – from $11.99 per month, adds offline app usage, commercial usage, and no limitations on the number of plans that could be saved
My personal opinion on Roomle:
Interior design is the main purpose of Roomle – a floor plan app with quite a lot of different features included. It can create floor plans, modify existing ones, add various objects to existing projects, and more. It does rely a lot on ARKit to create its measurements, but it also limits the software in question to iOS devices only. The addition of AR also allows for actual furniture to be visualized in an existing real-life room, simplifying the overall design process a great deal. The solution in question is relatively cheap, even for the most feature-rich plan, and the platform itself can be used by furniture manufacturers to add and promote their products, as well. It does have some issues with bugs and object conflicting with one another, but none of them are significant enough to deter from the overall positive customer experience.
SketchUp is a rather obvious choice when it comes to design work as a whole. It is a powerful 3D modeling software that can be used to create just about anything, from rough sketches to accurate floor plans or even entire building models. SketchUp is intuitive, interoperable, powerful and versatile – and it managed to earn an incredible reputation among designers and architects all over the world.
SketchUp is available with no restrictions for 7 days after creating an account, and needs an active subscription afterwards to continue working. It is available for both iOS and Android devices, as well as desktops.
Customer ratings:
Advantages:
A massive library of pre-modeled content
Drawing and modeling tools are easy to use
An impressive list of different rendering styles
Shortcomings:
No basic tutorial explaining some of the more commonly used features and tools
Lacks data-driven and parametric features
Plenty of specific features are only available via extensions, making them inaccessible from a mobile app
Pricing:
SketchUp's main pricing plan is SketchUp "Go" – $119 per year per person, a basic set of features that includes unlimited cloud storage, a library of pre-built 3D models, and a basic modeling/designing functionality.
There are also two more pricing plans that are only applicable to the desktop version of SketchUp:

"Pro" – $299 per year per device, can offer quick insights for design research, 2D design documentation, a library of plugins to expand upon the desktop application's functionality, and more
"Studio" – $699 per year per device, an advanced package of SketchUp features such as real-time visualizations, animation and 360-degree panorama exporting, Revit file importing, and so on
My personal opinion on SketchUp:
It would be hard to find someone in the architectural/design industry that have not heard of SketchUp yet. It is the most popular drawing/sketching solution on the market, by far, allowing for a variety of different objects, drawings, and models to be created when necessary. SketchUp's feature set is vast and varied, and its object library is truly massive. SketchUp is available on a variety of different devices and operating systems, but there are quite a few different options that can only be used with a desktop app, including all of the software's extensions. SketchUp also relies a lot on its own popularity and the abundance of third-party tutorials all over the Internet – which is why there are no built-in basic tutorials explaining the standard feature set of the software. However, none of these disadvantages are that important to an average user, and SketchUp's toolset is still one of the most versatile and multifunctional offerings on the overall architecture software market, let alone floor plan app market.
One of the uncommon features that Houzz has is the ability to use both photos and floor plans in the design process, combining the best of both worlds to offer the best design experience for everyone. There's also a massive library of third-party assets and design ideas to browse through, as well as the ability to draw and annotate on any of the attached photos before sharing them with either an interior designer or your friends.
Houzz is a free app with a premium subscription; it is available for both iOS and Android devices in their respective application stores.
Customer ratings:
Key features:
A truly massive library of millions of home interior/exterior photos to choose from and inspire yourself with
Ability to buy some of the products presented as part of the interior or exterior decoration, with product review, featured sales, etc.
Find and communicate with the best specialists in the home redesign industry
Pricing:
Houzz is a free app that is available for both Android and iOS devices, it mostly targets home design and decorating industries.
There is also a Houzz Pro app – an all-in-one management tool for design and remodeling professionals that focuses more on the business side of things. Apps themselves are also free here, but there are also several pricing plans with different features available, starting from $49 per month.
My personal opinion on Houzz:
Houzz is better described as a design platform rather than an architectural app. It has floor plan creation capabilities, but the brunt of its features is focused on interior decoration, including sharing your own results, browsing through other people's design photos, or even purchase some of the furniture that fits your current design. Houzz is also often used by designers and architects to promote their own designs, fostering potential customer relationships with future clients by simply looking through various floor plan designs. The customer support team also receives a lot of praise, but it seems that the new versions of the software are not tested too much internally before release, which is why bugs and other issues are relatively common for practically every new release of Houzz.
Homestyler is a 3D floor planner that claims to be extremely easy to use, offering floor planning and interior design to everyone with nothing but your mobile device. It can work with regular pictures as a baseline and place 3D models of various pieces of furniture within the plan. Homestyler also acts as a social media, showcasing various interior design options from other people and offering inspiration for anyone interested in designing. Homestyler can also work well with perspective, capable of calculating the depth and dimensions of a building from a photo.
Homestyler is a free application with paid subscription-based features that is available for both iOS and Android devices, as well as in a desktop variant.
Customer ratings:
Key features:
Plenty of templates for designs and a user-friendly interface
A full-fledged design social network
Extensive object and material library
Easy floor plan sharing
Pricing:
Homestyler can offer five different pricing levels:

"Basic"  is a free offering of the solution, it contains access to a moderately-sized library of materials and models, as well as cloud-based 3D floor planning, unlimited rendering 1K and below, etc.
"Pro" – $4.9 per month, with watermark removal, render retouch capability, 75 renders per month for both 4K and 2K, etc.
"Master" – $9.9 per month, can offer unlimited 4K rendering, texture and model uploading, higher 8K/12K panorama rendering quota, and so on
"Team" – $19.6 per month per seat, adds sub-account management, shared design space, extra rendering quota, and shared model/texture library
"Enterprise" is a package with no public pricing to it, with features such as SSO support, white label environment, customizable features on-demand, 3D model creation, virtual photo studio, etc.
My personal opinion on Homestyler:
Homestyler is an interior design and floor plan app that puts a lot of emphasis on being an easy-to-use design app accessible via a smartphone. It can be used to create floor plans, place interior decoration objects, and even use real-world pictures as the baseline for generated designs, since it works well in determining the depth of a photo and all the objects within it. Homestyler also has something of a social media network in it, making it possible for design ideas and projects to be showcased for other users to see and inspire themselves with. It is available for smartphones and desktop devices, the basic version of the software is free, and the subscription fees for individuals and companies are relatively tame in comparison with other companies on the market.
Home Maker represents a unique approach to floor plans since Home Maker is technically a game, not a floor plan app. However, Home Maker also has a surprisingly deep system of floor plan generation, interior decoration, and a wealth of 3D objects for decor. Sharing designs is also easy in Home Maker since there are plenty of options to present your design to others inside the app itself.
Home Maker is available for Android and iOS devices; it is a free application with in-app purchases for premium currency.
Customer ratings:
Key features:
An unusual approach to the floor plan task – with not an app, but a mobile game that revolves around designs
An impressive library of different furniture and objects to choose from
A social aspect of the app, with daily rewards, voting for best designs, design sharing and an entire design appraisal system
Pricing:
Home Maker is a free app that also has a number of transactions available in the game itself, ranging from $0.99 to $99.99 for various items and functions.
My personal opinion on Home Maker:
Home Maker is not a floor plan app in the traditional sense of the word – it is a design game that focuses more on the "game" part rather than the ability to create and share floor plans. Nevertheless, Home Maker's floor plan creation capabilities are surprisingly varied and effective, with a variety of design tools, a library of objects and furniture to choose from, and more. Presenting your designs to other players is also relatively easy within the solution, although exporting such designs may be a bit of an issue. However, the biggest problem of Home Maker is the fact that it is a mobile game – a free game with microtransactions, premium currencies, and so on. This means that most features of the solution would be extremely limited in one way or another without relying on microtransactions to unlock these features.
A complete antipode to the previous example, Room Scan is a floor plan solution used for drawing plans, first and foremost. It has two different versions – Room Scan Classic, an older version of the app, and Room Scan LiDAR, an updated version that takes advantage of iPhone's LiDAR capabilities to improve the scanning results. Room Scan can add notes to photos and measurements, supports Apple Pencil, is capable of exporting into a multitude of different file formats, and so on.
Room Scan LiDAR is a free app with a monthly subscription that opens more options, and it is only available on iOS devices right now.
Customer ratings:
App Store – 4.3/5 stars based on 4.8k customer reviews (RoomScan Classic)
App Store – 4.1/5 stars based on 1.2k customer reviews (RoomScan Pro LiDAR)
Key features:
Capability to scan building interiors and exteriors
Utilizes Apple's latest LiDAR and RoomPlan technologies for better scan accuracy
Can export data in a variety of different formats, from PNG to ESX, XYZ, PLY, OBJ, or even IFC and DXF
Apple Pencil support for plan annotation
Pricing:
RoomScan Classic is a free app that also has a premium version of it – it can be purchased for $3.99 per month as a subscription or for $39.99 for a perpetual license.
RoomScan Pro LiDAR is also a free app, but this one only has a single price of $9.99 per month as a subscription fee to gain access to all of the app's features.
My personal opinion on Room Scan Pro:
Unlike the previous app, Room Scan Pro is a very specific application with a very specific goal – creating floor plans. If Home Maker and other solutions are more about interior decoration, then Room Scan Pro mostly ignores this aspect in favor of being a professional solution that provides scanning capabilities for both interiors and exteriors, as well as the ability to export data in a variety of formats, and even support for LiDAR-based hardware that was introduced for new iPhone devices a few years back. The LiDAR integration is so complex that there is an entirely separate application for these devices – it is also the one that provides the highest level of accuracy in scanning and floor plan creation. Both versions of the app can be used by iOS devices for a monthly subscription fee, but only the original (Classic) version of the solution also has an option for a perpetual license to be purchased.
Room Creator is a fairly simplistic yet effective interior design tool for floor planning. Room Creator makes it easy to design rooms individually, with the ability to render them in 3D and walk through them at any point. The interface is simple and easy to use, objects can be placed and moved using drag-and-drop, and it is even possible to share your creations with others by uploading your efforts to the server to get a unique RoomID that would lead to your room specifically.
Room Creator is only available for Android devices; it is free but contains advertisements you'll need to watch to use specific features.
Customer ratings:
Key features:
Accurate and user-friendly interface
A rather convenient way to design your own interior from scratch in a short time period
Ability to walk through your design in 3D
Easy design sharing, including both uploading your design and looking through your friends' designs
Pricing:
Room Creator is a free application with no in-app purchases involved, but there are some features a user would have to watch an ad to get access to.
My personal opinion on Room Creator:
Room Creator is a rather bare-bones interior design solution that can also act as floor plan designer. Each room in a project can be designed individually, rendered, and even used for a first-person walkthrough in three dimensions. The interface as a whole is considered drag-and-drop, but there are some specific actions that take time to get used to – and there is even a sharing capability and a dedicated website for shared designs. It has plenty of issues in itself, from regular bugs and errors with design controls to some features being tied to watching an ad, with no way to pay to skip these limitations. All in all, the solution itself works as a basic representation of what a building or a room may look like, considering the fact that it is completely free, but trying to use it to receive accurate positioning and ease of use is not a good idea.
Last, but not least, is Madrees – an app for floor plan and design that works in both 2D and 3D to provide a host of useful features to anyone interested in interior design or floor planning. Madrees can offer data export, image output, and a lot of interior customization, be it walls, floors, or even furniture. The application's interface is relatively easy, and it works in both 3D and 2D, making it a rather convenient option for most customer needs regarding interior design.
Madrees is a free app that is only available for Android devices.
Customer ratings:
Key features:
Versatile floor creation capabilities
Can work with up to 5 floors
Data importing and exporting
SVG exporting (paid version)
Pricing:
Madrees itself is a free app with a few advertisements spread around the solution. There is also a different version of the app called Madrees Pro, which costs $1.5, removing advertisements and enabling SVG exporting capabilities.
My personal opinion on Madrees:
Madrees is another example of a basic floor plan app that has some of its features locked away behind a "watch an ad" prompt. Luckily, this time there is also a paid version of the app that removes all ads and adds features such as SVG exporting. Other than that, Madrees can offer a relatively standard floor plan design feature set, including support for both 2D and 3D plans, interior customization with a built-in object library, and data export in several different formats. It also has plenty of issues, from the lack of "Undo" button to a rather unconventional user interface that would most certainly be difficult to work with for a newcomer. However, the fact that it is free (and the paid version is only worth $1.5) is what draws a lot of customers in no matter how faulty the solution may get.
Conclusion
The abundance of floor plan apps leads to many choices when it comes to picking one app that suits your specific goal. With this article, we've attempted to summarize the point of floor plan apps and present a list of the best floor plan apps for Android and iOS devices.
Solutions such as Planner 5D and Revizto are geared towards the commercial audience, first and foremost, targeting companies of various sizes and providing features that would be the most useful in a business setting, such as VR support, advanced clash detection, and so on. Alternatively, many floor plan apps are aimed toward a more casual audience, such as Home Design or AR Plan – with a much more casual and user-friendly interface, and less focus on industry-specific features. There are even apps such as Home Maker, a game with floor planning and designing capabilities, and not a floor plan app – it is also an unusual approach to the same purpose.
Why you can trust us
At Revizto, the team is dedicated to providing an objective view of various information, including products and technologies. They utilize expert insights, product data, and strategic methodologies to create informative market overviews, ensuring that visitors have access to comprehensive information to make informed decisions. Their materials encompass various factors such as pricing, customer reviews, unique features, and more. The review process is conducted with a detailed methodology led by James Ocean, the BIM/VDC Specialist at Revizto.
James Ocean, in his role as the Head of BIMspiration, plays a crucial role in supporting and educating both the internal team and clients. He guides them on how to effectively leverage Revizto to maximize workflows, reduce costs, and successfully complete projects of all types.
---