Glossary
September 16, 2021
Updated 28 April 2023 by James Ocean
Best 2D Architecture Floor Plan Software. Top 20 Building Plan Software.
Table of Contents
Overview
Floor plans are an essential component of any building project. They provide a solid foundation upon which larger and more complex structures can be built. However, designing and creating effective floor plans can be a daunting task for many people, particularly those without a background in architecture or design.
Fortunately, there are a variety of tools and solutions available that can make this process much simpler. Whether through general-purpose CAD software or specialized architectural rendering tools, it is possible to perform complex design experiments with ease and unleash creativity in the average user. Many of these experiments focus on building and floor plans, which we will explore in greater detail.
The most basic definition of a floor plan is a blueprint of a building or a structure, representing how it's going to look in the future when it is finished. By nature, it is a relatively simple 2D representation of the future layout of a structure in question; it greatly helps illustrate the final look of the structure to make it easier for designers and constructors to do their jobs.
Creating floor plans can be extremely easy and extremely complicated, depending entirely on how you decide to approach it. Architects have indeed been creating floor plans by hand on drafting paper for a while. However, various advancements of the modern era currently offer architects the ability to generate fast and accurate floor plans far quicker than ever before – by using various building plan software and tools.
Floor plans are important for a number of reasons. A good floor plan serves as the foundation for a project, making it possible to build off of this foundation to create bigger and better structures that are more complicated and effective. However, the overall field of design and architecture can be intimidating to many people.
Luckily, there are plenty of different solutions that make this seemingly daunting task much easier – general-purpose CAD software or architectural rendering software, for example. These tools can be used to perform relatively complex architectural experiments with little effort, giving users more freedom and creativity. Many of these experiments are also performed in the realm of building plans and floor plans, a topic we will discuss further.
The difference between a floor plan and a building plan is not particularly complicated. A floor plan usually represents a single floor of a building – it doesn't matter if the total number of floors in that particular building is one or one hundred. A building plan, on the other hand, refers to a plan of the entire structure – which includes multiple floors most of the time.
A building plan is a graphical representation of different parts of a building in a single location, offering a good visualization tool for different construction stages. A building plan has several different use cases, with the biggest one being the ability to predict and estimate the total amount of resources needed to perform a specific construction phase. There are plenty of building plan software options on the market, capable of catering to different needs and serving various use cases.
At the same time, the difference is practically nonexistent when it comes to floor plan software and building plan software – because all floor plan software has the ability to work with multiple different floor plans, essentially turning them into building plan software. As such, it is easy to see why floor plan software and building plan software are used interchangeably on a regular basis.
A good floor plan is essential for any project, both in the theoretical (design phase) and practical (construction phase) sense. Building plan software is widely used in several different industries, including the architectural, real estate, engineering, and interior design industries.
Floor plans are also essential for many different parts of any construction project, so accuracy is very important. In this article, we'll go over some of the best floor plan tools available right now.
14 Best 2D Floor Plan Software Tools
While Revizto is not precisely a dedicated building plan software, it is a massive BIM-oriented collaboration platform with floor plan features included. Revizto's capabilities are vast and varied, including issue tracking, visibility control, support for both 3D and 2D maps, camera sharing, and many other features. It is also compatible with the majority of popular BIM-related software on the market, including Revit, Navisworks, Tekla, etc.
AutoCAD Architecture is a dedicated 3D and 2D floor plan software within the AutoCAD itself that offers additional features specifically for the architects' needs. AutoCAD Architecture can generate accurate and realistic floor plans in both 2D and 3D using AEC objects as the elements of the overall design. It can also work with Revit grids and offers your standard features – annotation, documentation, etc. The entire toolset that is part of AutoCAD is available with a paid subscription, and the only free version in existence is offered to educators/students for 36 months, at the most.
Vectorworks is another example of BIM-oriented software with floor plan generation capabilities. It works with both Mac and Windows devices and delivers a massive amount of customization tools to sketch and create your floor plans as quickly and accurately as possible. The model in question can then be fully integrated into BIM workflow, creating many possibilities in the field. It is worth mentioning that, while Vectorworks is relatively popular as a whole when it comes to its architectural capabilities, it also demands a lot of knowledge about BIM as a prerequisite to be able to use it properly.
Roomle is an exciting suite of tools capable of covering many different use cases when it comes to 3D rendering and digital planning. Its high-quality output is well-known within the industry, and there's also an extensive library of detailed product images. Additionally, Roomle offers both AR and VR walkthroughs for every floor plan you've created, as well as an easy way of sharing your creations.
Another example that is slightly different from the rest is Civil 3D from AutoDesk. As the name suggests, it is a toolkit primarily targeted at civil engineers with their specific purposes. However, it can also be used to generate house plans in 3D, which means that it technically falls under software that can generate floor plans. There are limitations, though, since this software's original idea is different – for example, the number of details you can expect from a standard floor plan toolkit would be less than what you'd expect from other floor plan generators.
LucidChart is a toolset geared towards smaller companies or enthusiasts, like with some other examples on this list. It is a collaborative software for collective design creation, and it also has floor plan creation capabilities. Its capabilities are pretty limited when it comes to a more professional approach to floor plan generation. Still, it also does not have the prerequisite of knowledge to be able to operate it properly. While it does offer floor generation as an option, it's still a design collaboration tool, first and foremost.
AutoCAD LT is another example of a toolset that technically belongs here but was not created solely for floor plan generation. AutoCAD LT is a simplified version of a full-fledged AutoCAD toolkit that works only in two dimensions – and has a lower price tag. Its' drafting and technical diagramming features are what keeps it in this category in the first place, and it can also integrate with other AutoCAD products, annotate, share, publish, etc.
SmartDraw is a versatile flowchart maker, org chart maker, drawing program, and a floor plan creator – all of it is in one single package. The main idea of SmartDraw is to create various charts and diagrams that are easy to present to anyone without technical knowledge on the subject. As such, SmartDraw's floor plan creator is user-friendly, packs an impressive number of features, allows for file sharing, and can be used by anyone with an internet connection. It also offers two different versions of paid subscriptions, each with its own set of advantages.
One difference that Sweet Home 3D has compared with all of the other participants on the list is that it's open-source. Other than that – it's also a great interior design software that also has a web version, and its primary purpose is to view 2D floor plans in three dimensions for presentation and context. Its main target audience is non-professionals, and it also has its own impressive set of floor plan creation features, both in 2D and 3D.
Live Home 3D also tries to be useful for both casual and professional sides of the floor plan software market, offering a multi-platform building plan software capable of working with both 2D floor plans and 3D renderings. It can work on Windows devices, as well as macOS and iOS systems, offering floor planning, rendering, furnishing, and many other features that you're expecting every architecture floor plan software to have.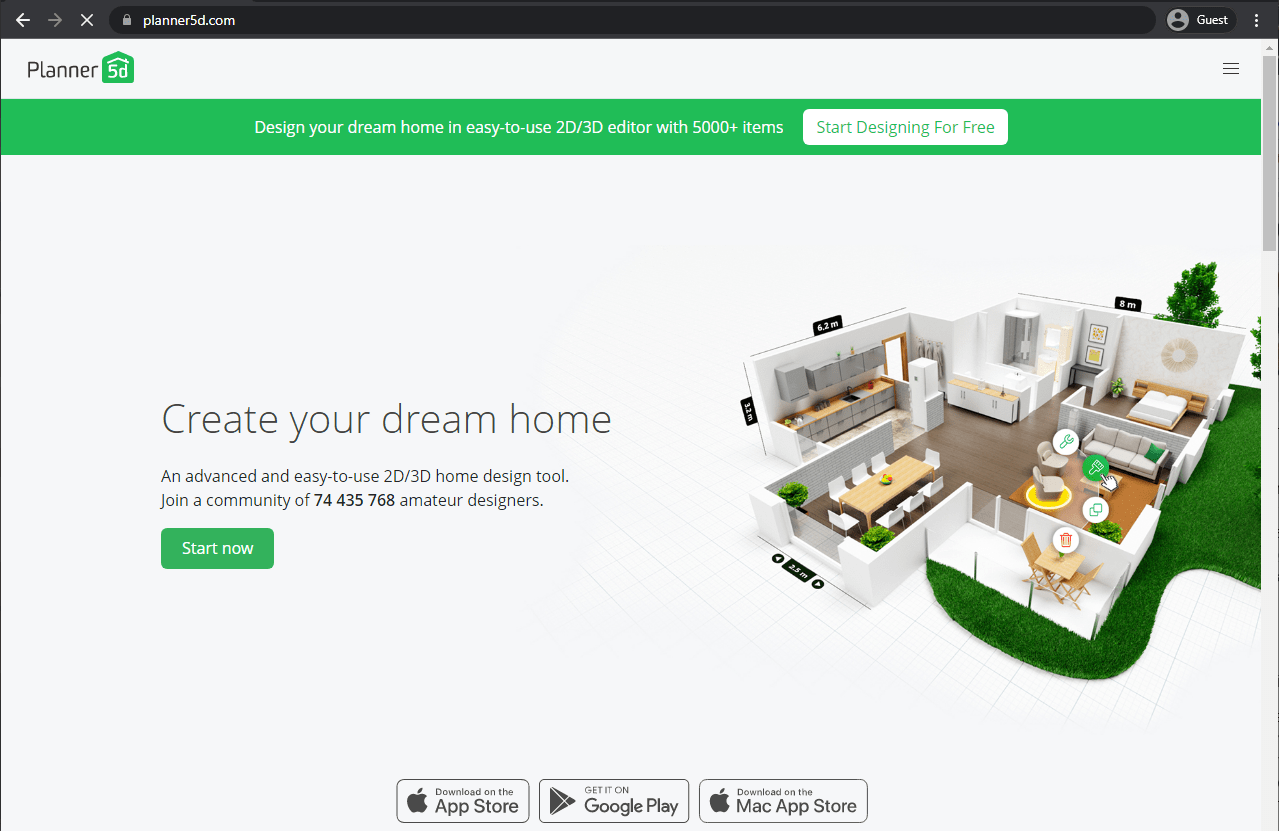 Planner 5D has one of the biggest supported device pools on this list, offering separate applications for Windows, macOS, iOS, Android, a separate web version, and an offline mode. It is handy for both casual designing work and professional floor planning. As an architecture floor plan software, Planner 5D can also design things outside of the building, such as pools, gardens, etc.–everything you may need from a building plan software.
Another approach can be taken with these kinds of software – creating an online tool that calculates everything in the cloud. HomeByMe is an excellent example of such a tool, offering a user-friendly design service that can work with both 2D and 3D planning needs, making it a great building plan software. Additionally, you can do 360-degree panoramas, outdoor designs, and so much more than that.
Community is the central theme of Roomstyler, offering not only a relatively easy-to-use building plan software but also the ability to see other people's designs and use them as an inspiration. This architecture floor plan software also offers a wealth of objects to use for decorating in both 3D and 2D, as well as the ability to check each detail's price and availability, making it a great tool for many different use cases when it comes to floor plans and house design.
EdrawMax might look like it's something out of Microsoft's Office software library. Still, it's pretty far from it when it comes to capabilities – it's a simple but effective tool that can help you create pretty much any type of building floor plan using templates, examples, and various tools. It offers separate versions of itself to three major operating systems (Windows, Linux, and macOS), and it also has a web version that works with just a web browser.
6 Free Architecture Floor Plan Solutions
It's easy to see that there's no shortage of floor plan generation tools on the market. Some are explicitly made for this sole purpose; others combine floor plan generation with other features for a unique package. There are also plenty of solutions that are partially free – giving every potential user a chance to try out the basic toolkit of free building plan solutions. Here are several examples of such solutions:
Another user-friendly floor plan designer is SketchUp, offering extensive drafting and modeling features in any field that includes modeling or drawing as a part of the process. It is widely considered an excellent option for not just architects but also engineers, builders, designers, etc. It offers both free and paid versions of the toolkit, with the paid option being more suitable for annotating and saving SketchUp-related files. The toolkit itself is web-based, so it can be used in practically any web browser in the first place, making it a great choice of 3D and 2D floor plan software.
Floorplanner is a floor plan generator that focuses primarily on its user-friendliness, offering the ability to generate 3D and 2D architecture software plans using a relatively easy-to-use interface. There's also Floorplanner's own "auto furnish" feature that allows you to decorate a newly created room in seconds. Both the accuracy and the level of detail are on point when it comes to Floorplanner. It offers a free version with one project limitation and the ability to pay extra for more projects. There are also two paid options (on a yearly basis and on a monthly basis) that offer fewer limitations for the number of projects to be stored and some additional features, like high-resolution export in PDF format.
RoomSketcher is an excellent tool for floor plan creation, and it packs a massive number of useful features. You can use an extensive built-in library of furniture, measure dimensions, add annotations, and more. There's also the ability to generate 3D renders, interactive 3D walkthroughs, easily export to multiple formats,etc. RoomSketcher does offer a free version of its toolkit, although the majority of features are only available for paid users.
Unlike other examples on this list, PlanningWiz is both a floor plan generation software provider and a floor plan designer at the same time. It also offers several unusual editions for very specific areas, such as recreational facilities, property development, etc. Other than that, there's also your standard set of features of 2D floor plan software, including models, sketches, and more. There is a free version of the software, but it's very limited in terms of capabilities and cannot save more than five projects at once without the ability to export them or print them out.
Homestyler is a relatively simple web-based floor plan generation tool that offers various models, drawing tools, and customization in general. It has a highly user-friendly interface, and the majority of its features are entirely free (although there is a Pro plan, too). While Homestyler is an excellent choice for people and companies with budget constraints, it's not powerful enough to fully compete with full-fledged floor plan generation appliances, which somewhat limits its potential audience.
Draft it is one more full-fledged CAD drawing toolkit that offers 3D and 2D architecture software features, such as various detailing and drafting tools. It can import CAD files from AutoCAD, as well as symbols, components, and so on. It has a dedicated free version, with a 15-day free trial with no limitations, and the ability to create, change and save floor plans even after the free period has expired. The other advanced features are behind a one-time upgrade to one of the three paid options – Pro, Plus, and Architectural.
Conclusion
It is accurate to state that none of the solutions mentioned above offer their entire toolkits for free, which can make the process of selecting a specific solution for your floor planning requirements more challenging. While it is not easy to pick just one offer from the entire market, we hope that our overview helped you figure out which architecture floor plan software is more suitable for what kinds of users.
---