Glossary
September 16, 2021
Updated 21 July 2023 by James Ocean
Best 2D Architecture Floor Plan Software. Top 20 Building Plan Software.
Table of Contents
Overview
Floor plans are an essential component of any building project. They provide a solid foundation upon which larger and more complex structures can be built. However, designing and creating effective floor plans can be a daunting task for many people, particularly those without a background in architecture or design.
Fortunately, there are a variety of tools and solutions available that can make this process much simpler. Whether through general-purpose CAD software or specialized architectural rendering tools, it is possible to perform complex design experiments with ease and unleash creativity in the average user. Many of these experiments focus on building and floor plans, which we will explore in greater detail.
The most basic definition of a floor plan is a blueprint of a building or a structure, representing how it's going to look in the future when it is finished. By nature, it is a relatively simple 2D representation of the future layout of a structure in question; it greatly helps illustrate the final look of the structure to make it easier for designers and constructors to do their jobs.
Creating floor plans can be extremely easy and extremely complicated, depending entirely on how you decide to approach it. Architects have indeed been creating floor plans by hand on drafting paper for a while. However, various advancements of the modern era currently offer architects the ability to generate fast and accurate floor plans far quicker than ever before – by using various building plan software and tools.
Floor plans are important for a number of reasons. A good floor plan serves as the foundation for a project, making it possible to build off of this foundation to create bigger and better structures that are more complicated and effective. However, the overall field of design and architecture can be intimidating to many people.
Luckily, there are plenty of different solutions that make this seemingly daunting task much easier – general-purpose CAD software or architectural rendering software, for example. These tools can be used to perform relatively complex architectural experiments with little effort, giving users more freedom and creativity. Many of these experiments are also performed in the realm of building plans and floor plans, a topic we will discuss further.
The difference between a floor plan and a building plan is not particularly complicated. A floor plan usually represents a single floor of a building – it doesn't matter if the total number of floors in that particular building is one or one hundred. A building plan, on the other hand, refers to a plan of the entire structure – which includes multiple floors most of the time.
A building plan is a graphical representation of different parts of a building in a single location, offering a good visualization tool for different construction stages. A building plan has several different use cases, with the biggest one being the ability to predict and estimate the total amount of resources needed to perform a specific construction phase. There are plenty of building plan software options on the market, capable of catering to different needs and serving various use cases.
At the same time, the difference is practically nonexistent when it comes to floor plan software and building plan software – because all floor plan software has the ability to work with multiple different floor plans, essentially turning them into building plan software. As such, it is easy to see why floor plan software and building plan software are used interchangeably on a regular basis.
A good floor plan is essential for any project, both in the theoretical (design phase) and practical (construction phase) sense. Building plan software is widely used in several different industries, including the architectural, real estate, engineering, and interior design industries.
Floor plans are also essential for many different parts of any construction project, so accuracy is very important. In this article, we'll go over some of the best floor plan tools available right now – covering several different approaches to pricing, as well:
14 Best 2D Floor Plan Software Tools
While Revizto is not precisely a dedicated building plan software, it is a massive BIM-oriented collaboration platform with floor plan features included. Revizto's capabilities are vast and varied, including issue tracking, visibility control, support for both 3D and 2D maps, camera sharing, and many other features. It is also compatible with the majority of popular BIM-related software on the market, including Revit, Navisworks, Tekla, etc.
Customer ratings:
Advantages:
A long list of applications (BIM and/or CAD) that Revizto can be integrated with
A great way to create a single source of truth for all project-related information, making coordination and collaboration within projects that much easier
Impressive issue tracking and clash detection capabilities
Shortcomings:
Reporting features could use more customization
Larger project files are more difficult to work with and may slow down the solution
Data filtering is difficult to set up correctly
Pricing:
Revizto does not have any pricing information available in public, the only way to obtain such information is to request a quote from the company in question and/or schedule a demo of that same solution.
Customer reviews:
Bill M. – "Our project collaboration efficiency increased, as did our quality and confidence with our designs as a result of the "single source of truth" approach that Revizto provides."
seiya o. – "fast, easy, and accurate visual coordination at ease by using Revizto. We were able to have our client provide positive feedback. customer service was great. I especially thank to rep for all the help that he provided in the early days of Revizto."
Steven B. – "We are now only using this software for as-built purposes and we are trying to enforce it that the subs sign in to be able to do shop drawing changes that come in from out in the field. We want our superintendents more involved in the coordination process and this is how we plan to get them in there."
My personal opinion about Revizto:
Since architecture software as a term encompasses a massive number of different software types, there are going to be plenty of solutions that are not directly involved in the floor plan creation process – but still can be qualified as an architecture software. Revit is our first example of solutions like that, focusing on enhancing collaboration between project participants and offering vast clash detection/issue tracking capabilities. It is fast, versatile, and has plenty of unusual features that can make the job of an average architect that much easier – although, I may be somewhat biased in this particular case.
AutoCAD Architecture is a dedicated 3D and 2D floor plan software within the AutoCAD itself that offers additional features specifically for the architects' needs. AutoCAD Architecture can generate accurate and realistic floor plans in both 2D and 3D using AEC objects as the elements of the overall design. It can also work with Revit grids and offers your standard features – annotation, documentation, etc. The entire toolset that is part of AutoCAD is available with a paid subscription, and the only free version in existence is offered to educators/students for 36 months, at the most.
Customer ratings:
Capterra – 4.7/5 stars based on 2,897 customer reviews
TrustRadius – 8.6/10 stars based on 512 customer reviews
G2 – 4.4/5 stars based on 1,290 customer reviews
Advantages:
Often used for educational purposes as the basic architecture app, making it a lot more familiar for students and recent graduates in this sphere
A variety of different built-in templates to work with
An exceptional tool for 3D designing or 2D drafting tasks
Shortcomings:
Even though it is relatively common for CAD solutions as a whole, AutoCAD as an app takes a lot of free space, starts up very slowly, and needs a lot of expensive hardware to be able to operate at its best
As with most Autodesk products, the price of AutoCAD is a lot higher than the market's average – and plenty of users claim it is worth the price
The newer versions of AutoCAD introduce a large number of bugs and creates errors in drawings on a regular basis
Pricing:
AutoCAD can offer two different approaches in terms of its pricing model.
The first one is a basic subscription that can be paid for on a monthly basis, yearly basis, or every three years:

$245 per month
$1,955 per year
$5,865 per three years

The second one implies accessing AutoCAD as a part of Autodesk Flex program – a "pay-as-you-go" option that offers a daily price in tokens for a number of Autodesk services. AutoCAD's Flex cost is 7 tokens per day, and there are at least two token bundles available for purchase:

100 tokens for $300
500 tokens for $1500
It is also possible to purchase a custom amount of tokens, depending on the needs of a specific company – and tokens themselves have an expiration period of 1 year after the purchase.
Customer reviews:
Shady F. – "AutoCAD is a versatile software with numerous applications, ranging from project management and file organization to facilitating collaboration among design teams.I find AutoCAD to be an exceptional tool that I use daily for all my projects. It is fast, efficient, user-friendly, and intelligent, making it indispensable for any designer.In my experience, AutoCAD has been instrumental in performing various calculations, including angles, areas, distances, and more. It has greatly supported me in developing proposals and continues to be essential in my work environment. However, I believe that additional tools would further enhance my workflow."
Aditya M. – "I have been using AutoCAD for more than 8 years. I have used it for CAD modeling, drafting, building design and construction detailing. I and my company has always used this program for any construction-related work. We have been using it as step one for creating a base model to be used in the Building Information Modelling process. We use it to develop Revit Model. Use it in Civil 3D for civil design. AutoCAD has always supported our needs."
Akhil M. – "AutoCAD is hard to get and learn, nonetheless, this can be said for any displaying programming with such huge abilities. AutoCAD's trouble is very even out with the quality you can accomplish inside the product, and the wide conceivable outcomes it offers. AutoCAD is an incredibly powerful instrument to help originators and drafters to make drawings that look extraordinary and are not difficult to control, it can battle to deal with weighty venture responsibility with numerous 3-layered items in a single drawing. You can commodity and import pictures between programming which I love the most."
My personal opinion on AutoCAD Architecture:
It would be safe to say that AutoCAD is the go-to CAD solution for a lot of professionals in this industry, as one of the most popular architecture solutions on this market (if not the most popular). It can be used to generate floor plans, create 2D drafts, craft 3D project models, and so on. Of course, there are plenty of issues that a solution of this size would have, from high pricing to a steep learning curve, but a lot of people believe that the wealth of tools and functions is well worth the price.
Vectorworks is another example of BIM-oriented software with floor plan generation capabilities. It works with both Mac and Windows devices and delivers a massive amount of customization tools to sketch and create your floor plans as quickly and accurately as possible. The model in question can then be fully integrated into BIM workflow, creating many possibilities in the field. It is worth mentioning that, while Vectorworks is relatively popular as a whole when it comes to its architectural capabilities, it also demands a lot of knowledge about BIM as a prerequisite to be able to use it properly.
Customer ratings:
Advantages:
Detailed renders with a high level of accuracy
One of the very few solutions that are rather popular while being mostly targeted at smaller and middle-sized businesses
A user-friendly interface with a learning curve that is far less challenging than most solutions on the CAD market
Shortcomings:
BIM-related capabilities are basic and very limited
Slows down quite a lot with bigger and more complicated project files
Newer file formats may not be compatible with older software versions due to missing features
Pricing:
Vectorworks Architect uses a worldwide network of global distributors to deliver its products across the globe. Unfortunately, that means there is little to no public information available about the pricing of Vectorworks Architect, but it should differ quite a lot depending on the location.
Customer reviews:
Adam J. – "This effective and intuitive CAD platform enables me to produce architectural drawings for clients with ease. I can produce incredibly detailed construction drawings that are both readable and informative and enable contractors, clients and any other 3rd party to understand exactly what is being proposed or changed."
Imadur Rozan S. – "VectorWork is now supported with many 3rd party rendering software like lumion for the live sync rendering by installing the plugin for even better result, so whenever you make a changes, the render will follow up. And when it comes to choosing BIM softwares, especially if you're new to it, the VectorWorks is the good choice to start for learning BIM due to their support and very complete yet detailed tutorials given on their official website. VectorWorks is mile ahead from other BIM softwares when it comes to landscape, 3D modelling and 2D details."
Rob G. – "We have been using the software over 20 years without hardly any issues! We can still open files from 1994!!!!!! We look at other softwares to make sure we are keeping up. When we factor in money, easy answer…..VectorWorks! We are a full BIM FIRM and VECTORWORKS does everything we need."
My personal opinion on Vectorworks:
Vectorworks as a company offers several different software solutions to its customers, with Vectorworks Architect being the one focused on actual modeling and floor plan creation. It can offer detailed renders, has a surprisingly user-friendly interface, and mostly targets SMBs as the main audience. There are some nuances that a potential user has to get used to, be it the lack of backwards compatibility with files created in newer versions of the software, or the fact that its BIM capabilities are extremely limited, but it is still a great option for plenty of users – especially when it comes to smaller companies.
Roomle is an exciting suite of tools capable of covering many different use cases when it comes to 3D rendering and digital planning. Its high-quality output is well-known within the industry, and there's also an extensive library of detailed product images. Additionally, Roomle offers both AR and VR walkthroughs for every floor plan you've created, as well as an easy way of sharing your creations.
Unfortunately, Roomle as a desktop solution is only suitable for companies that are aiming towards using it as a digital platform for selling other products. There is also a separate iOS app with a dedicated pricing scheme and an interesting set of features – from CRM integrations to app-less Augmented Reality support and plenty of features in-between.
Customer ratings:
Capterra – 5.0/5 stars based on 1 customer reviews
App Store – 4.2/5 stars based on 1.3k customer reviews
Key features:
Extensive plan sharing allows for information to be distributed using social media, emails, and other means
AR technology can be used to place 3D models of a furniture directly in your room for a much better visualization of a specific furnishing plan
Easy and convenient floor planning with furnishing and other means of customization
Pricing:
Roomle's pricing on the official website is only relevant to companies that are planning to use it as a selling platform for furniture or other objects. The Roomle

Roomle's pricing on the official website is only relevant to companies that are planning to use it as a selling platform for furniture or other objects. The Roomle iOS app has a separate pricing scheme – a free app with two different paid plans that could be purchased for various advantages:
"Plus" – from $6.99 per three months, can offer 3D live view, plan sharing, full access to 3D object catalog, AR support, etc.
"Professional" – from $11.99 per month, adds offline app usage, commercial usage, and no limitations on the number of plans that could be saved
Customer reviews:
suffogrind – "This is hands-down a fantastic app. The ability to completely customize your room dimensions and furniture sizes is amazing, they have enough mockup furniture to at least get the shapes and dimensions right, and the 3D walkthrough is amazing. Love this app!!! The only thing that could really make it better (so far) is I wish there were more mock up furniture options or that you could change the color and/or size of the other existing furniture."
kinghenrythe999th – "I love this app! It's exactly what I was looking for and much much more. The 3D walkthroughs are particularly awesome. However, there are some stupid little nuisances I discovered almost immediately, and I would have expected a little more from an app that costs so much: If you have two items of furniture next to each other – specifically in my cases, when one of the pieces are encircling the other one – it is sometimes impossible so far as I've found to select the smaller piece of furniture without selecting the larger one. Secondly, I'm still trying to figure out how to open up a wall and expand an existing room (like when you decide to add a hallway onto an existing room you already spent 30 minutes working on). Other very minor nuisances I've discovered, but not worth mentioning. Still love it a lot and it's very user friendly and general. Definitely worth the 7 dollars for the three month subscription."
hgfj9 – "This app is great! It's just what I was looking for. Except for the fact that you can't have more than one room in your design. Also, it's very glitchy. I tried to put a kitchen island into my design, and it would sometimes go into the design. But other times I tried to put it in it wouldn't show up. Then, I put it in 3d mode and there it was. But, it wasn't in the spot I wanted it to be in, but I can't move it because it won't show up in 2d mode. You can only move and place stuff in 2d mode. This game is a little confusing, frustrating, and stressful, and really glitchy. I wouldn't really recommend it if you want a really good game."
My personal opinion on Roomle:
Roomle can be quite confusing to get into, since its desktop version is mostly a digital marketplace for furniture and other objects, and its iOS app is a modeling powerhouse with plenty of different features for scanning, modeling, floor plan generation, and so on. It can be considered quite unconventional, of course, but even Roomle has quite a vast audience of people looking for a floor plan software with furnishing capabilities – and it has plenty of features to offer for this kind of audience.
Another example that is slightly different from the rest is Civil 3D from AutoDesk. As the name suggests, it is a toolkit primarily targeted at civil engineers with their specific purposes. However, it can also be used to generate house plans in 3D, which means that it technically falls under software that can generate floor plans. There are limitations, though, since this software's original idea is different – for example, the number of details you can expect from a standard floor plan toolkit would be less than what you'd expect from other floor plan generators.
Customer ratings:
Advantages:
Compatibility with a variety of data types
Ability to create personalized project libraries
Rendering capabilities in either 2D or 3D, combined with an impressive rendering speed
Accurate and detail-rich surface creation
Shortcomings:
Plenty of difficulties are bound to appear when dealing with more complex projects
The desktop application has a rather impressive set of hardware requirements
Civil 3D's learning curve may not be particularly steep, but the process itself takes a long time for most people
Pricing:
Civil 3D can offer two different approaches in terms of its pricing model.
The first one is a basic subscription that can be paid for on a monthly basis, yearly basis, or every three years:

$335 per month
$2,680 per year
$8,040 per three years

The second one implies accessing Civil 3D as a part of Autodesk Flex program – a "pay-as-you-go" option that offers a daily price in tokens for a number of Autodesk services. Civil 3D's Flex cost is 9 tokens per day, and there are at least two token bundles available for purchase:

100 tokens for $300
500 tokens for $1500
It is also possible to purchase a custom amount of tokens, depending on the needs of a specific company – and tokens themselves have an expiration period of 1 year after the purchase.
Customer reviews:
André Luiz L. – "After the use of Civil 3D, my infrastructure and topography projects have become more simplified and streamlined, since the implementation of BIM features makes the software itself very comprehensive and compatible with numerous other project platforms."
Kalitt M. – "Overall my experience with the software has been positive, I have used it for over 3 years and it has helped me to accomplish my work duties and tasks. It is a very complete and comprehensive software, you can always keep learning about it."
Maxwell M. – "Due to my line of profession, I have had an easy time with civil 3D. I have experienced hardware challenges once in a while but you can't really blame that on the software. It's simply the best spatial and infrastructural planning software I have interacted with."
Joseph E. – "In most cases, I utilize Autodesk Civil 3D for pipeline and structure design because of its accuracy and streamlined design process. Designing pipelines can be complicated and very time-consuming. Hence, I was glad that Civil 3D came to my aid as most of these minor pipeline details cannot be properly done on Autocad."
Condrae R. – "Civil 3D is used daily to create design drawings and analyze survey data to inform our design decisions. It is also used for volume calculations and shapefile generation. It is overall an great piece of software to use and is value for money."
My personal opinion on Civil 3D:
This would not be the first example of a solution that is considered a floor plan software on a technicality – and it is not the last solution from Autodesk on this list, either. Autodesk Civil 3D is a solution dedicated for helping civil engineers with a variety of features to choose from, be it streamlined documentation, model-based environment, or improved collaboration via BIM-specific features. There are plenty of downsides in this particular package, from the extremely long time it takes for most people to learn all of the solution's capabilities to the high price that is often considered normal for Autodesk software – and yet it is good enough to be practically irreplaceable for civil engineering specialists and a number of other professions.
Lucidсhart is a toolset geared towards smaller companies or enthusiasts, like with some other examples on this list. It is a collaborative software for collective design creation, and it also has floor plan creation capabilities. Its capabilities are pretty limited when it comes to a more professional approach to floor plan generation. Still, it also does not have the prerequisite of knowledge to be able to operate it properly. While it does offer floor generation as an option, it's still a design collaboration tool, first and foremost.
Customer ratings:
Capterra – 4.5/5 stars based on 1,967 customer reviews
TrustRadius – 8.6/10 stars based on 1,408 customer reviews
G2 – 4.6/5 stars based on 2,465 customer reviews
Advantages:
Convenient and easy-to-use interface
A simple learning curve
An extensive library of pre-built templates makes it easy to generate professional templates in a very short time frame
Shortcomings:
Complex charts may take some time to load completely
Working with connections between objects is not an intuitive process
A lot of the integrations are basic in terms of their feature sets
Pricing:
Lucidchart can offer four basic pricing plans:

Free version is the basic package everyone can get access for, it includes up to 3 editable Lucidchart documents, a 100 templates, 60 shapes per document, and a set of basic visual activities centered around data analysis
Individual – $7.95 per month, a pricing tier targeted at individuals that extends the functionality of the free version with 1 GB of storage, presentation mode, premium templates and shape libraries, and no limitations on the number of documents or shapes per document
Team – $9.00 per month per user, a team-focused offering with commenting, integrations with Jira, M365, GitHub, and other services, as well as advanced control over visual activities within the app
Enterprise is the biggest offering of Lucidchart that also does not have a public pricing available for it; users with this subscription tier can take advantage of SAML authentication, team folders, automation, IP address whitelisting, Team Spaces, and many other features
Customer reviews:
Marie C. – "The tool provides seamless cooperation on process drawings/diagrams and makes it very easy to build it together. I like the possibility to indicate the status of the drawing, despite it being cloud one. I like the "Visio-like" experience as I'm the old guard. The overall experience is not bad as such, but it is hard to navigate sometimes with all those templates popping up on a landing page. UI is very clean when it comes to the drawing/designing part. Also usage of those templates is not always straightforward, especially those with underlying data. However, I would not recommend it for any wireframes and such, there are better tools for that."
Fernand A. – "It has a wide range of library of templates and objects, making it a valuable tool. Lucidchart is an excellent choice for creating neat, high-quality diagrams and flowcharts, ensuring clear communication. While pricing may be a downside, the tool's high-quality diagrams and ease of use make it a valuable choice for businesses and individuals."
Isaac A. – "Even though I didn't work with this tool very long, I liked the ease with which I can create diagrams and share them with other members of my IT software management team. As well as the ability to collaborate in real time with them and the built in templates and shapes which were very helpful and saved us a lot of time creating diagrams. In summary, I think LucidChart is a valuable tool for any IT team that needs to create and share diagrams quickly and efficiently, and I would use it again without hesitation."
My personal opinion on Lucidchart:
Lucidchart is the first example of a diagramming software with floor plan creation capabilities – a complete opposite of a sophisticated CAD solution that can also create floor plans. Lucidchart's floor plan creation capabilities may be somewhat basic, it manages to make up for it by being extremely easy to work with – and the software's primary function of extensive collaboration can also be really useful for a lot of people that attempt to create a floor plan for a specific goal. It is also relatively cheap and generally very user-friendly, making it a great option for basic floor plan creation tasks.
AutoCAD LT is another example of a toolset that technically belongs here but was not created solely for floor plan generation. AutoCAD LT is a simplified version of a full-fledged AutoCAD toolkit that works only in two dimensions – and has a lower price tag. Its' drafting and technical diagramming features are what keeps it in this category in the first place, and it can also integrate with other AutoCAD products, annotate, share, publish, etc.
Customer ratings:
Capterra – 4.6/5 stars based on 203 customer reviews
TrustRadius – 8.4/10 stars based on 64 customer reviews
G2 – 4.3/5 stars based on 256 customer reviews
Advantages:
Easy to work with if the user is already familiar with basic AutoCAD interface
A variety of features for 2D modeling purposes
A drastically reduced price compared with AutoCAD
Shortcomings:
3D modeling capabilities are very basic and are practically nonexistent
Some of the more convenient 2D features from AutoCAD are also missing from the LT version
Shape conversion capabilities are very limited
Pricing:
Unlike most of Autodesk's products, AutoCAD LT can offer only one approach to its pricing model. It is a basic subscription that can be paid for on a monthly basis, yearly basis, or every three years:

$60 per month
$485 per year
$1,455 per three years
Customer reviews:
Ben M. – "This has been a huge cost saving item for our company. For years we were battling with users opening AutoCAD just to view a CAD drawing (read only) for a few minutes, then closing it. that used up a licence token, which costs us money. Following quite a large scale roll out of AutoCAD LT, now only the users who need to edit the drawings have access to the AutoCAD – the rest have AutoCAD LT."
Favio R. – "It's been a satisfactory experience from the first time. I was used to work with the complete autocad edition but the price is way more elevated that the LT version and I really haven't had any issue with this so far."
Luke W. – "It's probably the best tool for drafting and many engineers right now who have a big budget. But its days are short lived, probably won't last much longer as any basic standard. AutoCad needs to completely reshape itself for the modern era and provide more intuitive controls and tools."
My personal opinion on AutoCAD LT:
AutoCAD LT has a very particular reputation on the CAD market – it may look like the "lite" version of the basic AutoCAD, but that is not the case at all. AutoCAD LT is a rather powerful drafting/modeling solution that has very little 3D modeling features but makes up for it with its vast 2D drafting capabilities. It can create floor plans, project drafts, technical diagrams, and more. It is also several times cheaper than most Autodesk offerings, and offers an interface that is very similar to AutoCAD – making it easy to pick up and use for quite a lot of specialists on this market.
SmartDraw is a versatile flowchart maker, org chart maker, drawing program, and a floor plan creator – all of it is in one single package. The main idea of SmartDraw is to create various charts and diagrams that are easy to present to anyone without technical knowledge on the subject. As such, SmartDraw's floor plan creator is user-friendly, packs an impressive number of features, allows for file sharing, and can be used by anyone with an internet connection. It also offers two different versions of paid subscriptions, each with its own set of advantages.
Customer ratings:
Capterra – 4.1/5 stars based on 113 customer reviews
TrustRadius – 6.8/10 stars based on 38 customer reviews
G2 – 4.6/5 stars based on 236 customer reviews
Advantages:
A large library of pre-built templates to choose from
All of the user created items can be saved and then used later
General versatility, offering flowchart creation, floor plan creation, and plenty of other features in a single package
Shortcomings:
A lot ot templates are already loaded with data that needs to be cleared manually every time
Moving multiple elements at once is difficult
The solution itself is not particularly intuitive
Pricing:
SmartDraw's approach to pricing is fairly simple and can be separated in three different levels:

Individual – $9.95 per month (billed annually), the very basic SmartDraw package with most of its features, from floor plan creation to flowchart making, only suitable for individual users
Team – $8.25 per month per user (billed annually), an offering for at least three users at once, combines the previous tier with features such as premium support, team administrative controls, document retention, account consolidation, etc.
Site – $2,995 billed annually, a fixed-price offering from SmartDraw specifically for companies (can only be purchased by contacting the company beforehand), adds SSO support, custom company theme, multiple shared folders, and more
Customer reviews:
Jose P. – "It is a tool that works perfectly in the Cloud, in addition to having a very wide variety of templates to facilitate teamwork, and with multiple import and export mechanisms. SmartDraw certainly is a powerful diagram generator for all kinds of applications, ranging from engineering, marketing, computing, and much more."
Tara C. – "SmartDraw is helping businesses quickly and easily create professional-looking visuals for presentations, documents, reports, and websites. The benefits enterprises have realized from SmartDraw include increased efficiency, cost savings, and improved communication, with visuals helping to communicate complex information more simply."
Gerson C. – "It is perfect for drawing projects, has a wide range of templates that make it easier for you to work and all the types of diagrams you need (at least it is for my IT area), it has a desktop and online version that allows you to work in any place, it is very useful."
My personal opinion on SmartDraw:
SmartDraw is another example of a diagramming solution that also offers floor plan creation capabilities. SmartDraw claims to offer the ability to create all kinds of diagrams that are easy to understand even for people with no technical background – and the same goes for its floor plans. It has plenty of different templates to choose from, a relatively small price, and a web-based interface. At the same time, the solution may not be particularly intuitive in some places, interacting with several objects at once is a problematic process, and a lot of the templates come with data in them, making it necessary to clean them up every single time before starting a new project with that template.
One difference that Sweet Home 3D has compared with all of the other participants on the list is that it's open-source. Other than that – it's also a great interior design software that also has a web version, and its primary purpose is to view 2D floor plans in three dimensions for presentation and context. Its main target audience is non-professionals, and it also has its own impressive set of floor plan creation features, both in 2D and 3D.
Customer ratings:
Advantages:
The ability to view floor plans in both 2D and 3D at the same time
A level of versatility that is incredibly impressive for a free solution
A decent library of built-in 3D objects to use
Shortcomings:
Navigation for 3D models is somewhat confusing
Similar to most 3D modeling software, Sweet Home 3D is challenging to work with and has a steep learning curve
Any user can choose between a desktop version for Windows/Mac/Linux and a web version (rarely updated)
Pricing:
Sweet Home 3D is a completely free and open-source solution for various 3D design purposes
Customer reviews:
Jon L. – "As an ex pro software developer I am a hard critic to impress but really I love this product, it is absolutely ideal for my project. I would encourage serious users to also upload the furniture library software which enables you to create your own custom furniture library to share across projects very easily. Furniture in this context does not just mean chairs, it can mean shelves, mirrors, toilets, freezers, kitchens and outdoor plants and even windows and doors. Following online tutorials you can custom build windows which was important for my project, I am using some very large windows – simply scaling a small window creates a disproportionately large frame -better to design your own and this software offers that. You can even specify that your newly created window will auto-cut its profile when inserted into a wall. The software is free but happy users can donate. I donated $15 within a few days and decided to follow it up with perhaps ten times that amount once my project lifts off the launch pad. I really hope other users do likewise – free software as good as this does not grow on trees and the author really deserves every inch of gratitude."
YURY K. – "A lot of interesting things in this program, it is easy and easy to learn and work. The program will be useful, first of all, to all people who are planning repairs. The program is a good tool in the self-design of the future look of your apartment, your home or room , without resorting to the help of professional designers, you can own. The program will also be interesting to furniture designers."
oushana P. – "I found this software while i was searching a tool to design my house. after downloading the app it was like 55MB. and i was thinking how this much lite application can 3D modeling. but this application amazed me with its performance and useful tools. i can strongly recommend this app to anyone to give a try. while using the app, i had some questions and all the answers were there in the system. as an example, setting a roof, scaling a wall, generating day/Night images, etc.."
My personal opinion on Sweet Home 3D:
Sweet Home 3D is a relatively basic 2D and 3D modeling solution that can create floor plans of all shapes and sizes – and view them in 3D and 2D at the same time. It has dedicated desktop apps for different operating systems (even Linux), a web version, and even a built-in library of basic 3D shapes and objects to work with. It can be somewhat confusing to navigate, and spots a steep learning curve that is common to most 3D modeling software, but there is an important nuance here as well. In my opinion, the overwhelming majority of disadvantages that Sweet Home 3D has become irrelevant as soon as you learn that it is completely free and open source.
Live Home 3D also tries to be useful for both casual and professional sides of the floor plan software market, offering a multi-platform building plan software capable of working with both 2D floor plans and 3D renderings. It can work on Windows devices, as well as macOS and iOS systems, offering floor planning, rendering, furnishing, and many other features that you're expecting every architecture floor plan software to have.
Customer ratings:
Advantages:
A reliable and convenient solution for plenty of different use cases
A versatile set of architectural tools for home design purposes
Relatively simple in terms of picking up and using the software
Shortcomings:
The overall presence of the solution on the market is very limited, meaning that the number of tutorials online is reduced and it is a lot harder to find a solution to a specific problem
Customer support could be faster and more detailed in their answers
The software itself has irregular freezes and crashes that could lead to data loss
Pricing:
Live Home 3D has three different versions of the software, but only two approaches to their pricing.
Both the desktop Windows version and the iOS version have two different app versions to choose from

Live Home 3D app, which is free
Live Home 3D Pro app, which costs $49.99 for a perpetual license

It is worth noting that both free versions of the software have identical sets of in-app purchases, including:

"Standard" feature set – $4.99 for 1 month, $9.99 for 1 year, $29.99 for a perpetual license
"Pro" feature set – $9.99 for 1 month, $19.99 for 1 year, $49.99 for a lifetime license

The desktop Mac version of the software does not have a free version available for it, there are only two premium applications to choose from:

Live Home 3D Standard – $29.99 for a perpetual license
Live Home 3D Pro – $49.99 for a lifetime license

Another important detail that is worth mentioning here is about the additional content that Live Home 3D provides to all existing users of the software. It can be purchased in two different ways:

As one or several packs, with every single pack being available for purchase at $5.99 – "Contemporary Houses", "Bathroom Items", "Additional Appliances", "50 Houses Pack", "Additional Materials", "Additional Plants", "Scandinavian Style Furniture", "Outdoor Object Collection"
As the "All Extras Pack" – $44.99 for all 8 packs and collections mentioned above

The "Pro" feature set includes custom-shaped roofs, 2D elevation view, UHD exporting quality, an array of exporting formats and capabilities, light source editor, and more
Customer reviews:
Ahmad M. – "In addition to all the bells & whistles packaged in the Software; I get a satisfaction of designing small & reasonable project quickly and professionally presentable on all levels. I recommend to anyone looking for or under tight budget looking for "Engineering & Architecture" software look no further."
Antonia G. – "Excellent app for quick and very detailed visualization especially interior."
My personal opinion on Live Home 3D:
Live Home 3D is a relatively unknown architectural software, even though it spots quite the feature set – floor plan creation, 3D modeling, 2D drafting, home design, and even its interface is relatively simple and welcoming to new users. The biggest problem of this particular software is its lack of popularity – which means that finding solutions to various issues is much more difficult, and the same applies to tutorials. Its pricing model is fairly simple, but figuring out what features belong to what version may take a while at first – and it is also relatively cheap when it comes to both perpetual licenses and subscriptions.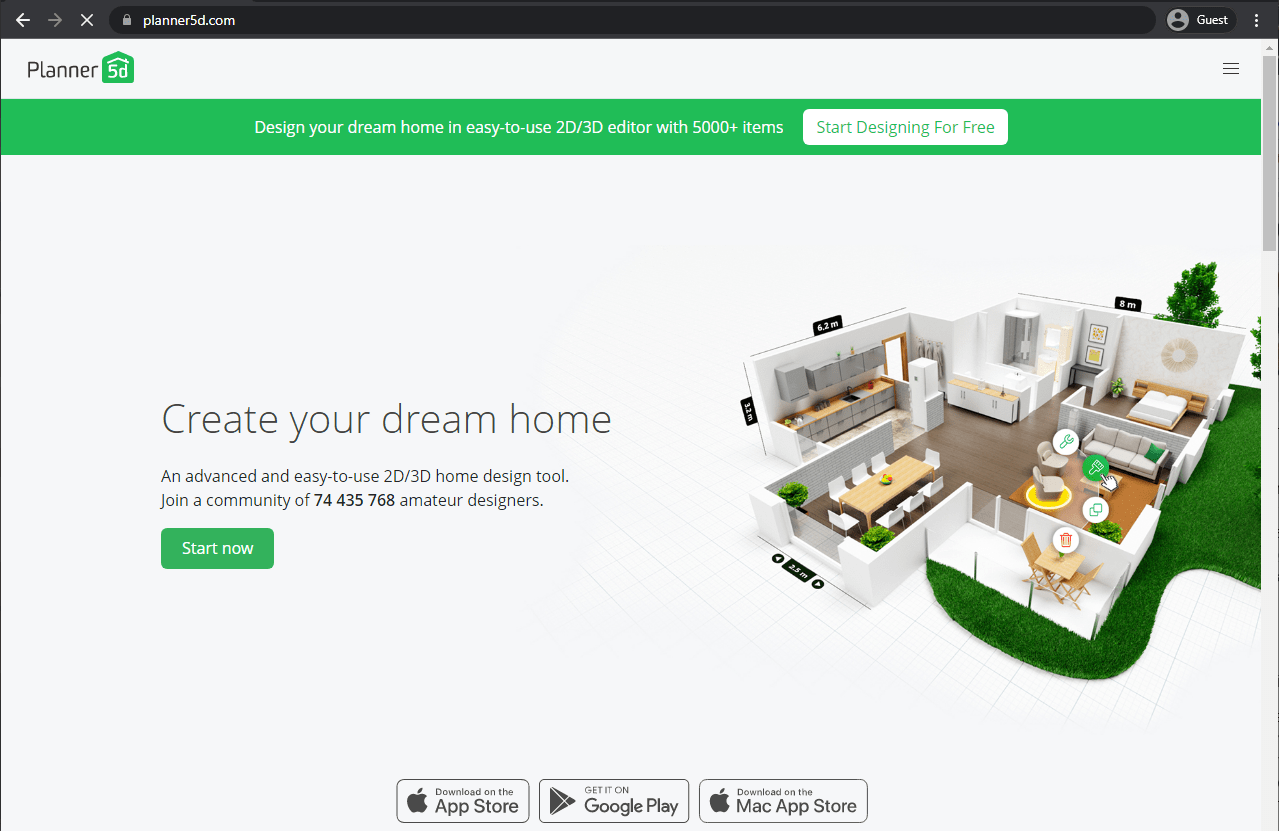 Planner 5D has one of the biggest supported device pools on this list, offering separate applications for Windows, macOS, iOS, Android, a separate web version, and an offline mode. It is handy for both casual designing work and professional floor planning. As an architecture floor plan software, Planner 5D can also design things outside of the building, such as pools, gardens, etc. – everything you may need from a building plan software.
Customer ratings:
Advantages:
Quick and easy transition between 3D and 2D models
A large library of objects to choose from, with the ability to customize every object if necessary
A user-friendly and intuitive interface with drag-and-drop features
Shortcomings:
Roof design specifically is not particularly user-friendly
Pricing model is somewhat confusing and is not customer-friendly in terms of scalability
The free version of the solution is extremely limited feature-wise
Pricing:
There is no official information about Planner 5D's pricing available on the solution's website
The unofficial information claims that the pricing model is confusing and somewhat expensive in the long run:

$9.99 for 20 HD images (high-quality 3D renders)
$49.99 for 200 HD images (high-quality 3D renders)
$6.99 for a month of full access to the object catalog and 3 HD renders
$15.99 for a year of full access to the object catalog
$24.99 for a premium account
$9.99 per user per year for educational users

All of the prices (aside from the educational ones) are doubled for commercial clients.
Customer reviews:
Shujjah S. – "Overall Planner 5D is such a excellent software that if you are a interior designer or a Architect, you will fall in love with it. It gives you variety of options to design your project and the furnished results are very realistic. the most important thing is that you will find many tutorial videos on video streaming sites (YouTube etc.) which helps the beginners to learn and execute their projects in quick time. As an professional Architect, I highly recommend Planner 5D to my collogues and any other person who interested to buy this wonderful software, it will worth to work on Planner 5D"
haron C. – "I was introduced to Planner 5D four years ago when I needed to do 3D model after my student Revit expired and my sketchup wasn't doing the job for my rendering needs. I found it a little challenging in the beginning but after watching the tutorials on You Tube, I got the hang of it. You'll need it when you are doing second levels. All of my clients love their designs, they come realistic. I would advise to show the plans prior to rendering, because rendering can get pricey. You can put together plans quickly and make changes on the fly. I tell all of my friends to try this program. I wished I had it in school."
Tiffany F. – "The middle school course that I teach is an integration of technology into community service projects. The students need access to professional-level software but that often comes with a high learning curve. Our class time is valuable and Planner 5D allows my students to get the functionality and features of a more advanced program but with a much more user-friendly interface and usability."
My personal opinion on Planner 5D:
Planner 5D is the beginning of another category of solutions on this list – the ones that are created for home design, first and foremost. It is a rather versatile solution that would be suitable for both casual users and professional designers, with its wide array of models and objects, a multitude of software variants for different devices, and an interface that is easy to work with. Most of the disadvantages of Planner 5D revolve around its rigid pricing model that gets progressively more expensive the bigger the project is, and the free version of the software is not enough of a trial to see the different features of the solution. And yet, it still has plenty of customers, be it in terms of indoor/outdoor design – or just as a floor plan solution.
Another approach can be taken with these kinds of software – creating an online tool that calculates everything in the cloud. HomeByMe is an excellent example of such a tool, offering a user-friendly design service that can work with both 2D and 3D planning needs, making it a great building plan software. Additionally, you can do 360-degree panoramas, outdoor designs, and so much more than that.
Customer ratings:
Advantages:
The web nature of the solution is an immense advantage of its own, including versatility, the lack of a long and difficult installation process, etc.
The solution itself is easy to work with even for newcomers
Easy transition between 3D and 2D views of the model
Shortcomings:
Custom shapes for specific objects (pools, for example) cannot be created
High price for specific features such as HQ photos
Imperial measurements are not included in the package at all
Pricing:
HomeByMe has three different pricing plans, as well as separate features for their own price

"Starter plan" is a free, limited version of the software available to all users, it only allows for 5 projects, 3 HD images, 9 images of regular definition, a catalog of 3D branded models, and unlimited DIY furniture creation
"Premium" – $29 per month per user, removes all limitations on the number of projects or images (aside from 4K renders and topviews), while also adding 3D model upload feature, plan exporting, priority online support, and more
"Unlimited+" – $65 per month per user, allows users to remove HomeByMe logo, keep 3D models private, keep personal projects from being copied, unlimited 4K image generation, and so on
"We draw for you" – $14.99 and above, the ability for any user to request a turnkey 3D project from HomeByMe, with the deadline being 3 business days for most projects
"We decorate for you" – $69.00 and above, a very similar offering by HomeByMe, the ability of a complete redesign/decoration for the customer's room, can be done within 7 business days
Customer reviews:
Andrew D. – "Good for interior design and decorating, but not so much on the structural or construction side."
Verified Reviewer – "I adore the fact that HomeByMe works in browser and is accessible to me from any computer. It has a perfect combination of simplicity of use, and feature power. I've used it on multiple renovation projects, and with only a couple of hours of planning, we were ready to move into the next phase of the renovation. It can sometimes be slow, unresponsive or laggy. The UX of manipulating position and size of objects can sometimes be painful."
My personal opinion on HomeByMe:
HomeByMe may be fairly standard with its home design tool with floor plan capabilities, but the interesting part of this solution comes in its monetization model. Users barely have to pay anything for working with the software itself, creating designs and plans – but the monetization kicks in when there is a need to export or create a screenshot of that particular design. Aside from that, HomeByMe is also one of the very few solutions on this list that offer their own services when it comes to both floor plans and decorations – which is a great option for a lot of casual customers.
Community is the central theme of Roomstyler, offering not only a relatively easy-to-use building plan software but also the ability to see other people's designs and use them as an inspiration. This architecture floor plan software also offers a wealth of objects to use for decorating in both 3D and 2D, as well as the ability to check each detail's price and availability, making it a great tool for many different use cases when it comes to floor plans and house design.
Advantages:
Massive library of furniture and other objects to work with
A web-based nature improves versatility and boosts mobility
A variety of 3D modeling options to work with
Shortcomings:
The solution has plenty of glitches and other errors that disrupt the flow of the solution
The top-down workspace is very limited in its features
Pricing:
Roomstyler has a rather unusual approach to monetization – the platform itself is free to use, but a user would have to pay with "credits" in order to receive high-quality photos/renders of their work. These "credits" is where the brunt of Roomstyler's monetization comes from:

£0.84 for a single credit
£7.62 for 10 credits
£66.99 for 100 credits
£592.72 for 1,000 credits
My personal opinion on Roomstyler:
While Roomstyler's floor plan creation capabilities are somewhat basic, the solution itself is fairly unusual. It is a community-based platform for design sharing that allows users to not only create their own designs but also see and take inspiration from other people's projects. It also comes integrated with several different interior furniture suppliers, making it possible for users to see the availability for different furniture types near the customer's location. Its monetization approach is also rather unusual, taking the page out of HomeByMe's book with paying for renders and high-quality photos of projects and designs, but it is still an interesting option all things considered.
EdrawMax might look like it's something out of Microsoft's Office software library. Still, it's pretty far from it when it comes to capabilities – it's a simple but effective tool that can help you create pretty much any type of building floor plan using templates, examples, and various tools. It offers separate versions of itself to three major operating systems (Windows, Linux, and macOS), and it also has a web version that works with just a web browser.
Customer ratings:
Capterra – 4.6/5 stars based on 197 customer reviews
TrustRadius – 8.8/10 stars based on 17 customer reviews
G2 – 4.3/5 stars based on 62 customer reviews
Advantages:
A wide array of templates available to all users
Allows for the creation of practically any diagram or project visualization material
Accessible and user-friendly interface
Shortcomings:
Importing from solutions other than Visio is restricted
Theme customization as an option is severely limited
Image-into-text feature is not particularly accurate and does not recognize all written text
Pricing:
EdrawMax's pricing model is somewhat confusing and can be separated into two parts – Individual and Team/Business
EdrawMax Individual subscription includes a host of features aimed towards a single independent user, ranging from a wide array of exporting features to a plethora of templates and tools for floor plan creation and other purposes. It can be purchased using a subscription-based model, as a separate lifetime license, or as a lifetime license for three products of Wondershare in a bundle:

$99 per single year of subscription or $69 for 6 months of subscription ($11.5 per month)
$245 for a lifetime individual license, includes all versions of the software, as well as 10 GB of free cloud storage
$312 for a lifetime individual license that also includes EdrawMind and EdrawProj

The business-related pricing model of EdrawMax covers two different pricing plans:

"Team Annual Plan" – $119 per user per month, can only be billed annually, includes most of the features of EdrawMax, from basic modeling features to enterprise-level data security and vast exporting capabilities
"Business Plan" is only suitable for teams of 20 users or more, it adds features such as license management and control over deployment, and can also only be purchased by requesting a direct quote from the company
Customer reviews:
Gustavo R. – "Overall Edraw has allowed me to bring new life to my charts and presentations. It has saved me time and money by making this process easy. I used to think Visio had no equal, and that still true because this program has clearly surpassed it in many ways. It's less expensive and easier to use. It has made my process for creating presentations better, creating floorplans faster, and even allowed me to create artwork for our company website. It's a complete package that I have already been recommending to other companies. It should be a standard program with all computer installations."
Jose P. – "EdrawMax is great for creating flowcharts, network diagrams, drawings, organizational charts, kanban diagrams, digital presentations, design models, database diagrams, web design diagrams, electrical engineering diagrams, technical diagrams, gantt charts, and many more. That is why when we start using it we no longer want to work with another tool."
Jay A. – "Financial presentations are pretty boring; not like a new, bright red sports car. The slides I create are colorful and organized. They provide me a way to educate and inform a prospect/client in an easy viewing format. Each financial objective or goal can be laid out simply and attached to any number of products that may help them now or in the future. All colorful, highlighted and structured for easy processing. Much, much better than just spewing a bunch of financial theories and a throwing a lot of numbers at people."
My personal opinion on EdrawMax:
EdrawMax is one of the few solutions on this list that are completely dedicated to floor plan creation and nothing else. Every user can choose between a web version and a dedicated desktop app to create intricate floor plans with speed and simplicity. All of that is possible thanks to the solution's user-friendly interface and a general simplicity of the solution – even though there are some parts of the solution here and there that could use some work, be it in the form of a bug fix or a feature extension.
6 Free Architecture Floor Plan Solutions
It's easy to see that there's no shortage of floor plan generation tools on the market. Some are explicitly made for this sole purpose; others combine floor plan generation with other features for a unique package. However, a more attentive reader may have noticed that the overwhelming majority of these solutions are either very limited when it comes to their free version, or lack such a version entirely.
That's not to say that there are no solutions on the market that can offer at least some sort of free feature set – giving every potential user a chance to try out the basic toolkit of free building plan solutions. Here are several examples of such solutions (not including any of the previously mentioned applications):
Another user-friendly floor plan designer is SketchUp, offering extensive drafting and modeling features in any field that includes modeling or drawing as a part of the process. It is widely considered an excellent option for not just architects but also engineers, builders, designers, etc. It offers both free and paid versions of the toolkit, with the paid option being more suitable for annotating and saving SketchUp-related files. The toolkit itself is web-based, so it can be used in practically any web browser in the first place, making it a great choice of 3D and 2D floor plan software.
Customer ratings:
Advantages:
User-friendly and intuitive interface
An extensive set of versatile modeling/sketching tools
Large library of 3D objects to choose from
Respectable collaboration capabilities made possible with Trimble Connect integration
Shortcomings:
May extend its functionality with an array of plugins, most of which come at an additional price
Basic tutorials about the solution's capabilities are either limited or missing completely
Cannot import/export to and from most 3D modeling solutions on the market
Pricing:
SketchUp can offer four different pricing tiers:

"Free" is the most basic set of features for all users
"Go" – $119 per year –  is a rather minor extension of the free version without the limitations on 3D models and cloud storage capacity
"Pro" – $299 per year –  is a more serious approach to the topic, with a desktop application, design insights, 2D documentation, and an entire warehouse of extensions
"Studio" – $699 per year – is a Windows-only tier with real-time photorealistic visualization, easy file importing from Revit, and many other features
Customer reviews:
Prince B. – "SketchUp enables me to create 3D models of spaces, helping me to plan and visualize room layouts, furniture placement, lighting, and material choices. It aids in communicating design ideas to clients and streamlining the design process."
Chanaka A. – "Currently SketchUp is the best software for 3D modelling which is equipped with loads of features which are unavailable in alternative software. And requiring low performance while working very smooth is great. Some complications will occur if you do complex designs but for general purposes this is the best. Can be used even by a beginner without facing issues."
Vikash K. – "I think this is one of the most basic 3d software you can use. Learning it is so easy that you can start building in it just after an hour of learning.And the results you can get from these are in par with the leading 3d modelling software. If you need rendered views of your project its a very good software."
My personal opinion on SketchUp:
While it is true that AutoCAD is probably the most popular solution on this list, it is not the only software with immense amounts of fame. SketchUp is another good example of that, a drafting and modeling solution often used in architecture classes as the primary tool for these kinds of tasks. SketchUp's immense popularity among students and professionals alike is well-earned, it is a truly impressive tool with loads of features and functions, and even a separate collaboration layer via Trimble Connect. It is not a perfect solution, since most of the educational materials about it are made by regular customers (not the company itself), and most of the added functionality is done via paid modules, but it still remains one of the biggest sketching tools in the world.
Floorplanner is a floor plan generator that focuses primarily on its user-friendliness, offering the ability to generate 3D and 2D architecture software plans using a relatively easy-to-use interface. There's also Floorplanner's own "auto furnish" feature that allows you to decorate a newly created room in seconds. Both the accuracy and the level of detail are on point when it comes to Floorplanner. It offers a free version with one project limitation and the ability to pay extra for more projects. There are also two paid options (on a yearly basis and on a monthly basis) that offer fewer limitations for the number of projects to be stored and some additional features, like high-resolution export in PDF format.
Customer ratings:
Capterra – 4.2/5 stars based on 25 customer reviews
Key features:
High solution speed in most of its capabilities
Simple measurement for different dimensions
Drag-and-drop interface with a focus on user friendliness
A variety of objects to choose from, be it doors, walls, windows, and so on
Pricing:
Floorplanner's pricing model is somewhat complicated and includes six different pricing tiers in two groups
Individual pricing covers three plans that are only suitable for singular specialists

"Basic" is a free solution with full editing functionality, full asset library, and basic exporting capabilities
"Plus" – $5 per user per month, removes limitation on the number of favorite items, allows for image exporting without timelock, and provides 4 credits per month
"Pro" – $29 per user per month, can offer custom templates, Roomtype sets, custom Roomstyles, and other features (+29 credits per month)

Pricing for companies only covers versions that are suitable for teams or companies, and not individuals

"Team" – $59 per month, up to 10 users with Pro status, as well as user management capabilities, reporting, and 59 credits
"Business" – $179 per month, up to 100 users with Pro status, includes custom 3D assets, branded environments, and 199 credits
"Enterprise" – $599 per month, no limitation on the number of Pro users, can offer API access, volume discounts for credit bundles, SSO support, and more (+799 credits)

Credits are used to promote specific accounts to higher levels to unlock more features, such as high-quality exports. All projects start at Level 1 for Individual plans and at Level 2 for Company plans
Customer reviews:
JR Nonato II F. – "We used Floorplanner to prepare for moving homes — it helped us to visualize the space and make sure that our stuff would fit. Definitely more convenient than literally moving furniture all around the apartment just to find a fit."
Shannon M. – "Will be using this for a new home construction website and I really think the viewers will love seeing the plans in 3D, it will help them understand more what the layout of the house it."
Giorgi D. – "I made my future home project with it and it looks great! Yes this is not CAD and most probably you will not be able to make final project for constructing, but least and not last you can play with design, choose shapes and structure, try materials, plan layouts and make calculations. You can do almost everything for the first steps of your project. I am really excited and satisfied with this product!"
My personal opinion on Floorplanner:
Floorplanner is a rather standard floor plan creator with a basic set of features we talked about several times at this point. What's interesting about Floorplanner specifically is how fast it is – most of its operations and tools are blazing fast and capable of creating floor plans in no time. Another interesting feature of the solution is the ability to decorate a room automatically, which is something that no competitors can offer at this point without an additional price increase. All in all, it is an interesting option for floor plan creation with its own share of gimmicks.
RoomSketcher is an excellent tool for floor plan creation, and it packs a massive number of useful features. You can use an extensive built-in library of furniture, measure dimensions, add annotations, and more. There's also the ability to generate 3D renders, interactive 3D walkthroughs, easily export to multiple formats,etc. RoomSketcher does offer a free version of its toolkit, although the majority of features are only available for paid users.
Customer ratings:
Capterra – 4.1/5 stars based on 36 customer reviews
TrustRadius – no customer reviews
G2 – 4.6/5 stars based on 22 customer reviews
App Store – 3.4/5 stars based on 115 customer reviews
Google Play Store – 4.4/5 stars based on 1.18k customer reviews
Advantages:
Easy creation of rooms and entire floor plans
Massive library full of both objects and templates
Praise-worthy customer support
Shortcomings:
An overwhelming number of features and a steep learning curve
Mac solution cannot move/delete several elements of decoration at once
Furniture customization options are lacking
Pricing:
There are four different pricing plans that RoomSketcher can offer:

"Free" is a limited version of the software with one-user limitation, 3D snapshots, limited furniture library, and access to RoomSketcher mobile apps
"Premium" – $2 per month per project, adds 2D floor plans, live 3D, material replacement feature,
"Pro" – $10 per month with print-to-scale, branding, customizable floor plans, complete furniture library, as well as 3D photos, 3D floor plans and 360 views (acquired using RoomSketcher's "credits" system)
"High Volume" – $60 per month per user, the biggest feature set of RoomSketcher in a single package, with personal training, dedicated manager, order system integrations, multiple customer profiles, etc.
Customer reviews:
Linzee A. – "I use the software for drawing Residential and Commercial floorplans using my Matterport floorplan screenshots. I find the software easy to use especially now that I've been using the software for a long time. I find I can bust out a floorplan quickly and easily using the shortcut keys which somewhat remind me of playing a PC game like Starcraft 2. I'd recommend the software to anyone looking to do 2d floorplan drawings."
Katarina S. – "First I want to say that this is my honest opinion about the Software and I'm not payed or something like that for what I'm going to say. I'm using Roomsketcher for a few years, and it needed me time to explore what everything this software can do, and it can do a lot, especially when you're creative and know how to use everything given. Also, if I have any question about things I could do and how, the support team makes it really clear, and I have to say, really quick and quality. Furthermore, IT IS intuitive, unlike some other softwares that I'm not going to name and from which I gave up emmediately. And yes, you can do one wall in one color, and other walls in other. You can do whatever you want with walls. If you want, be my guest at www.tlocrti.com where you can see what you can make with RoomSketcher. AND I'm just to get to know more options that I haven't know there are! I just want to say: this is absolutely amazing tool, especially if you have will to explore it and play with it, and if you are creative, you can do literally almost whatever you want. When you use this software for a while and you know it well, then you can give CONSTRUCTIVE critics what's good what's not, which isn't case with some reviews I read here. And one more thing, if someone finds BETTER and CHEAPER software, please let me know. Yes, I thought so.."
Konstadina N. – "I'm a fun user of RoomSketcher. It's the most easy way to design a 3d floor-plan. To use the blueprint to create a fantastic 3d floor plan of my design proposal for my projects.The excellent customer support!"
My personal opinion on RoomSketcher:
Continuing the ongoing trend of this particular list, RoomSketcher is a versatile floor plan creation app with plenthora of different features to choose from. Not only it can perform most basic operations we have already mentioned multiple times, but it can also offer interactive 3D walkthroughs, as well as annotations, measurements, and more. Its abundance of features can be rather overwhelming to new users, and there are a few elements that are only active in the Windows version of the software, but the solution as a whole is still a solid offering for these particular purposes.
Unlike other examples on this list, PlanningWiz is both a floor plan generation software provider and a floor plan designer at the same time. It also offers several unusual editions for very specific areas, such as recreational facilities, property development, etc. Other than that, there's also your standard set of features of 2D floor plan software, including models, sketches, and more. There is a free version of the software, but it's very limited in terms of capabilities and cannot save more than five projects at once without the ability to export them or print them out.
Key features:
A versatile set of 2D architecture tools for floor plan creation and other tasks
A free version of the software to try out the solution's capabilities
Several unique versions of the software for working on dedicated area types, be it property development, recreational facilities, etc.
Pricing:
No information about the pricing of PlanningWiz Floor Planner is available on the official website
The unofficial sources state that the solution is spread using a freemium pricing model, with a basic free version and a paid subscription that unlocks additional features and starts at $15.99 per month per user
My personal opinion on PlanningWiz Floor Planner:
PlanningWiz Floor Planner is a rather confusing solution as a whole – it offers multiple editions of its own software targeted specifically for unusual area types, be it personal properties, recreational facilities, and so on. Its basic version also has a variety of floor planning features, but none of them are particularly unique or special in some way or another. There is a free version of the software, but it is very limited in its capabilities and may not even be enough to serve as an educational material.
Homestyler is a relatively simple web-based floor plan generation tool that offers various models, drawing tools, and customization in general. It has a highly user-friendly interface, and the majority of its features are entirely free (although there is a Pro plan, too). While Homestyler is an excellent choice for people and companies with budget constraints, it's not powerful enough to fully compete with full-fledged floor plan generation appliances, which somewhat limits its potential audience.
Customer ratings:
Key features:
Easy access to a large library of materials, objects, and templates
Simple project sharing process
User-friendly interface
A comprehensive social network structure for design sharing and inspiration
Pricing:
Homestyler can offer five different pricing levels:

"Basic"  is a free offering of the solution, it contains access to a moderately-sized library of materials and models, as well as cloud-based 3D floor planning, unlimited rendering 1K and below, etc.
"Pro" – $4.9 per month, with watermark removal, render retouch capability, 75 renders per month for both 4K and 2K, etc.
"Master" – $9.9 per month, can offer unlimited 4K rendering, texture and model uploading, higher 8K/12K panorama rendering quota, and so on
"Team" – $19.6 per month per seat, adds sub-account management, shared design space, extra rendering quota, and shared model/texture library
"Enterprise" is a package with no public pricing to it, with features such as SSO support, white label environment, customizable features on-demand, 3D model creation, virtual photo studio, etc.
Customer reviews:
satish11nov – "I used for bedroom design and its one of the best app. One small thing noticed is issue with search feature in catalog. I tried to search for monitor and it did not show any item even though they have some monitor objects. Also, some small items are difficult to find and remove once they added. I accidentally click on LED light strip and they went to walls and other places. I can see light coming through wall gaps but i cannot remove these strips. It would be nice to see list of all items used on a floor or room so we can easily select/resize/remove. Overall 5/5 considering its free."
MrYeet373737 – "I love love LOVE this app! The mechanics of it takes a little getting used to, but once you do, it's worth it! It feels so good to have this creative outlet. The quality is great, and I would 10/10 recommend! The only hiccup I've noticed for myself- is that it seems when you edit a design you've saved, that design then disappears from the community so no one's able to see it anymore. That's a little bit of a bummer. Also, it would be nice to be able to edit the room itself once it's saved, rather than just the info. But I still love this game to bits, and I'm definitely going to keep using it! Great app!"
Madelinemo – "This app is wonderful. I used it to decorate several rooms in my house, as well as my mom's living room. You can take a picture of a room and just decorate it using the app and the available selection of items, which has enough variety to give you an idea of how your room will look for any given style. It's really cool how you can increase/decrease the size of items and rotate them, etc., so it really looks like it's in your room. I used to be a pretty awful decorator, just picking out stuff I liked in stores and hoping it looked good. Now I really know how my "vision" will translate into real life, and can plan out my purchases better so they work with the big picture. I'm obsessed with this app."
My personal opinion on Homestyler:
Homestyler is a relatively small solution that is difficult to compare with other participants of this list. Its floor planning features are somewhat basic, packing a user-friendly interface, a built-in library of objects and materials, and even an internal social network of sorts for project sharing with other software users. It is also web-based, making it more versatile than most desktop software – but its capabilities in the floor planning department are quite limited in many ways, and even the fact that most of its features are free does not help the matters.
Draft it is one more full-fledged CAD drawing toolkit that offers 3D and 2D architecture software features, such as various detailing and drafting tools. It can import CAD files from AutoCAD, as well as symbols, components, and so on. It has a dedicated free version, with a 15-day free trial with no limitations, and the ability to create, change and save floor plans even after the free period has expired. The other advanced features are behind a one-time upgrade to one of the three paid options – Pro, Plus, and Architectural.
Key features:
A free version with all features available for 15 days after registration
A full-fledged CAD solution for both 2D drawing and 3D modeling
Vast data importing and exporting options
Pricing:
The solution's pricing model is fairly simple, with a basic version and three different one-time paid upgrades to choose from:

"Free" is the basic version, it offers drawing tools, supports multiple measuring units, personal drawing management, and more
"Plus" – £20 for additional drawing tools, layer management, and personalized symbols
"Pro" – £99 for more dimension-related tools, more symbol libraries, importing from DXF/DWG, etc.
"Architectural" – £199 for wall drawing, 3D model viewer, architectural symbols, and more
My personal opinion on Draft it:
Draft it is a surprising addition to this list – a comprehensive CAD solution capable of covering both 2D and 3D architecture tasks. It can import and export data from other CAD solutions, and it is quite versatile in general, even though the lack of marketing makes it a lot harder to even find this solution. A free trial for two weeks is available for all new users, and the premium versions are all lifetime licenses, with absolutely no subscriptions involved – a massive advantage in the modern world.
Conclusion
Architecture software as a whole covers plenty of different solutions and software offerings, from CAD software to diagram creators and other examples. SketchUp would be a great option for users looking for a versatile drafting solution, AutoCAD is a massive contender for everyone who creates both floor plans and project models, and Revizto is a great collaboration-oriented platform focused on issue tracking and clash detection, among other features.
While it is not easy to pick just one offer from the entire market, we hope that our overview helped you figure out which architecture floor plan software is more suitable for what kinds of users.
Why you can trust us
At Revizto, the team is committed to providing objective insights into products and technologies by utilizing expert knowledge, product data, and strategic methodologies. Their aim is to offer visitors comprehensive market overviews, empowering them to make informed decisions. The materials they provide cover a wide range of factors including pricing, customer reviews, unique features, and more.
Leading the review process is James Ocean, the BIM/VDC Specialist at Revizto. As the Head of BIMspiration, James plays a vital role in supporting and educating both the internal team and clients. He provides guidance on effectively leveraging Revizto to optimize workflows, reduce costs, and successfully complete projects of all types. His expertise ensures that users can make the most of Revizto's capabilities and achieve their project goals.
---